We can't believe that 10 years have passed since Bannersnack was launched.
10 years ago, we started with one of the simplest ideas: "Let's give people the chance to design their own online banners in just a few minutes and without effort."
We wanted so much to help the online community, we wanted to give them the chance to create static and animated banners for their websites.
However, right from the start, we knew that there would be many struggles on our part and we knew that people were already struggling with lots of issues and hardships when they needed to create visual content. You had to download and install certain programs.
These programs were so complicated that you needed to spend countless hours or even days just to understand their interfaces. Some of them needed coding knowledge if you wanted to create some animated gifs.
But we had an idea…
From FlashEff to Bannersnack
So, we already had experience in this sector, due to our already existing product Flasheff. Back then, the tool was already the best selling Flash component ever and it helped designers to create Flash animations without having to write any code line. Even the tagline of our product stated something like this: "Art without coding". However, FlashEff could be used only with a Flash plugin and it required that the user should download and install a third-party program.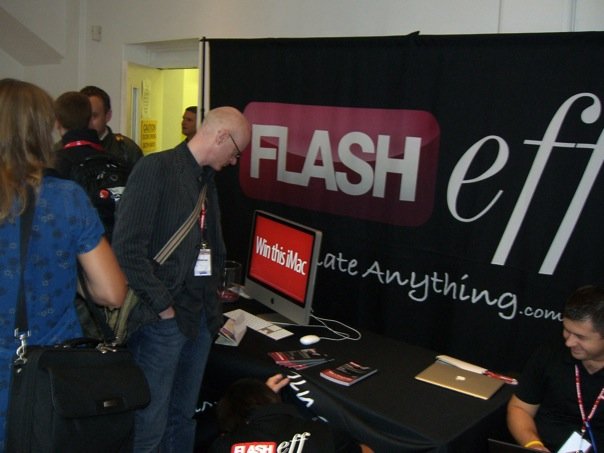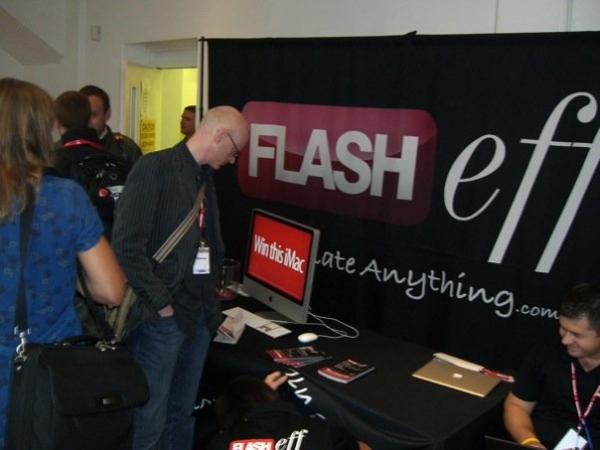 We wanted to see more people able to create awesome, professional and high-quality banners. We wanted them to able to design them without having to download and install any other third party software.
That's how we built Bannersnack in 2008.
That is how we've built an online design tool where everybody can sign up and start creating their own banners right away.
Since then we invested a lot of resources, we worked countless hours, we learned from tons of mistakes and we improved our product with every day that passed.
And, if we are to take a look back, here are a some of the most important milestones in the entire Bannersnack journey: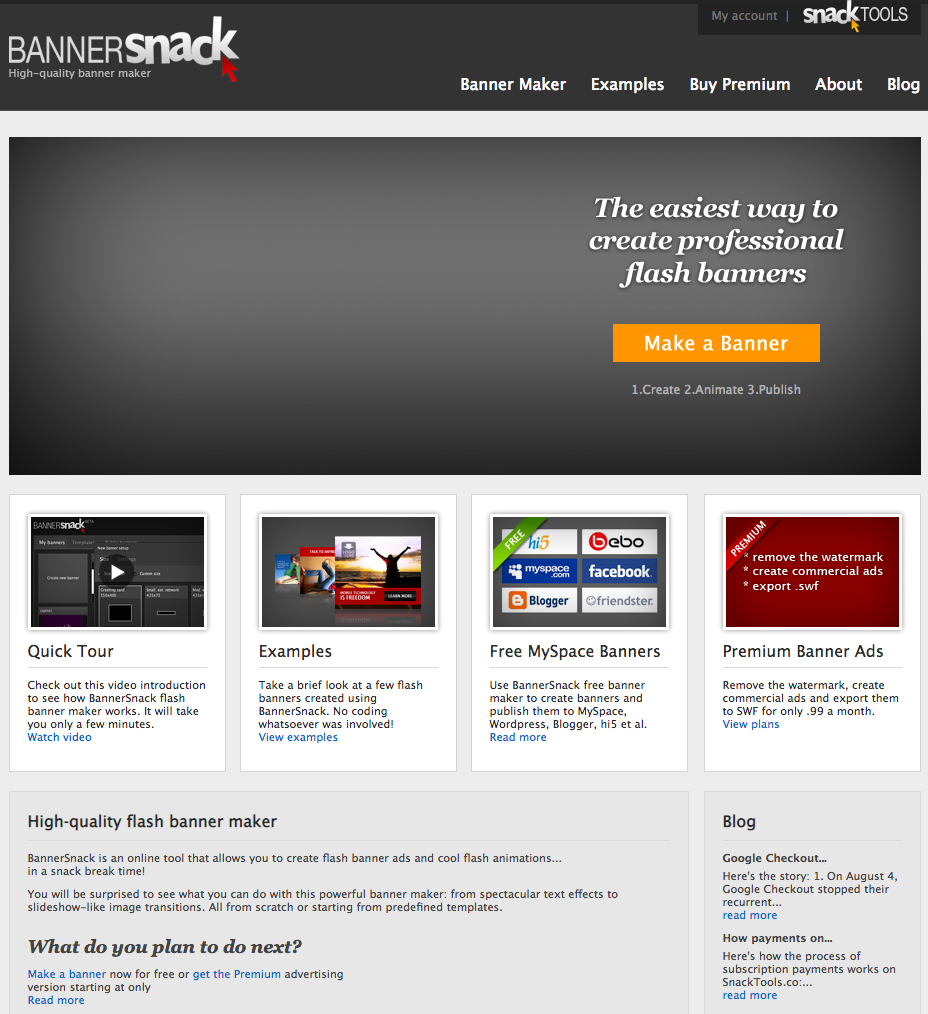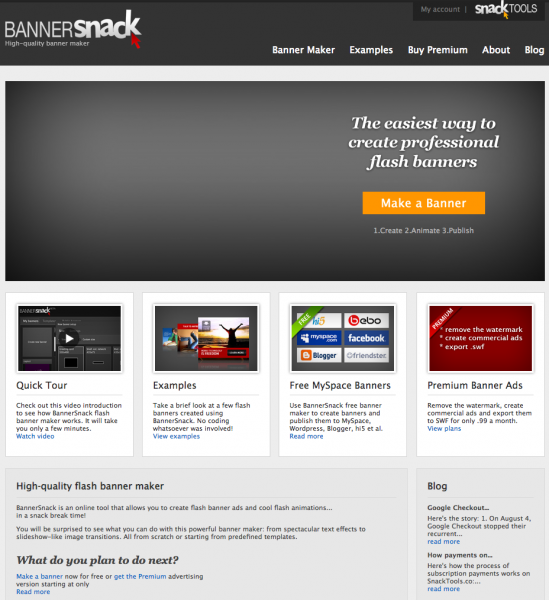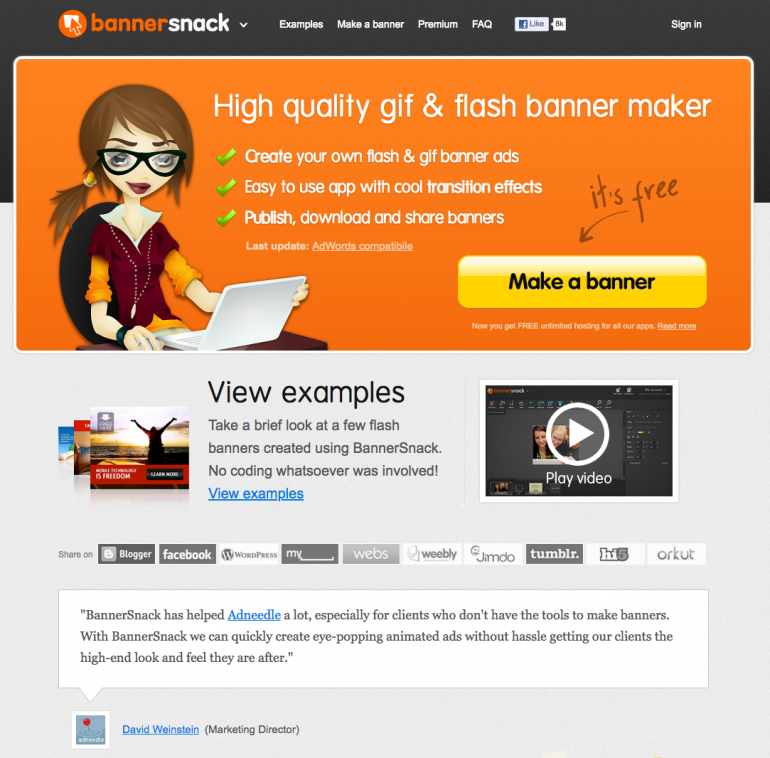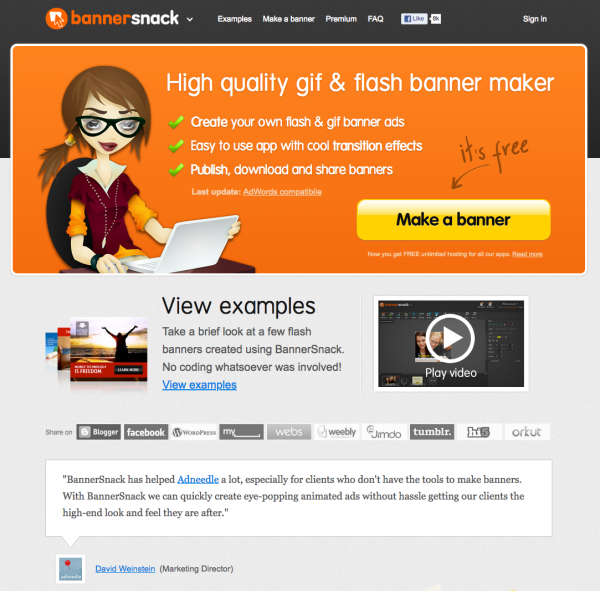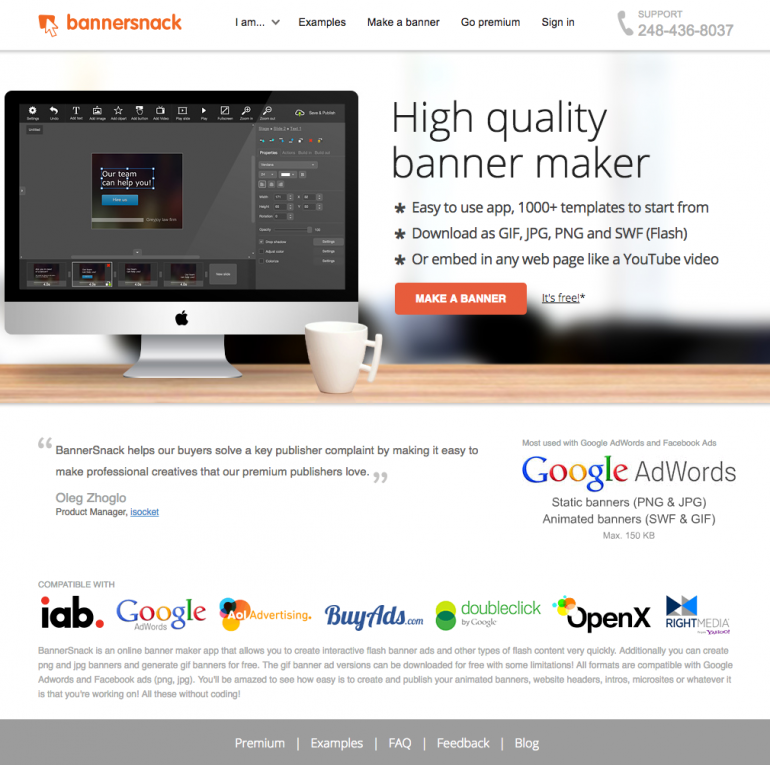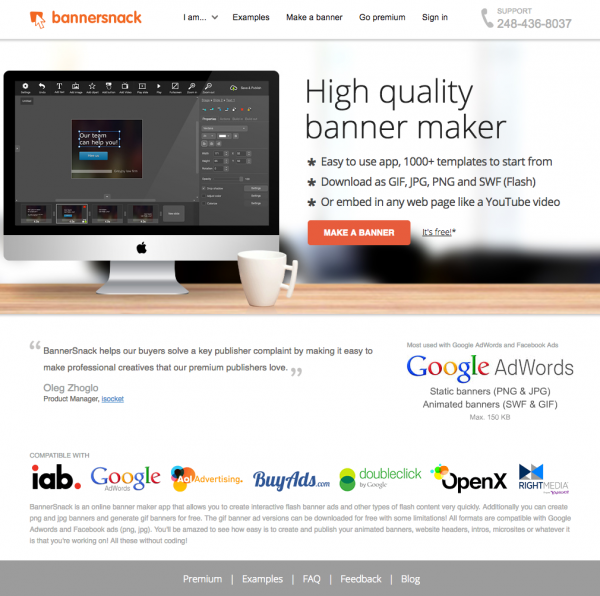 And here's an old screenshot on how our old editor looked back in the days: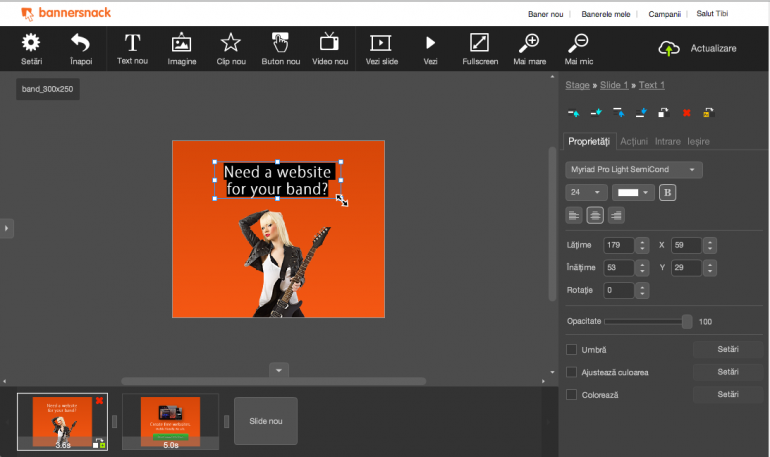 Our very first customer was registered in December 2008. We thank you for being the first of the many awesome users that trusted us, one of the first of many people who have joined our Bannersnack community.
Since then, we have changed our homepage several times. Back then, when we had just taken our first steps, you didn't have access to all the awesome tools available today, like Hotjar or any other tool that can give you some real time data to understand your user behavior.
Therefore, here are a few screenshots (even if they are not so cool, we are still proud of our work, for that time) to show you how those good old days looked like:
We have a lot of memories, right?
In 2016 we changed everything
Thus, there was one moment when we knew we had to change our entire app design. We understood that there is a new time, we understood that creators need to create fast and easy and the competition was growing stronger that we thought.
So, we made a statement, and we changed our online design app up to a 180 degrees.
In fact, our Product Designer, Gery Meleg even documented the entire process and wrote a huge column for DesignModo. In this article, you can read about the entire working flow. You can read about how we changed even the smallest details you can imagine and why all these changes were so important for us.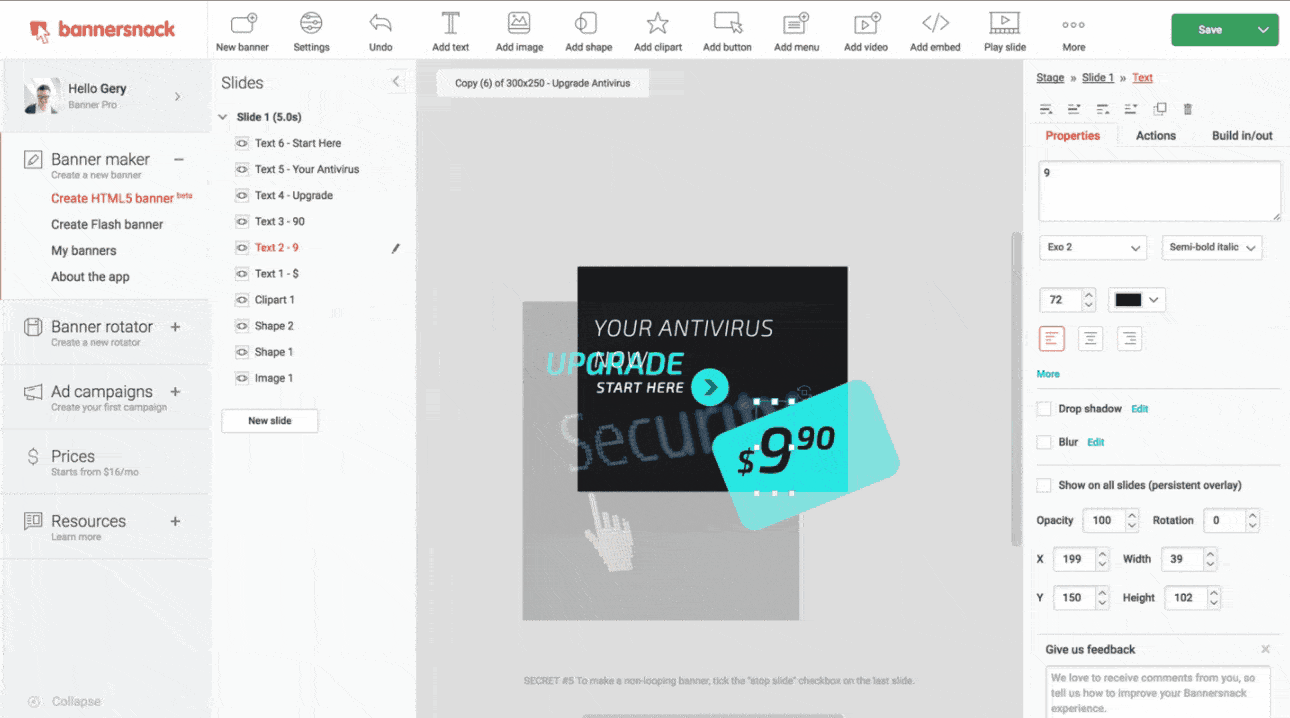 We know there are many online specialists that are saying banner ads are dead, but we still believe that banner ads didn't die and won't die in the near future. We believe that they have just been reinvented. In fact, if we look closely, Facebook ads are just like banner ads, Instagram Sponsored Posts are just like banner ads, Promoted pins are just like banner ads. They are actionable images that target an audience.
That's why you will still be able to find templates for Google Ads and visuals compatible with IAB standards among our social media graphic designs.
Since we launched the app, we made a lot of changes in Bannersnack. We managed to switch entirely from Flash to HTML5. We have launched new features and new products like: Banner Generator, Timeline and some awesome features that helps team collaborate better. We have given you the opportunity to upload your own brand assets. You can also upload SVG files and many other file formats and file types you can find on our special page.
Thank you for 10
All of these improvements, all of these new features and new products, we couldn't have designed, created and launched without you, the Bannersnack community. Because you are the voice we are listening to on a daily basis, you are our inspiration and you are the reason why we are doing this every day since 2008.
Millions of banners were created since we first launched Bannersnack. Tens of Thousands of static and animated banners are created every day with our tool, and our community is getting bigger every day.
As of consequence, we want to give a big thanks to you and everyone else who was involved directly or indirectly with the Bannersnack brand. It was a great journey and we can't wait to see what the future holds.
Bannersnack is and will continue to be the kind of tool you will want to use only if you want to create professional visual graphics for your website, for your social media presence or for everything related to your online brand.
In the near future, you'll get to notice some other improvements that will save you more time, more resources and more energy so you can focus more and more on how to grow your business.
In conclusion, thank you for these awesome 10 years! We know that the best is yet to come.