Facebook has experienced many changes throughout the years. In case you saw the "The Social Network" movie, you know that the platform was first launched in 2014 as a website for the students at Harvard.
From the Mini-Feed to the Newsfeed we scroll today, from being able to gift your friends virtually to sending money through Facebook, the network has changed so many times that we can't even remember all the features and major changes it's been through.
In 2011, when it hit 800 million users, Facebook has passed through a huge redesign that gave us the Timeline. Then, people and brands suddenly had so many opportunities to play with the content in order to make their profiles much more attractive.
One of the features launched back in 2011 was the cover photo.

At first glance, the cover photo may not seem important. In the end, it's a feature all social networks have, from Twitter, to Google Plus. But if you look deeper into it, you'll realize that your cover photo is a gold mine if you know how to use it.
Before I show you how to make a Facebook cover photo in Bannersnack, let's see what you need to take into consideration when you create one for your business Facebook page. Here are some of the most important elements you need to take into account:
1. Branding
"Think about your Facebook cover photo as the crown of your Facebook page."
The cover photo is the first thing the user sees when landing on your page. So, why not make the most of it and use it to reflect your brand values?
You already know (and if you don't, you're learning that right now) that your digital communication should be cohesive. What does that mean? Cohesiveness means that whichever colors, mood, tone of voice you use on your website, they should be found in each and every visual you use on any other platform – including your Facebook cover photo.
The advantage of the Facebook cover photos is that you can get creative and play with it. You can choose images that tell a story or that represent your day to day job, your office or even an image of your company's motto.
Check out Quicksprout's Facebook cover photo.
Nike's cover photo.

The cover photo at Forbes.

And Stela Artois' photo.

Actionable Tip: Reinforce your brand with the help of a simple, straightforward photo.
2. Facebook cover photo size
Social Media is very much similar to cooking a cake. If you don't add the exact amounts of ingredients, your cake might not come out like you'd expect it to. When it comes to Social Media sizes, the story goes the same. If you don't follow the recipe, you won't be able to take pride in your visuals.
What you must know is that sizes change. Facebook changes its features and dimensions so often that you really need to dig a bit to find what sizes your visuals need to be nowadays.
According to Facebook, your cover photo should have these dimensions:
Displays at 820 pixels wide by 312 pixels tall on your Page on desktops, and 640 pixels wide by 360 pixels tall on smartphones

Doesn't display on feature phones

Must be at least 399 pixels wide and 150 pixels tall

Loads fastest as an .RGB .JPG file that's 851 pixels wide, 315 pixels tall and less than 100 kb.

The information Facebook provides is a little tangled, so let me explain it to you. Facebook is using your photo in two different ways. In the rectangular format on desktops and in a square format on mobiles. Which means that if you want your visual to look at its best in any format, you need to create it 820 pixels wide by 462 pixels tall.
Actionable Tip: Make sure that you don't forget to replace your Facebook cover image from time to time or after it's no longer available (for example if the event you were promoting has passed). Even more, each of your updates appears in the news feed, so you'll gain more and more exposure every time you change it.
Be up to date with your Facebook visuals and check out our guide for Facebook image sizes.
3. Description + CTA
Besides the visual part, there is another dimension which is equally as important – the description you add to it. Don't neglect this aspect of your page because a cover photo without a description is pretty much a waste of energy and space.
Make sure you include a text that grabs users attention fast and is straightforward.
Don't forget about adding a catchy copy next to your link, like "click here for more" or "read the article on our blog". This is how you can easily redirect people to your online shop or website.
Of course, your CTA can even be an icon on your Facebook cover photo that points to the like or share button.
This is a subtle but efficient way in which you can get more likes or awareness for your page.
Actionable Tip: Introduce a customized bit.ly link into your description with a short explanation of what the user will find if he clicks on the link. This makes your link more trustworthy and the chances of it being clicked.
How to make a Facebook cover photo in Bannersnack.
Now that we know these 2 rules, let's see how we can make a cover in Bannersnack's Facebook cover photo maker. Don't worry, it's so easy you'll have it in no time!
First, you need to choose what you want to do.
Do you want to create a single visual or multiple? Since we want to create only a cover image, we're choosing a single banner.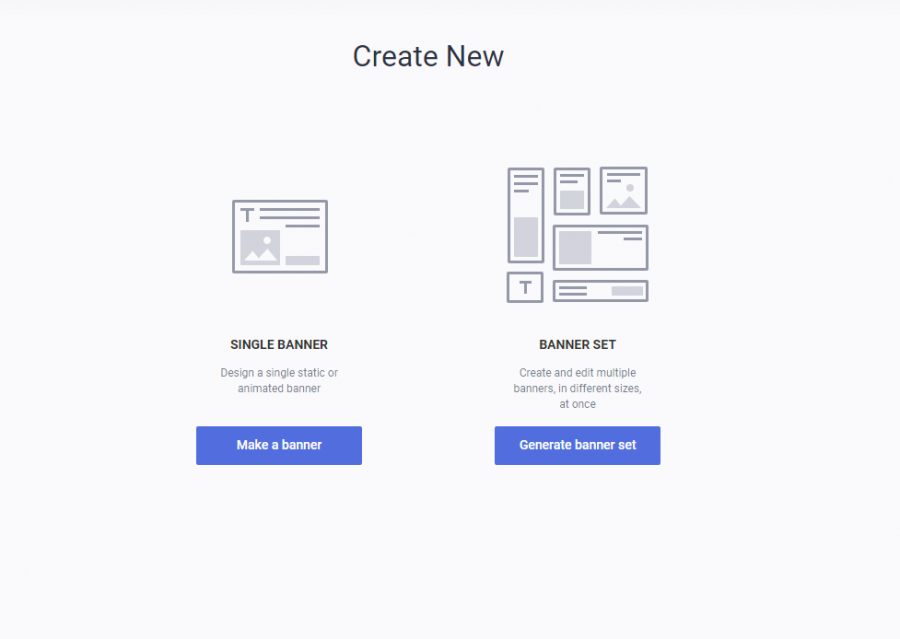 Next, you need to choose which kind of visual you want to create. So, go to Social Media and choose the "Facebook Cover" size. Use our Facebook cover photo maker to design your own unique cover.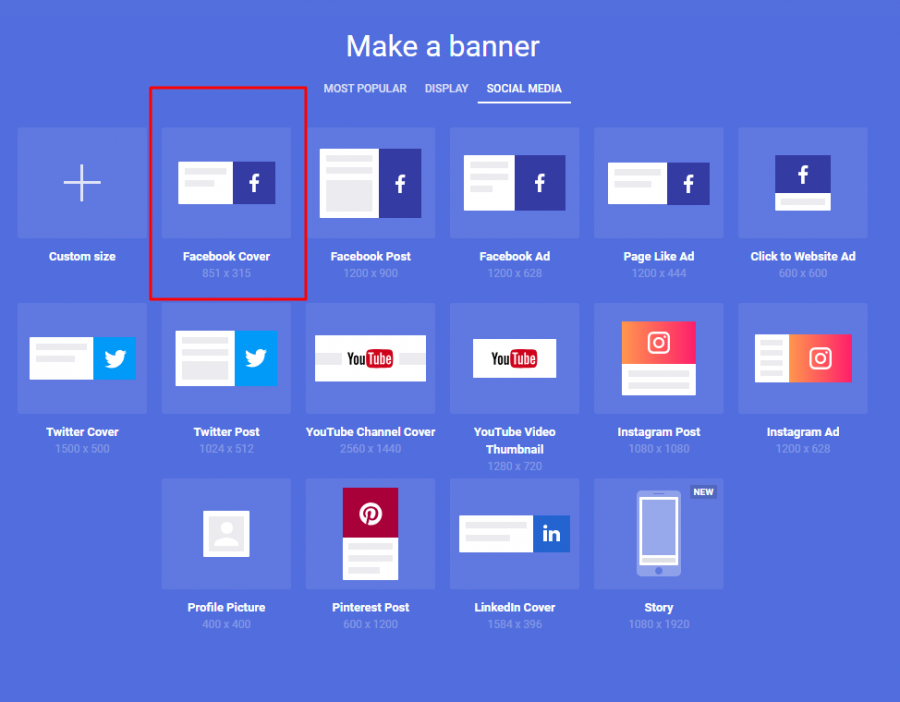 Then, choose one of our ready-made Facebook cover templates and customize it, or start from scratch. If you choose a template, don't forget to add your own branding materials like your logo, colors and fonts.






That's it!
When you finish your cover image, simply save it and download it. Then you can upload it to your Facebook page.
Conclusion
Just like any other branded materials you have, your cover image must be in sync with your company's message and values. Hope this article has helped you realized what a fantastic tool to increase brand awareness Facebook cover photos are!
Let us know in the comments section below how you introduced them into your overall social media strategy.