Today I am very excited to announce our newest feature that will help you design smarter banner ads – Bannersnack Analytics.
After looking at how people design banner ads we found two main reasons why their banner ads don't get enough conversions: 
First of all, A/B testing the banner ad is a must in your advertising strategy. You should always be testing your banners no matter what.
Second of all, they lack statistical data to track your banner's efficiency and make the best out of it. 
Some people design banners so they look good, others are designing them the way their boss tells them to (most of the time the boss is not even an expert) and others are designing it without having a reason and a goal set in mind.
But what if I told you that you can get more than just some clicks and views from your banner ads? What if I told you that a banner ad can tell you exactly how to design it?
The main reasons why your banner ads are failing, are bad design and the lack of credibility. So, it isn't really a type of banner that fails to get results, it's a way of designing banners that fails to get results. Read my entire interview on Inbound281
After studying our customers, the market, and our product, we concluded by asking ourselves this question: how can we improve their Bannersnack experience and most and foremost, how can we help them design better banner ads that convert?
Here comes Bannersnack Analytics
The first Banner Ad Analytics that will show you great statistics, Clicks, Impressions and a Heat Map for your banner ads.
This feature was created for every designer, marketer and entrepreneur who wants to understand more about what makes their banner ad work, and how can they design it so that people will click on it.
How it works
You design your banner ad using Bannersnack, then save it on your dashboard and copy the embed code you get from it. 
Using the embed option it will be easier for you to place the banner ad on your website. 
After you finished inserting the code on your website, you can monitor your banner ad's performance on your dashboard, by checking all the statistics Bannersnack Analytics is providing.
Keep in mind that this feature only works if you use our embed code.
5 major components of Bannersnack Analytics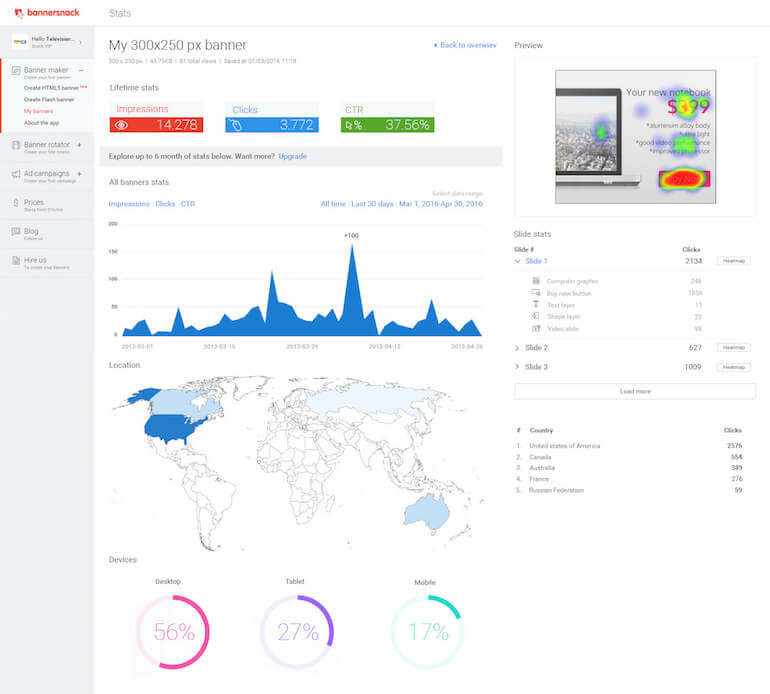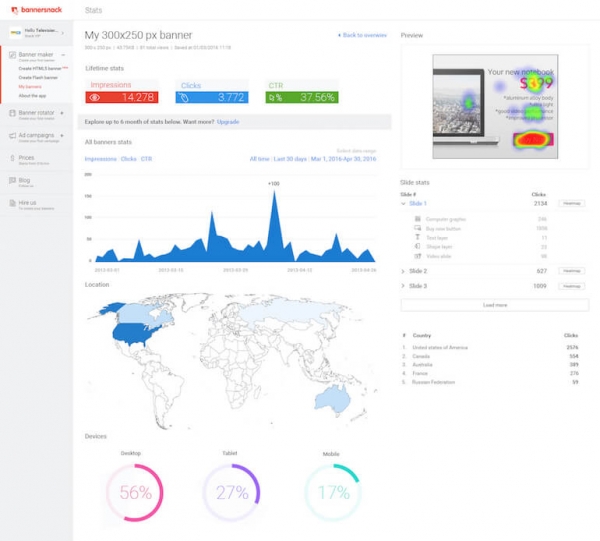 1. Stats – It will help you track metrics for your banner ads like Impressions, Clicks, and CTR.
2. Location – this shows you a world map and the locations where your banner ad is getting more attention. Moreover, we display the top 10 locations where on your banner ad was most viewed, had the biggest CTR and got the most clicks.
3. Devices – gives you stats on the 3 devices that people used to view and click on your banner ad and also had the biggest CTR: tablet, phone and desktop
4. Slide Stats – many of our users are designing banner ads with multiple slides included. This is why we decided to give you exact statistics on which slide is performing better
5. Heat Map – this helps you see "the hot spot" on your banner ad that gets the most attention. This is the first heat map designed for a banner ad.
I truly think that Bannersnack Analytics has the potential to change the way people design their banner ads in every company, from small businesses to Fortune 500 brands.
This is why we believe that Bannersnack is, and will always be more than just a banner maker.
Give it a try, and let us know how it worked for you!