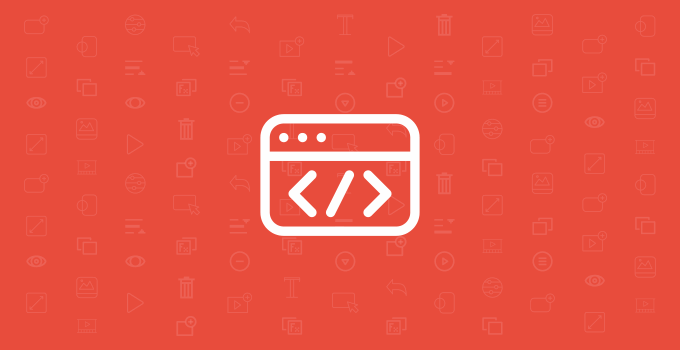 Bannersnack has revolutionized the way you display your banner ad. We believe that banner advertising shouldn't look outdated on the modern looking websites or blogs. The banner placement is usually restricted to the top and right side of the page but that's not always ideal. Our latest feature gives you a boundary-free embedding experience.
But first, let's define "embed code".
What is an embed code
An embed code contains a standard html script that allows you to include media content in any web page that allows html code input, without hosting it on your server. Basically, it's a line of code that displays interactive media content on your website.
There are lots of social media platforms or websites that provide embedding services. For example, you can embed a video from Youtube, a podcast from SoundCloud or even collect email addresses (MailChimp).
What makes sharing through embed code so popular is its accessibility. It doesn't require programing skills and there are many great tutorials that show you how to do it.
Now let's get to the fun part. We believe that our latest feature provides useful options for you to choose for embedding banners.
There are 2 new major settings that allow you to control how you use banners with embed code.
1. Where to display
The place your ad will show is obviously one of the most important aspects to take into consideration. There are many ways to measure which is the best place to display your banner on a page (A/B testing, heatmaps, etc).
What we can tell you for sure is that the most common place for an ad is on the top and the right side of the page. Sometimes, that ad placement is not suitable for your banner ads campaign. So here are our alternatives. Click on the links next to each displaying option to get a glimpse of how the banner would look like.
Inlay in page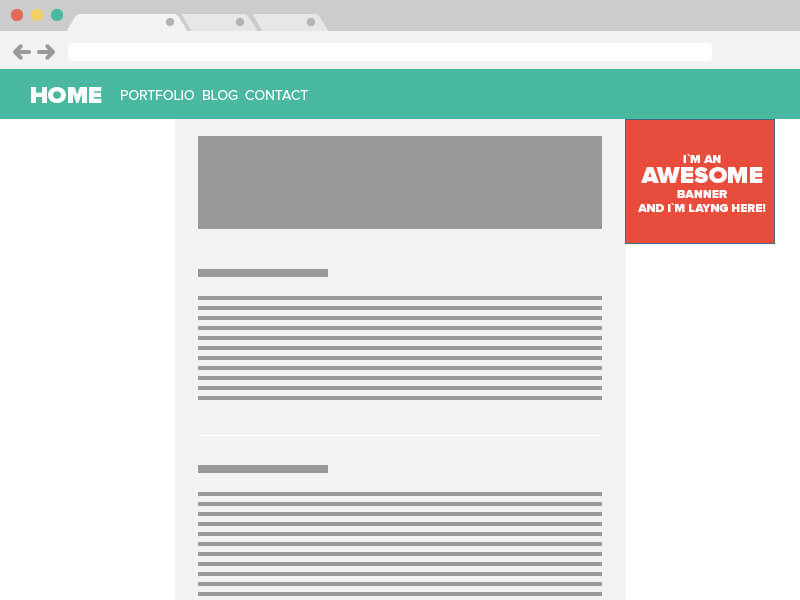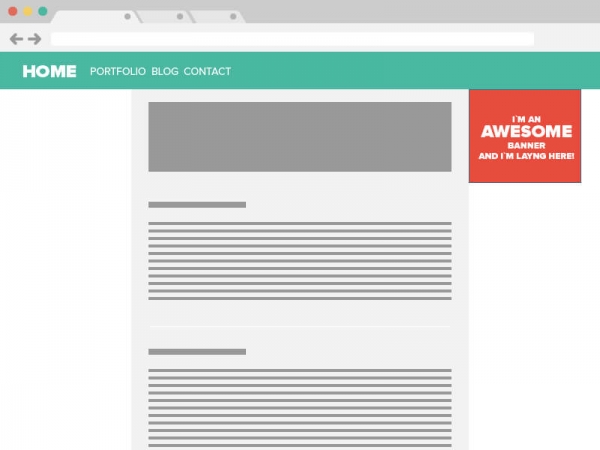 You can use the embed code within a page as default, in an exact spot by choosing "Inlay in page". If you don't choose any of the options listed below, "Inlay in page" will be used as default.
On top of page

Choosing this option, the banner will glide down on the top of the page. Choosing this ad placement might be a good strategy if you have relevant content on the upper side of the page. Moreover, you can use a thin banner on the top of the page to make a notification bar or a notification looking banner.
Click on this link to see the magic happen!

Centered pop-up

Big websites like Quicksprout or 9gag display them when you are inactive for more than 3 minutes or on exit intent. Before you decide to display your banner in the center, make sure your banner is not too intrusive or it won't bother the user.
Click on this link to see the magic happen!
Bottom overlay

You get three more options when you choose Bottom overlay. Center, left and right. Depending on where your most important content is on the page, you choose one of the three places. If you are not sure which is the perfect place you can do some A/B testing or a heat map.
Click on this link to see the magic happen!
2. When to display
So, you have the right banner in the right place. Now, when should you display it? Usually, when you load a page, the banner loads as well.
Still, that's not always optimal. Most of the people tend to ignore the banners that are loaded at the same time with the page. They skim through the content of the page till they find what is important for them.
Banner blindness is often a reason why your banner is not clicked or viewed but rest assured, you now have a solution. Actually, there are 3 solutions.
On delay (seconds)
If you want to display your banner after a certain number of seconds after the page has loaded, you should choose this option. Using this feature, there is a higher chance for your banner to get noticed. You can delay your banner ad from 0.1 seconds up to one day (86400 seconds).
On exit intent

There is an increasing number of popular websites that display a banner when you're about to leave a page. You can make your visitors change their minds about leaving by offering a quick discount or a good deal. It works like this: whenever your visitor is about to click the close button on a tab, a banner pops up.
On function call

This function can be used from code. Whenever the user does something in your app/site that will trigger a banner pop-up, all you have to do is call the assigned JavaScript function. Practical example. If you want to display a pop-up that contains a Youtube video you can do it by choosing this function.
Click on the blue word and a pop-up will be called with this function. BLUE

If you want your banner to show up when your page is loaded, select the "On page load" option. Also, you can choose if you want your banner to be animated or not. For more information about our new embed code, stay tuned because we are posting a tutorial.
How to use these new settings
There are many creative uses of these new features. The most creative one that we could think of is doing a "treasure hunt" within an article. You hide a gift card or a discount in a word from the article with the "On function call" option and the first one to find the word will get the prize.
This is just one creative idea. Can you think of another one? Tweet your idea using #bannersnackembed. The last day when you can submit your idea is October 31 this year (2015).
The most creative idea wins a 1 year Banner Pro membership.
We shall have the right to nominate the winner.