Bannersnack Makes Banner Ad Design Feel Smooth and Simple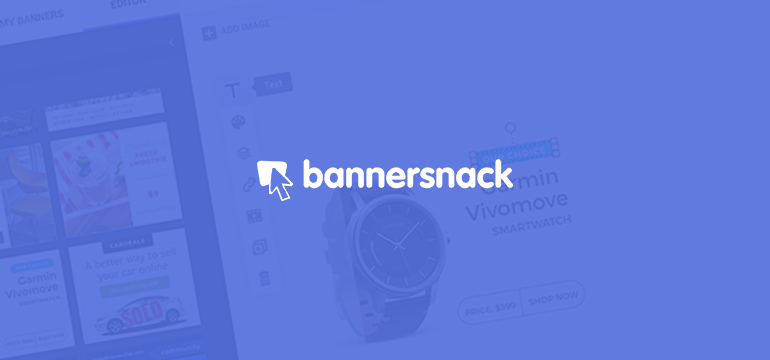 If you're looking for a tool to help you design a banner ad that will boost your online campaign, you are a lucky person! You came right in time for us to tell you that we've got the right tool for you!
We won't leave you wondering for too long, we're talking about Bannersnack – The online original banner maker!
Let's move on from out perky intro and talk about the reason why we call our editor the online original banner maker.
Bannersnack was launched in 2008 as an online app designed especially for creating high quality banner ads, smart and easy. Since then, we've been working hard to keep this promise as a statement of our brand. Bannersnack is the online banner maker that can help you deliver stunning visuals.
With Bannersnack you can create static and animated HTML5 banner ads.
You don't have to be a professional designer or a high rated online marketer who can also design. With our app everybody can design a high quality banner ad and download it in several formats.
But… what makes Bannersnack so special?
1. High quality templates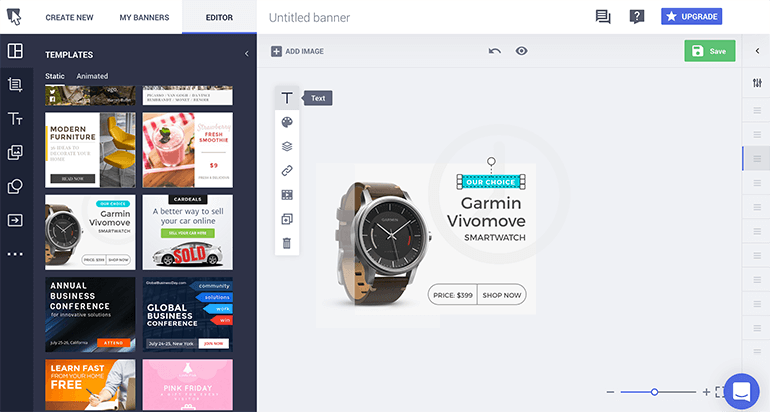 We know that time is an important resource. That's why we are constantly designing high quality templates that will be a blast for your inspiration. You don't have to create a banner ad from scratch. Just sign up to bannersnack.com, chose the size you want and then pick one of the designs from our templates library. Then, all you have to do is to edit the content within the banner ad, click the save button and you are ready to use your visual!
Our professional designers and marketers are working together to create the best banner ads you need for your clients or business.  
We have high quality banner templates for online campaigns such as Google Ads, but we also got some visual graphics for your social media strategy.
So whether you want to grow your Instagram page or engage with more Facebook fans, you have to give them quality content.
2. Upload your own brand assets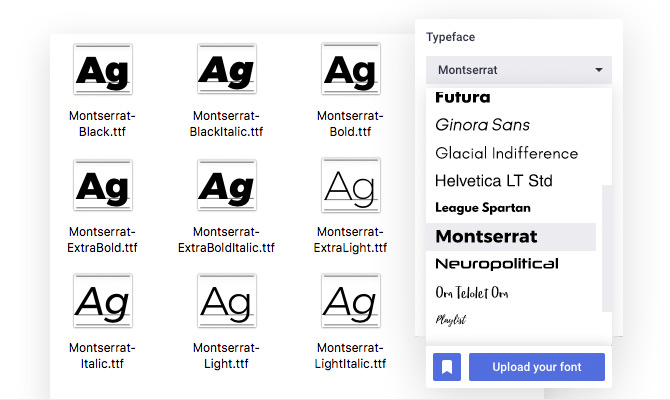 All the top marketing specialists are saying that you need to create a brand that people trust in order for them to buy from your and talk about you. But how can people recognize your brand if you use different font styles in your display ads, different colors on your website and social media presence and different design styles in your online graphics? 
That's why with Bannersnack you can use your own fonts. All you have to do is select a text box in, go to "Font Selection" and click the "Upload own fonts" option.
Here you can upload TTF and OTF file types.  
Other cool thing you can do with Bannersnack is to upload SVG files and edit them in our app. We know for sure that SVG files are everywhere nowadays and they are the industry's standard in web design and online applications.  
Also, you can create different folders in Bannersnack that will allow you to manage your brand better. For example, if you create several visuals but for different social networks, you can create folders for each and every one of them. And after that, you can download multiple banners from your folder in one simple ZIP.
Isn't this cool?
3. A lot of content in our app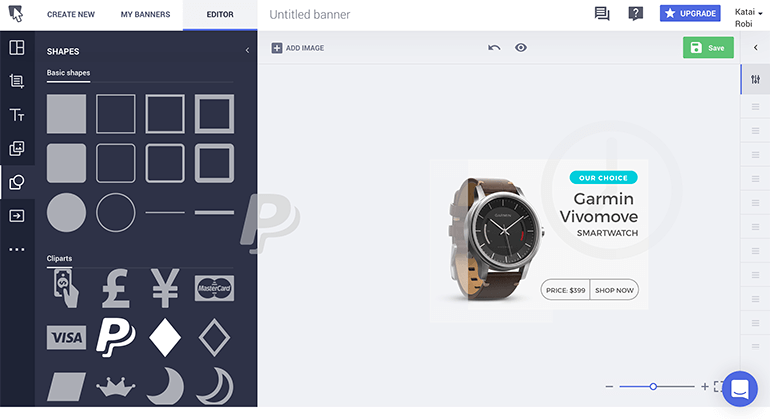 When was the last time when you checked your hard drive and realized there's so much space waiting to be used? To design beautiful banner ads you need to use high quality content. And maybe you don't want to search for that content on stock images websites, buy the photo, download it and then upload it on your editor.
There are way too many steps in that process. 
That's why, here at Bannersnack, we developed a photo library with  more than 3 million high quality stock images for your ads. Or if you want to upload your own photo, you can simply drag and drop the file (max. 15 MB. SVG, JPG, JPEG, PNG and GIF only).
Also, we know that using shapes and buttons can help your banner ad stand out from the crowd. That's why when you subscribe to Bannersnack you have access to all the basic shapes, buttons and cliparts.
4. Easy to create animated ads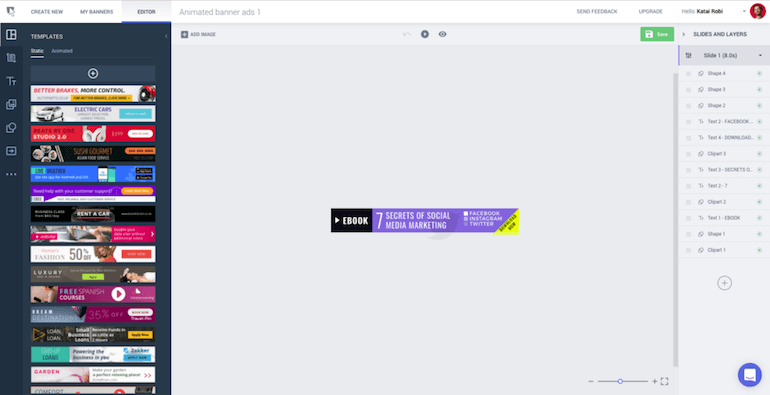 The best banner ads are the ones that are delivered to the right person, at the right time with the right message. But we found out that to have give great ad experiences, you need to create animated banners that can help the user better understand the message you're trying to send..
With Bannersnack you can easily and efficiently create animated banner ads with build in and build out transitions that will make your visuals awesome. Also, you can download your final visual as a GIF or MP4 format and upload it on your favorite social media network.
In this article you will learn how to create an animated banner ad using Bannersnack. Check it out and let your creativity go wild.
5. Banner Generator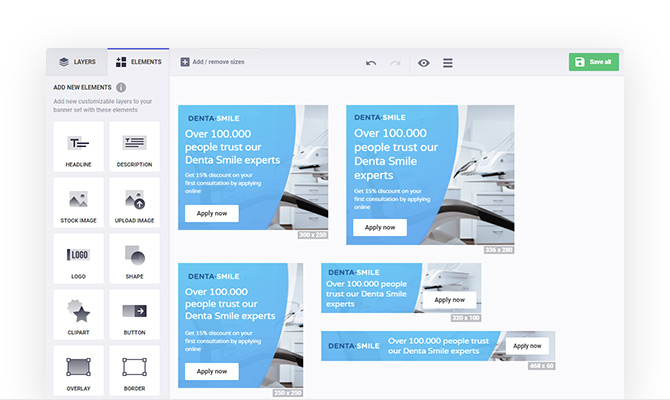 They say all good things come to an end. But to make this ending a little bit better, we've left our best feature at the end!
There are many online editors that allow you to design visuals for your social media or static banner ads for online campaigns. They promise that you will save a lot of time using their apps or that you can be a social media guru if you use their online editor. Well, we won't promise anything like that, but we can put our money on the fact that with our app you save a lot of time.
The best time and money saver is here, and we call it Banner Generator.
This feature will help you design dozens of banner ads at the same time. Exactly. You can add the same text, edit it, add shapes and buttons on different banner ad sizes at the same time. And you can download all of them in the same folder in a ZIP.
Banner Generator is one of the best features Bannersnack has and we bet that you'll fall in love with it too the next moment you sign up on Bannersnack.

So why should you use the Banner Generator from Bannersnack?
Because you can create and customize multiple designs

We have more than 1000 templates

It has a Facebook & Google AdWords compatibility

24+ size preset

Real-time analytics

Responsive banner ads

You can download and you can embed the banners
Bannersnack makes design simple for every designer, marketer and small business owner.
Choose from thousands of professional templates to create static and animated banner ads, social media visuals and so much more.