If you are a marketer or a business owner, you should get ready for what's coming next this month! Why? Because it's Black Friday time! 
Black Friday is the biggest online shopping day in the U.S.A (and going global year-by-year). And you wouldn't want to miss the chance of taking part of this big sale and close deals that can make you, your clients and your potential clients smile, would you?
How do you know if people are getting serious about Black Friday?
Just pick up your phone and call the first 3 friends in your contacts list and ask them what they want to buy this year on Black Friday. I can bet that they've said that they're interested in tv deals, laptop deals or some other electronics, things they don't get the opportunity to buy on a regular day during the year. What does that really mean? That they are preparing for Black Friday and you should get ready too!
How much does a regular customer spend during Black Friday?
If in 2011 the total amount was of $398 and in 2012 was of $423, I want to believe that in 2016 will pass 500 U.S. dollars.
And I know that you don't have the Amazon ecosystem in your office, or the specialists and budget of Walmart or Best Buy but I know that if you get ready ahead of time, you can sell more products in a day than you do in a regular month.
So get ready to learn how to cut through the Black Friday noise with these marketing tips and stand out from your competitors.
You will learn about the importance of design, how to use online advertising and the importance of keeping in touch with your customers in that specific day.
But before we dive into this topic, let me start with the first question that I always have in my mind:
The "Why" Question for Black Friday?


I know that for some of us this is a stupid question, but I truly believe that when you'll go back to the roots of your strategy, it will help you have a better understanding of what you need to do.
For example, when a basketball team is training to win a championship, their purpose is to beat every other team they play with, right? To do that,  they have several tactics: the small tactics which they use to play throughout the championship and a masterpiece tactic which is saved to get into finals.
I overheard a coach once asking his team "Why do we play tonight?"  before their game. And the simple answer wasn't "To win!" but "To get closer to the final"
So, if you are a small business owner, you should know your answer for this question: "Why should you get into the Black Friday game?". Maybe you want to sell more of your product on stock. Maybe you want to sell more of your newest product. Maybe you want to get rid of the products people won't buy. Maybe you want to sell more than your competition.
Why should you get into the Black Friday season?
You should take a few moments and think about this answer. Ask your colleagues and employees, see what they think about.
This is how you can easily make your team embark in this perfect moment of selling more using Black Friday deals.
[Tweet "You won't have huge selling results if you don't start planning and preparing in advance."]
Here are my marketing tips to help you prepare for this year's Black Friday.
1. Visual Communication


Let me give you 3 reasons why Visual Communication is important for your business:
Users pay close attention to photos and other images that contain relevant information. (

Nielsen Norman)

30% of our brains are engaged in the task of processing visual information. (

Discover)

90% of all human communication is practically non-verbal. (

DMP

) 
And more than 65% of  the senior marketers think that visual content is the core to how their brand story is communicated (source CMO Council). Exactly! This is how important visual communication is for your business!
With Black Friday coming up, almost every brand will take advantage of visual design and start using it in every place where their brand communicates..
I asked our own Designer, Gery Meleg, the importance of design for this 'holiday', and he said:
Black Friday is really the only day of the year when people are keen to buy stuff and you only have to show them what you got, because that's what they want: to find and buy. Every business should be well prepared and active on all possible communication channels before and on Black Friday, especially online.

Teasing people with the unique, creative offers, is usually a great technique.
So, if you have a website, a social media presence or you send weekly newsletters, you'd better start building your Black Friday visuals.
I recommend you to start with a branded Black Friday design that you can apply to every channel on which you communicate. Maybe you could change the header of your website, or you could just notify your users about the promotion you will have using this great tool – Notifysnack.
Or if you want to create a countdown banner on your website, you could easily use our embed option feature that will help you make the best of the banner on your blog or website.
I use this online tool to create a countdown then I copy/paste the embed code into the banner ad and then use the embed code to insert it in the website. You can also easily make it to appear wherever and whenever you want it to with our embed option.
For example, you can use one of the visuals we offer here at Bannersnack which you could easily edit and to which you could add your own logo, or your brand message.
These are the Black Friday templates (you can edit them in Bannersnack, just click on the image) that will save you time but help you get more money: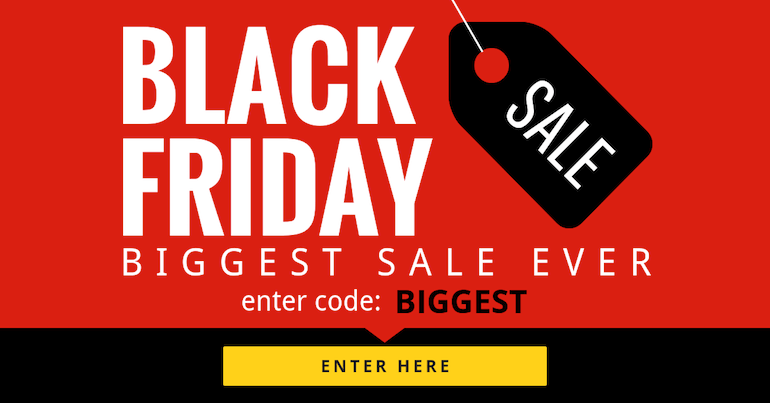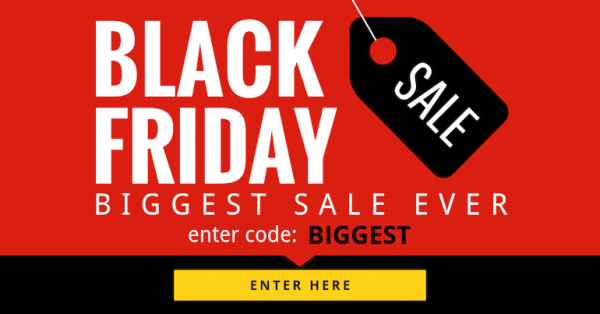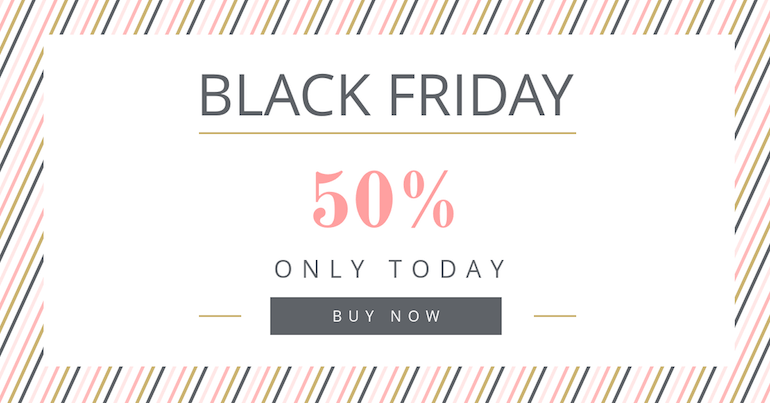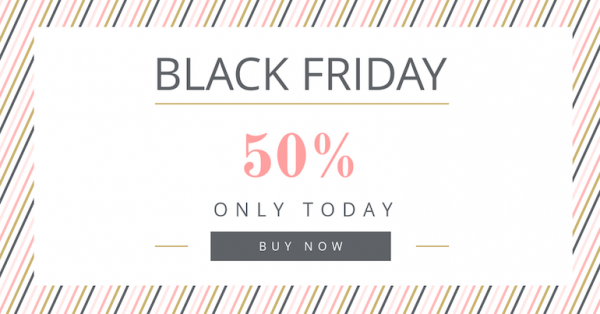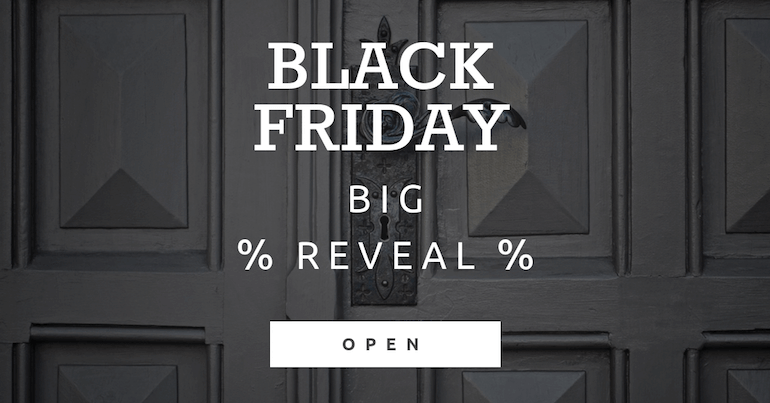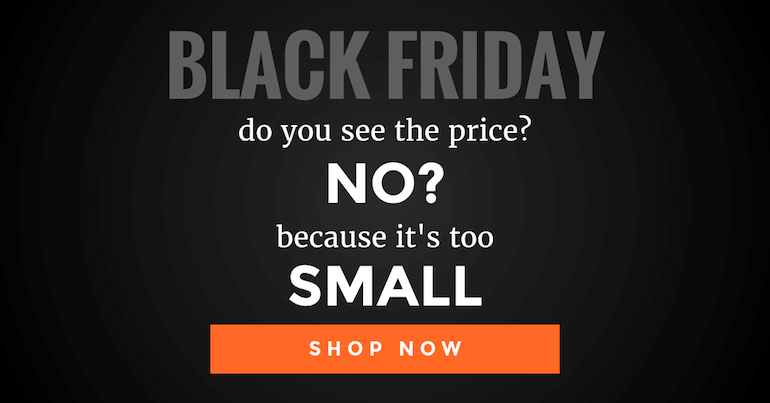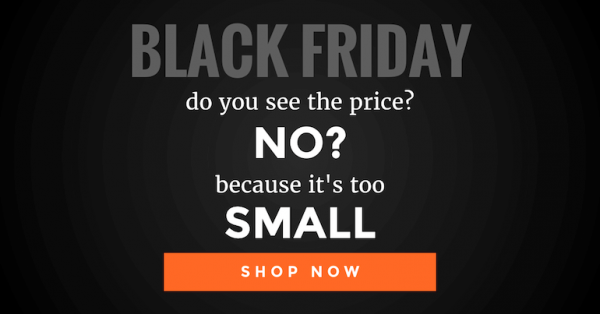 2. Advertising and Email Marketing


According to eMarketer, 65% of U.S. internet user are planning to buy more on Black Friday than on Thanksgiving or Cyber Monday.
That means that people are open to get the best deal on the product they want to purchase. So how will they know about this deal?
There are some simple tactics that a business owner can use to get more customers on his website. One of the best idea is to start planning and creating an early advertising strategy!
Like our Marketing Manager, Sergiu said:
Expand your promotional campaigns so you can reach all your base audience through re-marketing campaigns on facebook, adwords, or any other ad network that will help your achieve this goal.
Don't look at advertising only from the Google Adwords or Display Advertising perspective, you can easily use social media advertising such as Facebook targeting, Instagram Sponsored Ads (here are a few well designed Instagram Ad Templates) or Linkedin Ads.
But do not rely only on your customers and well known clients that you already know. This is the moment where you should think more broadly:
Consider a wider approach and invest in advertising campaigns targeting new customers
Advertising is much more than having some offers and putting them in front of your potential customers. Calin from Photosnack said:
Make your offer unique – something niche that the bigger competitors don't have. Use all avenues available to you: content, email, social media to get your message out. Cover the basics and only then go for some crazy new idea. Prepare different content/messaging approaches, don't be afraid to experiment. Then A/B test them. Always remember to follow up your emails and try to offer free stuff in them.
Many advertisers use Facebook ads because it helps them deliver the results they want. The average CTR (click through rate) was 1.20% in October 2015. But in November 2015, the CPM of Facebook had an overall of $6.81. That means that advertising through Facebook can be a great strategy for your Black Friday deals.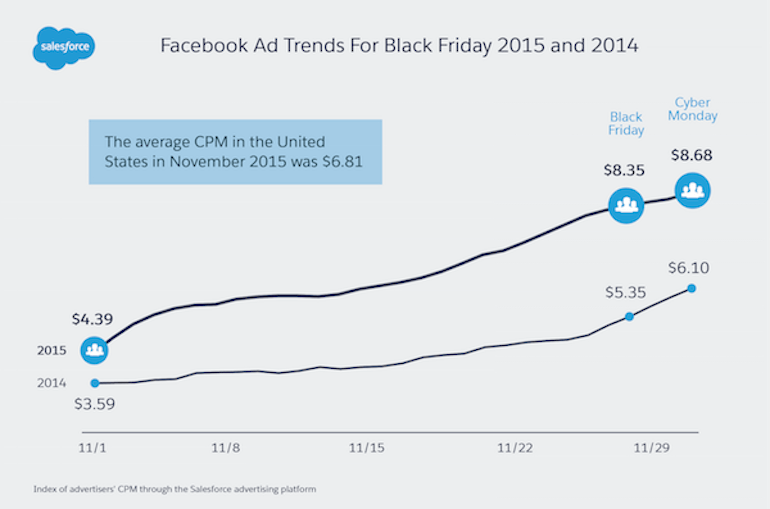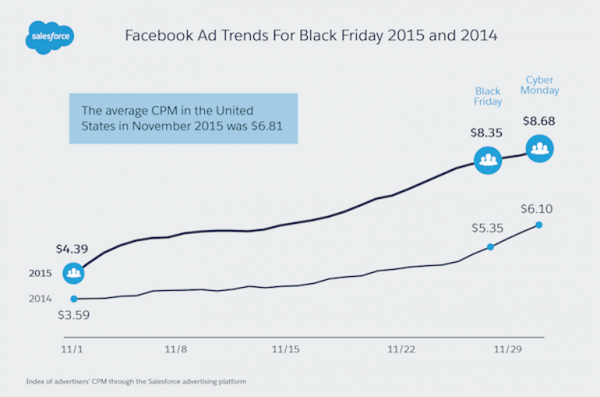 Oh, and let's not forget about the importance of mobile experience. Do you have a responsive website? Can people easily get the promotion on their mobile devices from your website?
Think about this, according to BI on Cyber Monday, Amazon was selling 18 toys/second ordered from mobile devices. And in 2015, more than 60% of people shopped on their phones.
Also, total holiday sales from the Amazon app for smartphones doubled in 2014 in the US.
Well, Mobile shopping increased as customers got later into the shopping season on Black Friday or Cyber Monday.
What about emails? How many subscribers do you have for your newsletter? What's your email marketing strategy? Questions over questions. But the best tips you can get is from the ones that already do it.
And this is why I asked Andrei to let us know the importance of email marketing for Black Friday:
Black Friday and Email Marketing are definitely on the "most iconic duo" list. Statistically, on November 25 the open rates are going through the roof and it's probably one of the best time of the year for an email marketing campaign. I won't bore you with endless reasons why you should run email campaigns because everybody does that. Instead, I want to give you a piece of advice that helped me tremendously in my latest campaigns. Take your user segmentation to the next level.

User Segmentation is simply a way of arranging your customers into smaller groups according to their characteristics.

These distinct subgroups or segments should be defined by particular attributes and you should be able to target specific, relevant marketing messages at each group. This will help you get a better understanding of what kind of message works the best for your audience and get detailed statistics for each user segment.
There are so many things to do for this Black Friday and you are only a person or a small team.
What should you do to sell more of your product but in the same time, be stress free and skip blacking out?
3. Stress Free Black Friday


As Janina from Flipsnack said:
Plan everything in advance.
Because when you already know what you want to do before the chaos starts on Black Friday, you will be stress free and know how to deal with exact situations.
Make a very detailed strategy listing all promotional activities, channels, dates and budget. Assign tasks to your team, so everybody knows what they need to do and when. This way you'll have a stress-free Black Friday campaign.
It's important for you, as a business owner to know what to do before getting into the Black Friday war. There will be competitors who will have a bigger promotion than you, or who will invest more money in advertising that you afford or they will have more employees that will do more things to sell more product.
So, the best thing to do is to start your early Black Friday strategy.
Here are a few suggestions:
People will start getting online early to see what's the best deals they can have for this season. So start early in the morning and make sure your website will work properly.

Use social media to communicate your daily promotion. Change your Facebook/Twitter/Linkedin cover. Use Twitter and Instagram to get on the official hashtags.

Use your e-mail to send different newsletters with the offers you have.

Don't forget to answer as fast as you can on your phone, email or social media.

Assign tasks to your team, so everyone knows that to do.

Don't forget to get coffee and lunch for your hard working team

Celebrate the victories

Take a break after Black Friday and Cyber Monday and get some rest
Conclusion
Everybody is waiting to buy something on Black Friday and also every business is waiting to sell something on Black Friday. So make sure that you understand your customers needs and behavior and also get ready for the big day.
As I already told you, you can have the chance of selling for a day as much as you sell for a month, or more, who knows!?
Now back to you, what other marketing tactics will you use this year for Black Friday?