Nowadays we live in a world that is becoming increasingly competitive day by day.As a result, everything is developing and changing very quickly.
More and more people who offer various products and services prefer doing it online, as it has become more convenient and profitable. Access to the Internet has made it easier both for the business people and their clients to find each other.
A successful business that is run online is impossible without a professional website. However, if you want to attract not just visitors to your website but customers, you need a landing page. Why exactly a landing page?
The answer is simple. The landing page is a one-page website that prompts the visitor into taking some sort of action, for instance, signing up for a newsletter, downloading and installing software or ordering something. That is making use of the landing page. You do not advertise your company, goods, and services in general, but you promote one particular product or service with a certain aim. How is it possible to define that any landing page is effective?
There is one specific marker that shows the efficiency of the landing page called 'conversion'.
Conversion shows how many of the people, who have visited your website, have taken any desired action whilst there. They may buy something or leave their email or phone number for you to contact them for a specific purpose. It is clear that the more visitors who have been converted into customers, the better. However, one will always ask the same question: how do you build a high converting landing page? There are several ways to solve this issue. You may consign the job to a team of professionals which can be rather expensive and take quite a long time. Another option is to do everything yourself.
However, in this case, there is no guarantee that you will get what you want. It is impossible to be a web designer, a programmer, a copywriter and a marketing expert all at the same time.
What should one do in this case? There is a perfect solution that you will definitely like. Opt for the ready-made one page one page WordPress themes which can be used both for business and personal websites of any kind. You will be impressed by their great functionality and professional design.
Moreover, if you buy one to create your landing page, it will certainly save you money, effort and precious time. Furthermore, you will have no problems with conversion, as all of them are high converting landing pages.
Therefore, if you want to make a superb online presentation of your product or service, choose from the best WordPress templates for business. It will help you not only reach your target audience but also increase their number. Let us analyze what elements have been included in these landing page templates that help increase their conversion rate.
1) An Expressive Headline and a Corresponding Image
An effective headline plays an important role in the design of the landing page. It lets the visitors see what to expect from this landing page and draw the conclusion that they have come to the right place. The aim of the headline is to make the person stay on the web page as long as possible.
Christmas Landing WordPress Theme, Santa's Bag, has a perfect headline. It is attention-grabbing, simple and short – 'Your Perfect Presents Are All At Santa's Bag!' However, it explains the main idea of what the client will get here. The design of the headline attracts the user's attention because of the font size and its placement.
One more important point is that both the headline and the sub-headline complement the image that is relevant to the products you offer. So, welcome to Santa's Bag! Christmas will be here soon! Therefore, hurry up and be ready to change the future!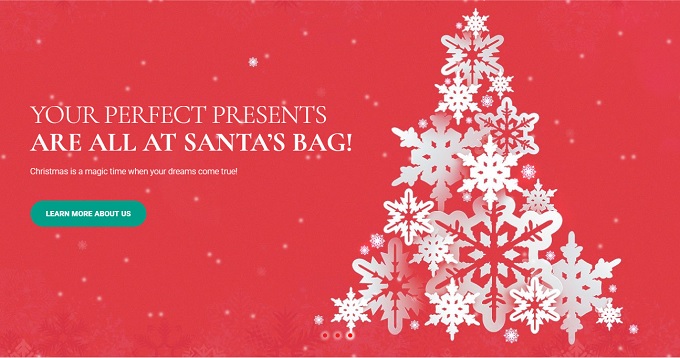 2) A Convincing Call to Action (CTA)
It is a crucial component in the structure of the landing page, as it is exactly this element of the design that makes the visitor take the corresponding action. It is possible to use multiple CTAs or accentuate only one CTA.
If you prefer a short-form landing page, then one CTA will be enough. In this case, it is not worth distracting people's attention with a lot of requests. However, long-form landing pages are also considered to be highly effective. You just have to add each separate CTA at the end of each discrete section of the landing page in the proper place. You are the one who will decide what is best for your circumstances.
Let us have a look at the Archbook which is a Responsive Landing Page Template. It is a sample of a long-form landing page with several CTAs, but even so, it does not overload the page and the actions are clear, as each of the CTAs is located after a certain section.
That way the client knows exactly what he should do after each section. The buttons are big and made of a contrasting red color to make them different from the landing page color scheme.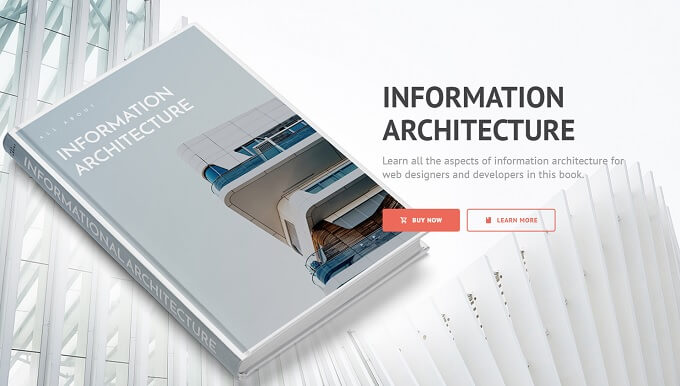 3) Very Important Attributes (VIA)
When we talk about VIA, we mean some special advantages of your product or service that will be the most important to your customers. There is no use including a long and detailed description and overloading the website with unnecessary information. It is better to choose from two to six key points that will represent the product or service in the best possible way. It is advisable to choose the ones that will explain to the clients how your product or service can solve their problems.
They can be presented either as benefits the customers receive or the so-called 'pain points' – that is, how the characteristics of the product or service will help the client avoid certain problems or unfortunate situations. Eco Tech, which is a Solar Energy HTML5 Landing Page Template, focuses on the advantages that will benefit the clients when ordering at Eco Tech. The list of attributes does not distract from the CTA.
Moreover, all the points in the list are accompanied by icons and descriptions that make the listed benefits more appealing to the clients.
4) An Offer
An offer is one more element that should be taken into consideration. It can work as an additional stimulus to encourage the user to take a specific action. What could it be? First of all, you may offer a special discount or coupon and mention the deadline by when it is possible for a customer to receive it. It creates a sense of urgency and encourages the visitor to take action faster.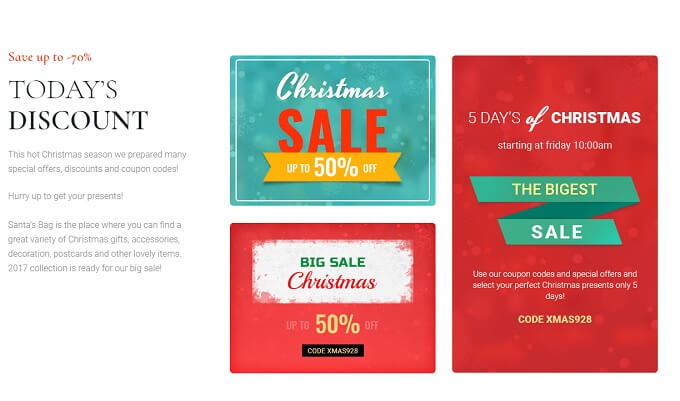 One more option is to offer a free version of the product or a free customer support like in this case.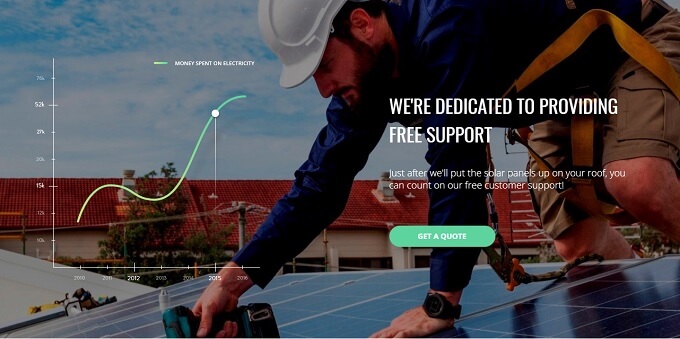 5) Social Proof
Social proof is a valuable contribution to the conversion rate of your landing page. If you want your business to be regarded as a trustworthy one, you should not overlook this point.
There are several indicators of social approval that can be used. To start with, one factor is the number of tweets, followers, and likes; therefore, use the links to the social media on your landing page. However, first of all, it is advisable to find out what social media your visitors prefer and then put those social media buttons on your landing page.
The next indicator of social validation is written or video testimonials. As they are one of the most influential trust signals, they should be from real people. If you use written testimonials, it is necessary to include a name, a photo of this person, a location, and his/her comments.
Finally, you may also show user statistics and press mentions if you have them.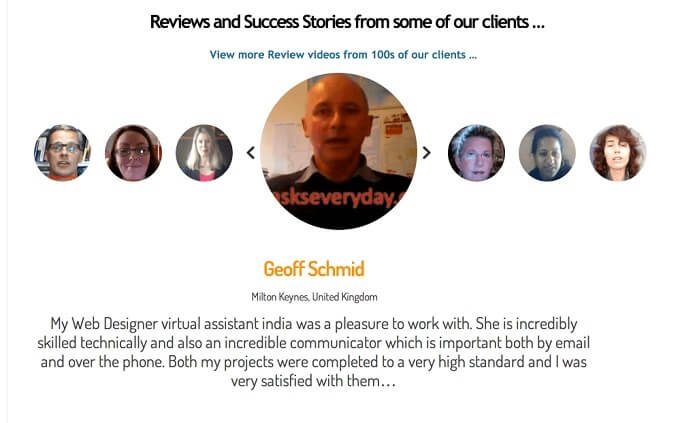 6) Visuals
Visuals are elements that can either capture attention or be a distraction if they are used excessively. Besides images, videos and the logos of the clients that are always used to highlight some key features of the product or service, it is also necessary to take into account other elements.
For example, one should consider space, as a simple design with a lot of white space will divert the user's attention to the call to action. Moreover, you should not forget about fonts.
If you use fonts of the proper size and color, it will also work for the benefit of your landing page. Or you may put icons or bullets to highlight some specific ideas or advantages of your product.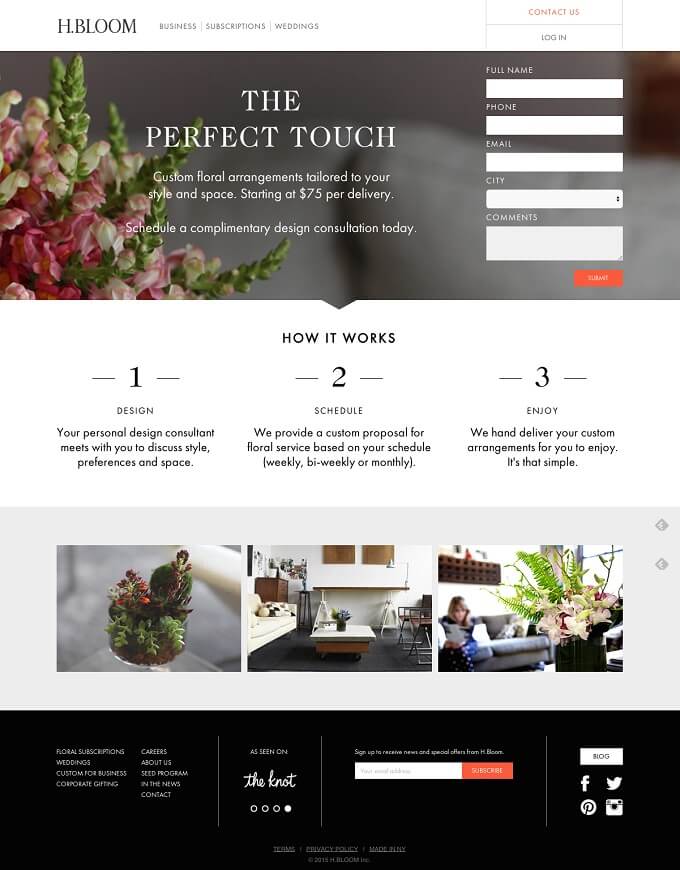 7) Methods of Contact
There are various methods of contact that are included in the design of the landing page. It is possible to use one method, for instance, a contact form.
However, multiple methods of contact are also widely used. Among them, you may find the following ones: a phone number, a physical address, an email address, and a live chat.
If you want to prove that you are a real company, it is advisable to include a phone number and a physical address. All the other suggestions can be used according to your wishes.

To sum up, a landing page is made for a certain audience and usually for a specific occasion. As we can see, its design is of crucial importance to encourage the user to take action. One must remember that any landing page should be as simple as possible.
If you do not want your visitor to be overwhelmed by the amount of the information provided and therefore leave the page rapidly, it is recommended not to overload the landing page with it. So, opt for our templates and do not miss an opportunity to build an effective landing page!
 Article written by our friends at Template Monster.