Over the past few years, Facebook changed their cover sizes and their proportions on numerous occasions.
We've learned that this year they applied some changes as well but rest assured, the proportions are the same so, no worries, your accounts will not look different than they did before.
There are a few differences we are going to talk about during this article, some recommendations regarding the proper sizes and the ideal dimensions and of course, we are going to offer some tips on how to build your Facebook covers, how to design them and make them not only attractive but also appropriate for your personal or your business brand.
Let's start with the basics…
The new Facebook cover sizes:
In 2017, there were no major modifications to the main Facebook banners and the profile picture sizes. However, the profile picture was reduced from a 180×180 pixels square to a 170×170 pixels square, which means that the proportion remains the same and therefore, there will be no visible changes in how the profile looks.
There were some minor changes in the size of the main Facebook cover banner as well.
The cover on desktops was reduced from 828 x 315 pixels to 820 x 312 pixels.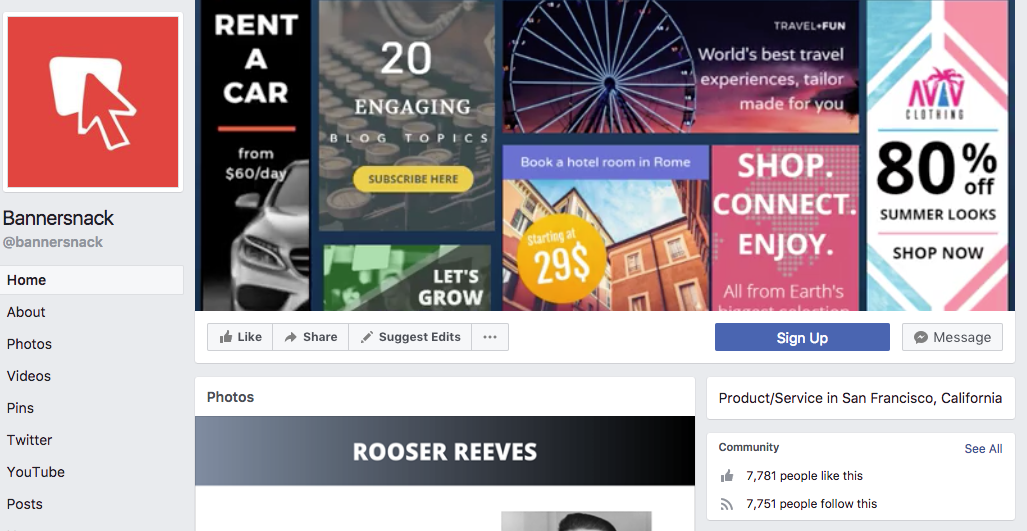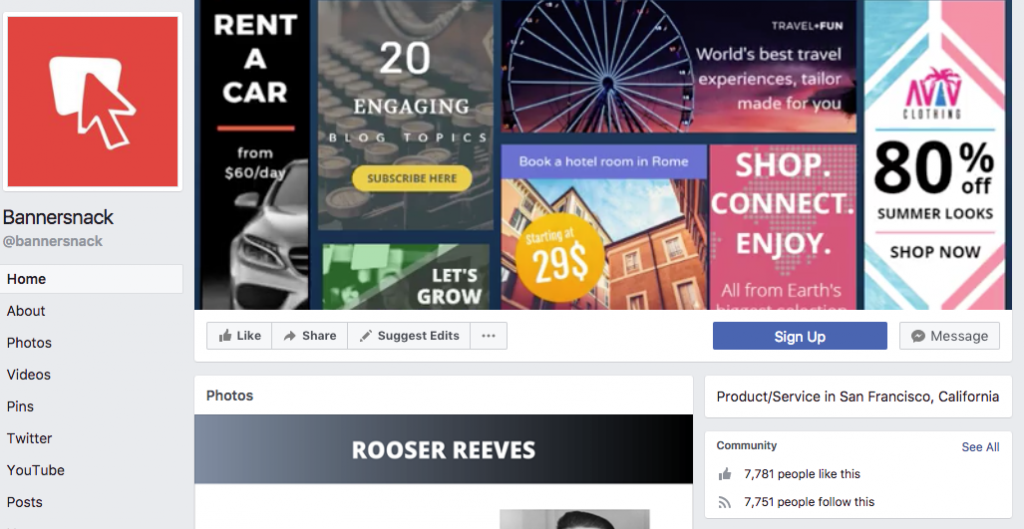 On mobile devices, the same image is displayed at 640×360 pixels.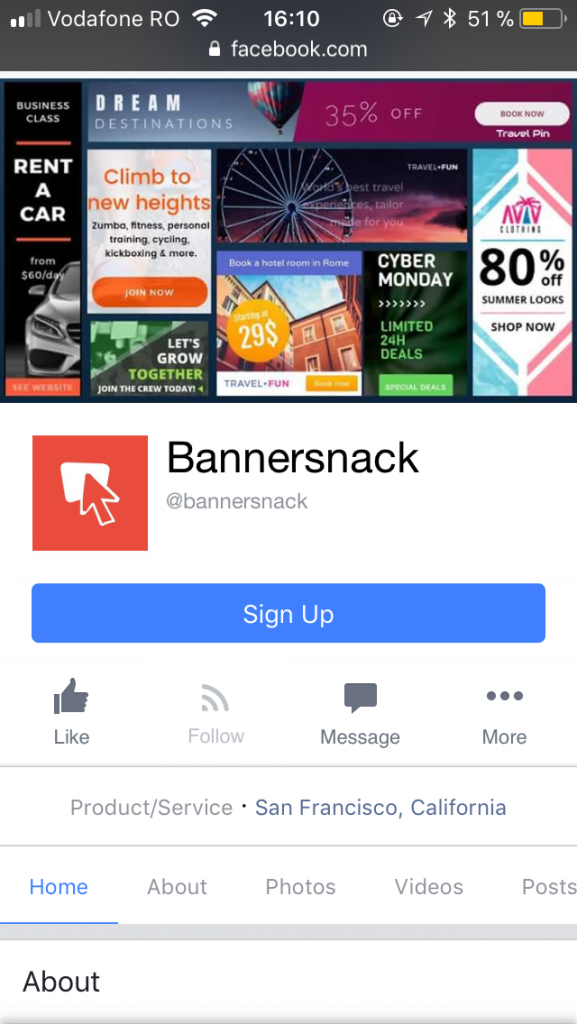 If you make some basic calculations, you will see that the proportions are the same on all images and as a consequence, you don't have to operate any changes.
The ephemerality issue
If you go back in time, you will notice that nothing is really stable on the Internet and that once in a while, everything changes due to a multitude of facts we are not going to talk about in this article because they are not related to this topic. Let's remember however that one of the most important facts is progress. People, technology, society, and services are in a permanent evolution state. As a consequence, things tend to change, most of the times for the better and we need to adapt to these changes as they appear. Some of us may not always agree to these changes but they will occur nevertheless, whether we like it or not.
In conclusion,
there will not be a perfect size for a Facebook cover.
However, there are recommendations in place that will help you design a suitable cover not only for now but also for the future.
So, let's talk about it.
Ideal dimensions for a Facebook cover
When you decide to design from scratch or redesign your Facebook cover, you should take into account the recommended sizes but keep in mind that the proportions are what counts most of all at this point and not how big or small the image is.
For instance, we've talked about how Facebook recently reduced the size of the cover image with a few pixels. However, they kept the same proportions and therefore the changes are hardly noticeable. This change did not affect users who chose to design a cover template on the same size as the Facebook's recommendations due to the fact that the displayed size was reduced. However, what would have happened should you design an 800 pixels banner and Facebook decided that they would rather display 900 pixels banners? Well, you'd have a significant quality loss and for a marketer, for instance, the results are unimaginable.
As a consequence, our advice would be therefore to keep the proportions but design a significant bigger template of at least 1200 pixels width and keep it saved in order to be able to operate further tweaks, redesigns or size adjustments.
If you're not sure what sizes you're supposed to use right now for your Facebook images, check out our Facebook image sizes guide.
Prepare for the future
Nobody knows whether these styles are here to stay or, that in the near future, Facebook will decide to change the look of the accounts and the pages. It's better to be prepared however for anything and this is why, you should always keep your templates and all the visuals you work with, at hand, stored on an external hard drive or in cloud-based storage service. You will need them when you will have to apply adjustments to your covers, banners and other types of visuals you are uploading on Facebook.
How to design your Facebook covers
We've talked about the size of your banner so far, something you should keep in mind before starting to design it. However, there are some other important things to think about at this point, things that will help you make the best out of your designs.
Know what you want and to whom you are addressing your message

. As a regular user, the banner should be mostly personal, a reflection of who you are and perhaps, your personality. However, as a marketer or a professional who tries to build a personal brand, the banner is the most important thing. Why? This is the first visual image your friends, customers, and followers view when they visit your page. Therefore, you need to know who are your friends, followers, and customers, what do they want, what do they like and at the same time, how to address them through an image or a banner.

Aim for consistency

. You need to create a pleasing visual style for your fans but at the same time, the cover should be consistent with your brand identity. This means that it should not only be compatible with your logo but also in line with the colors and visual strategy of your brand. People should be able to recognize you or your business immediately upon looking just a few seconds on your page. Otherwise, you might lose some of them.

Choose the right tools

. There is no perfect tool for creating and designing your Facebook banner. There is only the right tool for you and I will try to explain this in the following paragraph.
You will not find two individuals who are identical. You will not find two individuals that think the same or act the same in similar circumstances. Therefore, it's only logical that when it comes to design, every marketer, designer, business owner or individual, will try to create their visuals on their image and choose the tools that will be most fitted to their expectations, skills, and goals.
For instance, a professional designer will choose a professional designing software such as Adobe Photoshop or Adobe InDesign. A regular user, will most probably download an already made template and change only their profile image from time to time.
If you are a marketer, however, and you want to save time and deliver a professional design altogether, you might want to choose an online Facebook cover maker tool such as Bannersnack. If you are searching for specific things such as Facebook covers, such a tool will provide you with several templates you can use free of charges to create your own designs or enhance your already designed and saved banners.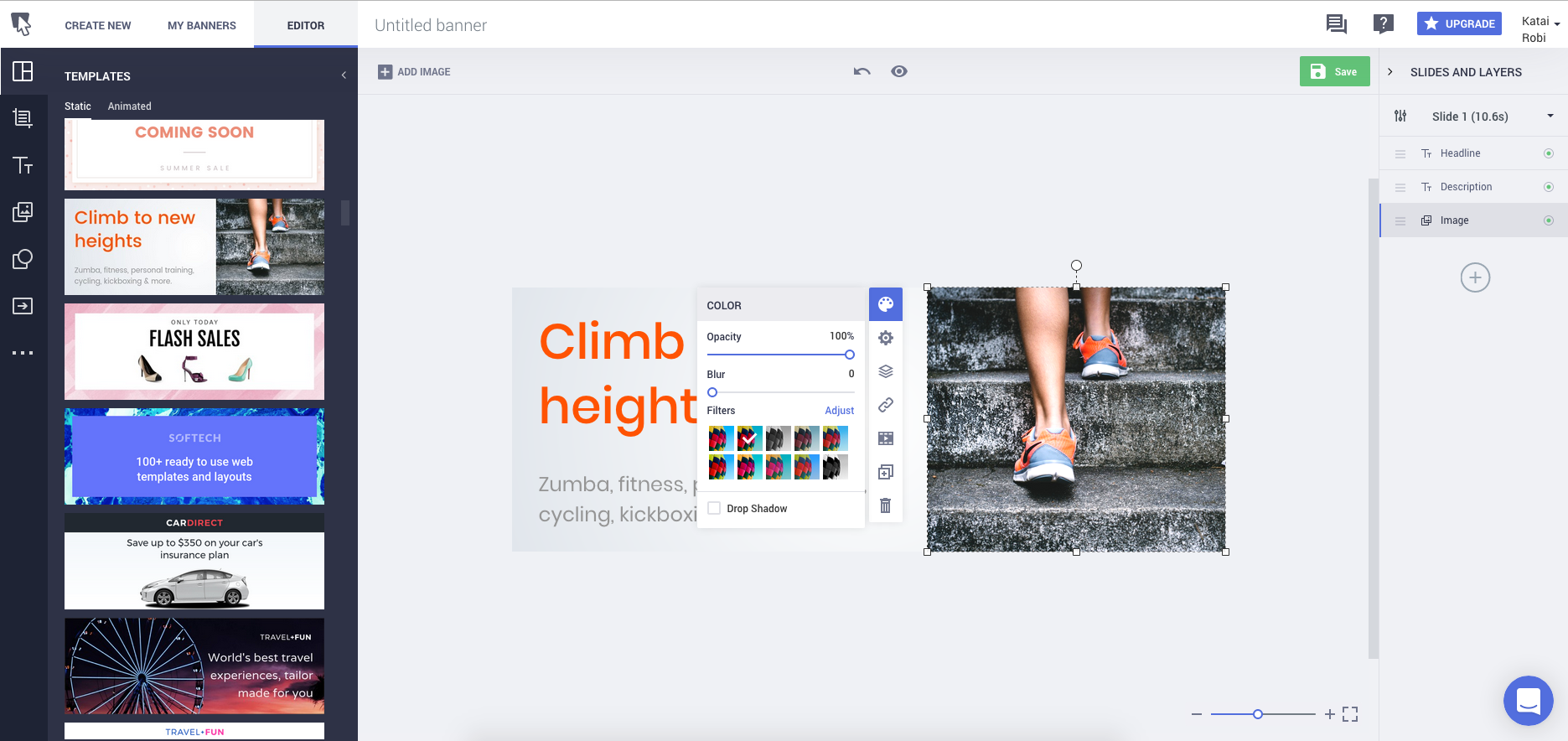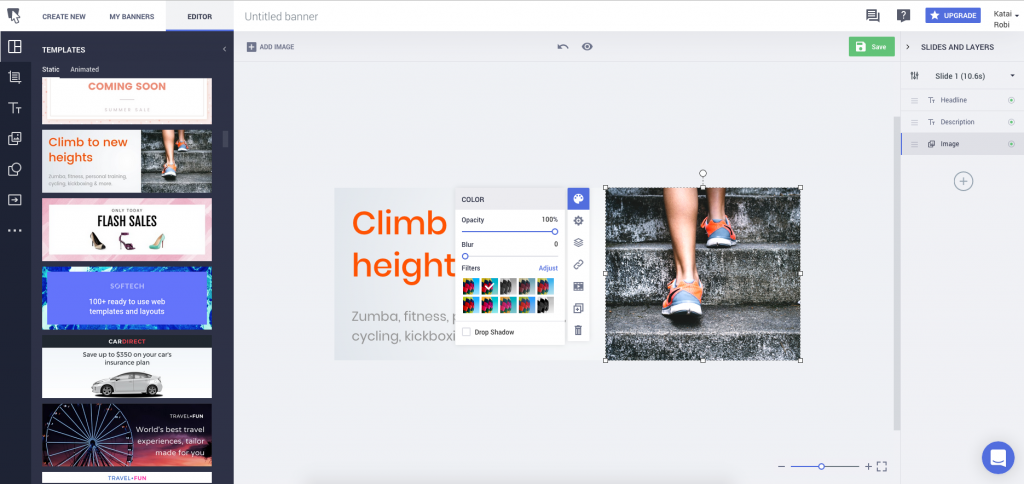 Benefits of working online:
Many Facebook cover templates to choose from

You don't have to worry about the ideal sizes for your Facebook covers.

Cloud storage for your templates.

Easy to come back and redesign, modify or tweak your designs.

Easy to create video-based covers. Yes, Facebook allows this option as well.
Facebook covers, Desktop versus Mobile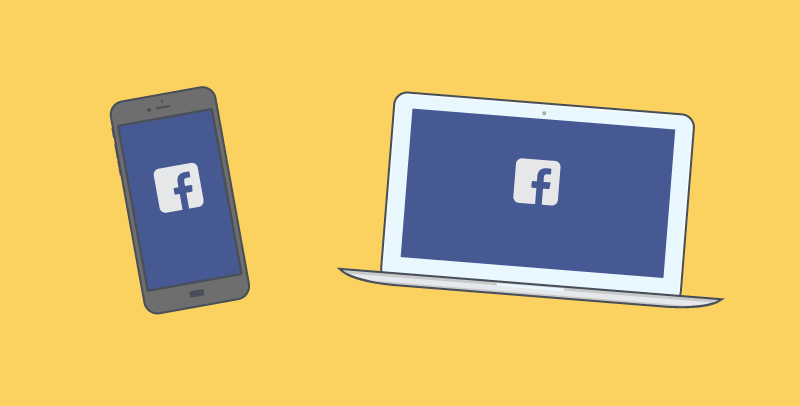 As we have already discussed in this article, there is no ideal size when it comes to designing your Facebook cover. This truth becomes even clearer when we look at how the banners are displayed on mobile devices.
On mobile, the image will appear taller. Fortunately, Facebook does not try to stretch it in order to fit the smaller screen of the mobile device. Instead, the cover will be cropped.
As a consequence, you should pay attention to how you design it so that the best elements of your design will appear on mobiles as well.
Examples of great Facebook covers
Most of us need inspiration before starting to create effective designs. This has nothing to do with copying others' designs and styles. It's all about market study, getting to know different communities, people, and brands and using the acquired knowledge to our benefits.
Let's take a look at some of the best Facebook cover designs and try to learn from the best what social media profiles should look like.
Example 1: Tai Lopez


Who is Tai Lopez and why his Facebook cover is a good example here? Tai Lopez is a successful investor and advisor for many big companies, but most of his success is being attributed to his social media presence. "Have a compelling overarching brand story, […] and be authentic" is his advice regarding social media. His Facebook cover follows his advice to the letter. It's simple, direct and true to its core. The cover centers on his figure with a library of books in the background. Books represent knowledge and power, two of the things a good advisor and an influencer needs in order to be successful.
Facebook cover templates ready to be customized

Click the image to edit in Bannersnack

Click the image to edit in Bannersnack

Click the image to edit in Bannersnack
Example 2: Sandra Dieckmann

Sandra Dieckmann is a designer and an illustrator from London, UK. Her Facebook cover is yet another great example of how showcasing your own professional skills may be of benefit as a marketing strategy. Unlike the previous example, she does not promote her public figure but instead, her designs and illustrations.
Facebook cover templates ready to be customized

Click the image to edit in Bannersnack

Click the image to edit in Bannersnack

Click the image to edit in Bannersnack
Example 3: Robot Food


Do you have a team behind your most creative projects? Show them at work, show them doing what they like and what they are good at, exactly like Robot Food did in their Facebook cover. It's an image that inspires action, ideation, creativity, three of the most valuable assets a company focused on design has.
Facebook cover templates ready to be customized

Click the image to edit in Bannersnack

Click the image to edit in Bannersnack

Click the image to edit in Bannersnack
Example 4: Tanya Shatseva


Tanya is an artist. She is a Russian acrylic painter whose works are not only creative but also inspirational. She combines themes of tricky human mind with metaphysical scenes and the human connection with supernatural, mythology and mystery.
Her Facebook cover features one of her best paintings with great colors and textures.
Facebook cover templates ready to be customized

Click the image to edit in Bannersnack
Click the image to edit in Bannersnack

Click the image to edit in Bannersnack
Example 5: Studio Airport


Studio Airport is a design agency from Utrecht, Nederlands. At the moment this article was written, their Facebook cover featured a video that presented an event that will take place in November 2017. A great example of how a video cover should look like, how you can benefit from it and at the same time, how you can use this space to promote an event, a product or even yourself if you are looking to build a personal brand.
Facebook cover templates ready to be customized

Click the image to edit in Bannersnack

Click the image to edit in Bannersnack
Conclusion
Whether you are using Facebook for personal branding or as a marketer, you probably know already that it is important to make a good first impression to everybody who lands on your page.
Your Facebook cover is the first thing they will going to notice and therefore, you should design it keeping in mind that your reputation might depend on how people perceive it.
We've discussed in this article a few problems related to the design of your Facebook cover, as well as the recommended sizes you should take into account when you imagine and design the look of your Facebook page. We've seen some great examples and hopefully, they will help you get your inspiration when you decide to change your banners.
What do you think about the importance of the header section in social media?