One of the best practices in designing banner ads that convert is to experiment and test them. But how can you improve your design if you don't have the right data and tools to understand the behavior of your banner ads? Don't worry, we're here to help!
We developed a feature that will help every marketer, entrepreneur and designer to make their best banner ads according to their components: Stats, Locations, Devices, Slide Stats and Heat Map.
Maybe you heard about Bannersnack Analytics or you already tried it, but today I want to show you how it works and help you understand how great is this feature for your daily project and business.
Watch our video and let me know if you like it or if you have any other questions.
As we all know, testing is one of the most important steps in advertising. There are very little chances that you created your banner perfectly from the first try so you have to constantly test it and analyze your advertising stats.
Generating ad statistics or banner ad statistics to be more specific, can be a huge hassle and there aren't many tools on the market for this specific task.
But have no fear, Bannersnack Analytics is here to save the day.
Our latest feature helps you gather useful insight and gain a deeper understanding of your banner ads through statistics, heat maps, and simplified demographic data.
In order to view the statistical data for your banner, just click on the "view more" button.
This is your analytics dashboard.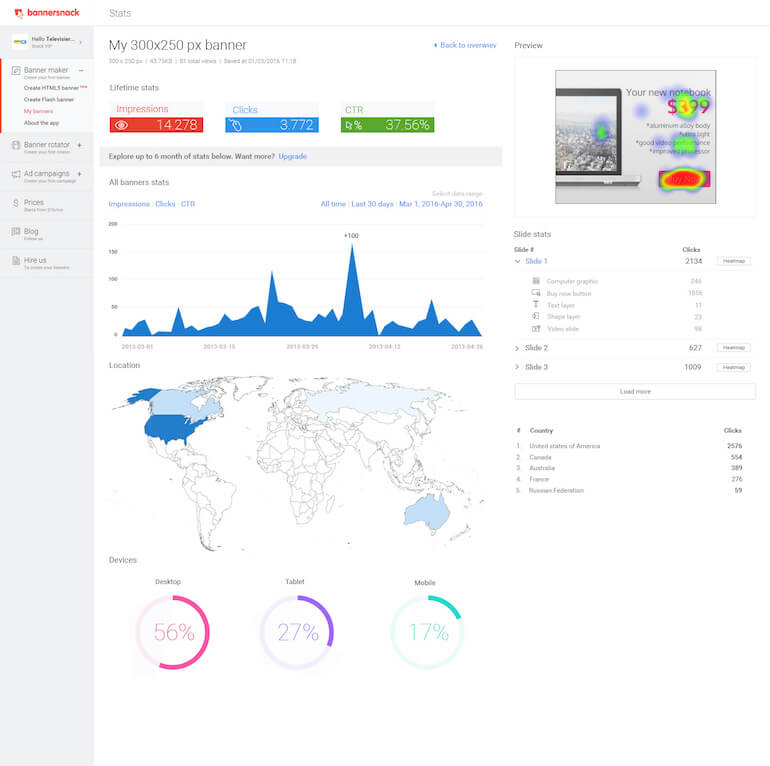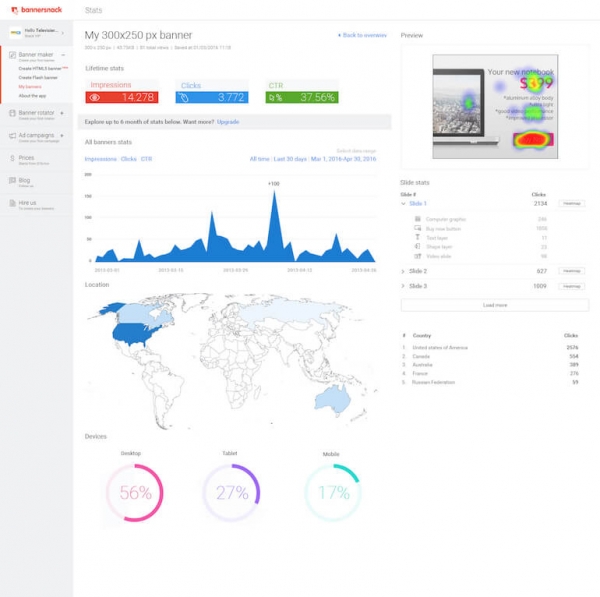 Next, on your dashboard, you can find your timeline. Here, you can get stats for a certain period of time to see how your banner was performing in the past.
For example, you can display analytical data for the last 5 days, which in our case is from Saturday to Tuesday.
You can also find how many users are interacting with your banner from different countries and devices. This data will help you optimise your banner according to their language and the devices they are using. These are just statistics for views. Your metrics will be different for clicks and the click through rate.
Last but not least, you can now discover where people click, with the world's first Banner Ad Heatmap. If you have a banner with multiple slides, you will be able to see where people click on each individual slide and which element from the banner gets the most clicks.
Make sure you subscribe to our youtube channel so you wont miss any new tutorial.
Till next time, keep being awesome!