Lately we came with several features that optimized marketers and entrepreneurs daily job when we talk about banner design.  
If you are a result-oriented person, like we are, you know how important an accurate measurement tool is. That's why we developed our Bannersnack Analytics in order to help you get the right information about your banner such as: impressions, clicks, CTR, slide stats and where is the hottest spot on your banner ad.
We also launched the first Banner Design Academy to help you learn and understand how to create a banner ad.
We want give you the best experience you can have with our banner editor, and to do so, we are improving and bringing more and more value to our UI with the help of our talented designers.
Being efficient and productive is important! That's why we want to know how you feel about our app and what we can do to save you time and give you the tool you need. We've done our research and surveyed thousand of users.
What we found out is that 63% of the users appreciate the ease of use and 34% of them find it challenging to design an interactive banner ad.
So we analyzed their behaviour and needs and we started this new project. We worked hard on this and we were very 'detail-oriented' to come up with the best solution for your concerns.
This is why I'm so excited to share with you our latest news:
The New Bannersnack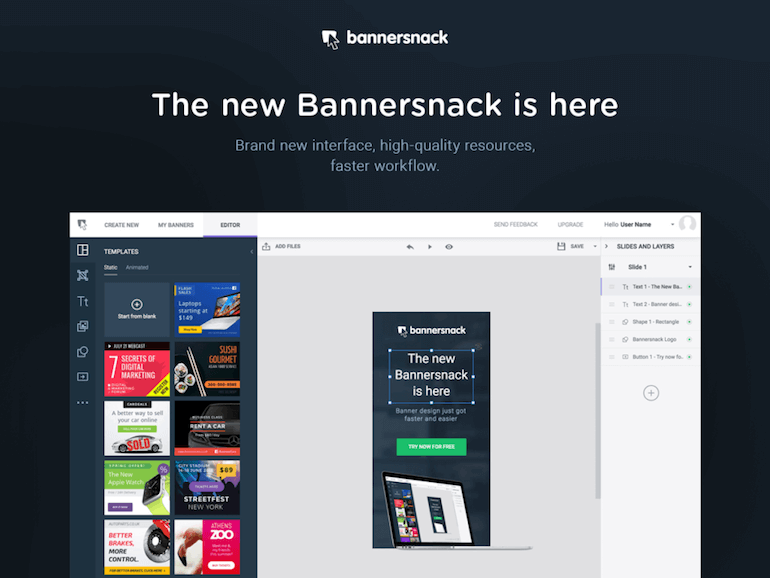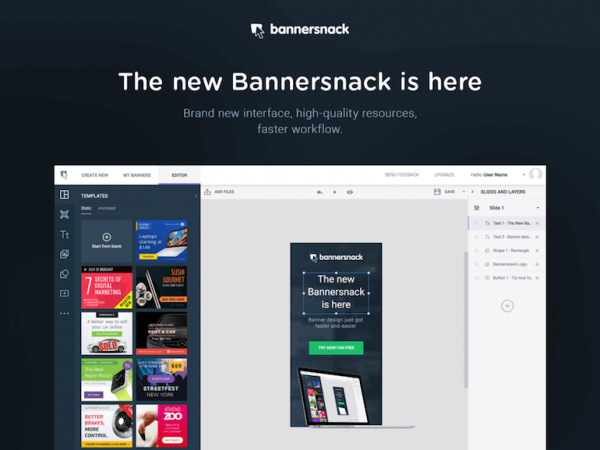 The new banner editor is the definition of precision. And it represents a great way to design static and animated banner ads, social media ads and basically any kind of visual the user wants to create.
We changed our interface and created new features that will upgrade your banner design process and introduce new quality content to you.
Creating the New Bannersnack was a challenge for all of us, from marketers to designers and developers, but this blog-post is the living proof of the saying "Nothing is impossible!
Like Gery, our UX Designer said:
Redesigning Bannersnack was a huge challenge not only because we had to rebuild the whole interface from the ground, but we had to introduce an even easier and faster workflow for our users, without sacrificing the details and the usability of the old Bannersnack. The new design is all about those little details, improvements, and high-quality content that together puts the user in the center of the creation process.
The Vision Behind the Decision
Banner ads are not dead. Everywhere you look around the internet you will see banner ads, only that their names changed to Facebook Ads, Twitter Summary Images, Promoted Pins or Instagram ads.  
According to the B2C Content Marketing Research by CMI, 55% content marketers plan to prioritize creating visual content. That means that visual content is a more and more  important factor in their daily job. This is why they need a tool that will make the visual/banners creation an easy process. 
We believe that Bannersnack is a one-stop banner shop for creating banners that will amaze our users community.
What's Coming Next?
In the next few weeks you will see lots of new changes coming in this new and fresh redesigned interface. 
We have many graphic elements, banner ad templates and social media visuals waiting to be released. Keep an eye on our blog and social media!
Also, we will be adding some new articles, a help center and tutorial videos for our community to be able to take full advantage of the new Bannersnack.
At the end, I want to personally thank every single one of our users for sharing their opinion about Bannersnack with us and helping us getting where we are today.
Give it a try and let us know what do you think about it!