One thing that always gets me back to my childhood is seeing all the scrapbooks my mom and I made. We used to spend Saturday evenings sorting photos and gluing them to colored, full of sprinkles paper. 
Nowadays, we're not doing that anymore, but we still spend quality time together while being creative and getting inspiration from the online.
As you would've expected, we're doing that on Pinterest. There's no other platform that resembles so much to a scrapbook and it's a great place to gather ideas from.
Pinterest started its story back in 2010 as a free website where users could upload, share, sort and manage images and visuals in order to create their own online inspiration scrapbooks. The platform is focused on the concept of lifestyle each of us has and it allows its users to connect with each other through the 'things' they find interesting.
Ever since 2010, Pinterest added lots and lots of life events to its timeline. Like the "Pin" extension for browsers through which you could share anything on the internet directly to your own personalized feed or introducing the business page.
The business page allows you to do online advertising and to promote your business or client. Pinterest is sort of a website extension, since you can upload photos of your products there, users spending less time on the company's website. What's important to know and the reason why you should start advertising on this network, is that there are over 100 million active users on Pinterest.
According to Millward Brown: 93% of Pinners have used Pinterest to plan for or make purchases and 52% have seen something on Pinterest and made a purchase online.
Let's see how Promoted Pins work and how you can benefit from them.
First things first, you need to either create a business account from scratch or 'upgrade' your account to a business one like in the picture below.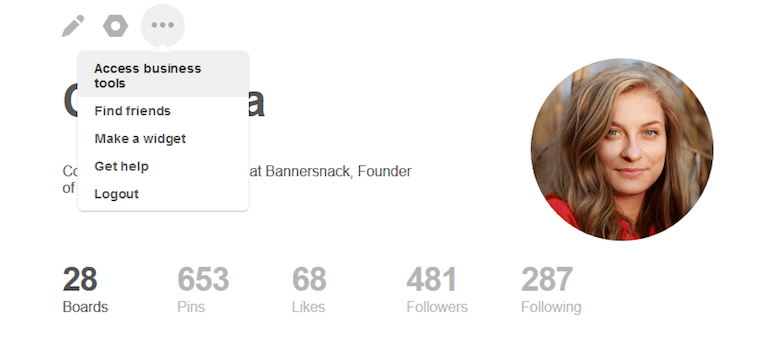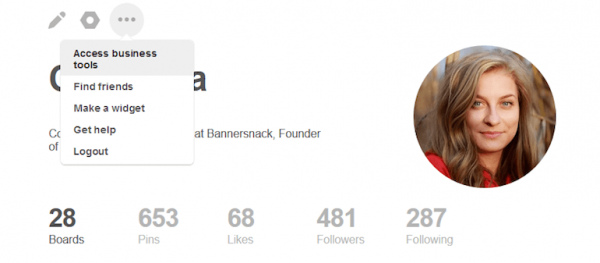 There are a few reasons why you would want to advertise on Pinterest, and that's an easy way to start your campaign: knowing the reason why!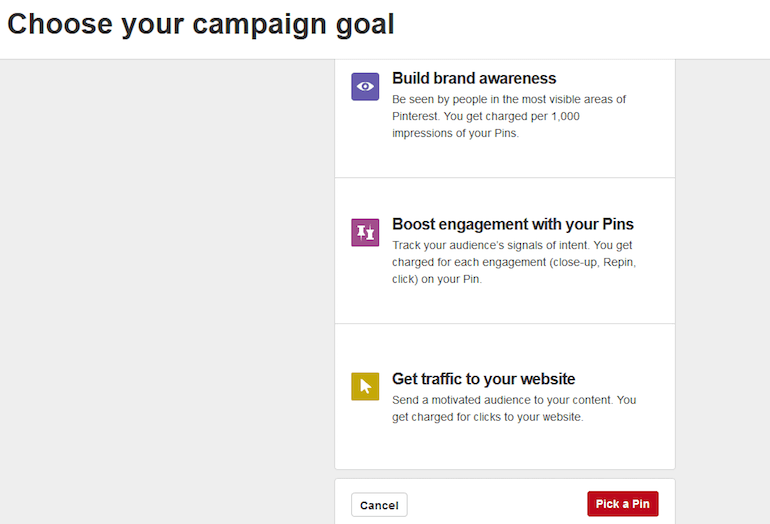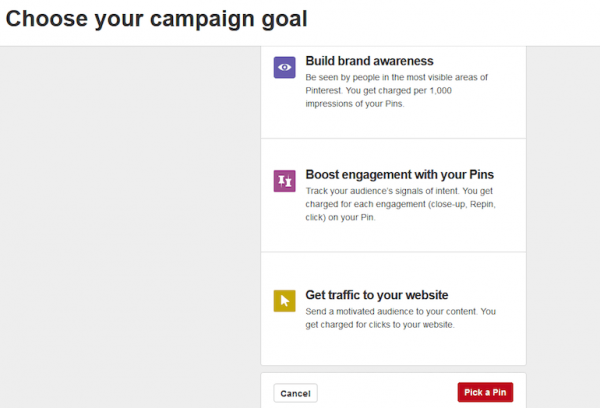 You can choose either of these three options according to what you want to achieve. Let's say you want to get more traffic to your website.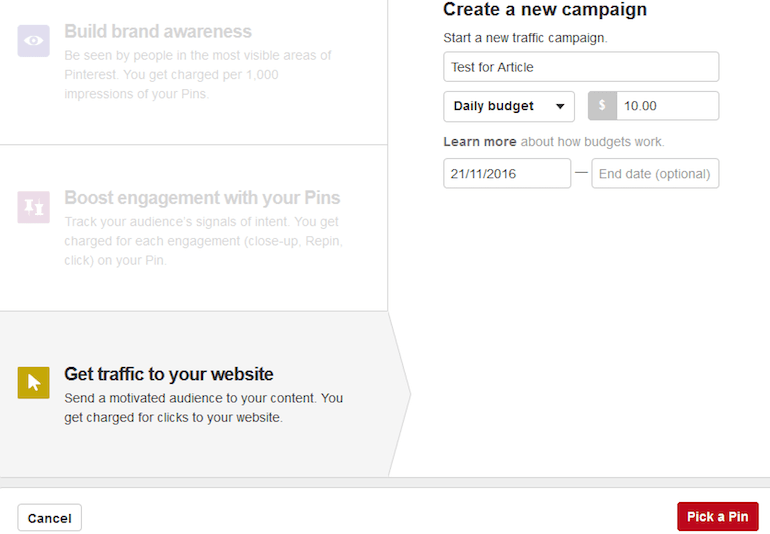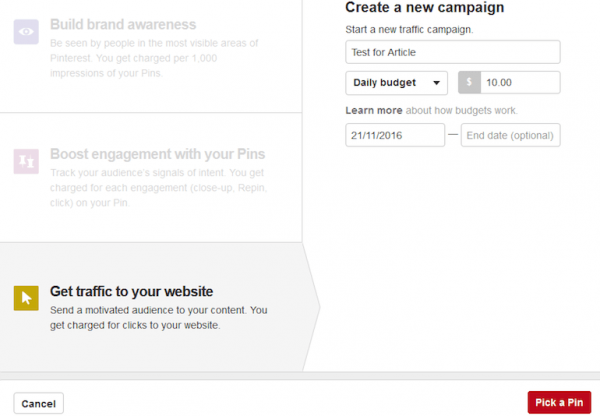 Give your campaign a name and set a budget. Remember that you can always go back and change these metrics, you don't need to invest all your budget from the beginning.
Next select "Pick a Pin" and you'll be redirected to your feed from where you can choose the Pin you want to insert into your add. If you want to create the ad with a new Pin, make sure you upload it to your gallery before starting to work on the campaign to save time.
The next step is targeting. As you know, we're big fans of audiences and right targeting and we truly believe that this is one way to online advertising success. Pinterest has two main ways to narrow down your audience – interests and keywords.
A spokesperson from Pinterest said that:
"We know more about our audience's interests than any other platform, which is why we're offering targeting against more than 420 interests (up from 30 previously), including healthy recipes, street style, baby gear and even sustainable architecture. These interests reflect what people want to explore now and engage with in the future – not something they happened to browse last month or a pastime they were interested in years ago."
Even though there are hundreds of interests from which you choose, you must know that this is a very broad subject but if you're targeting a more general audience, it might work.
What you need to focus on, are the keywords! Write your most relevant keywords and check the list to see whether there are some more suitable ones there.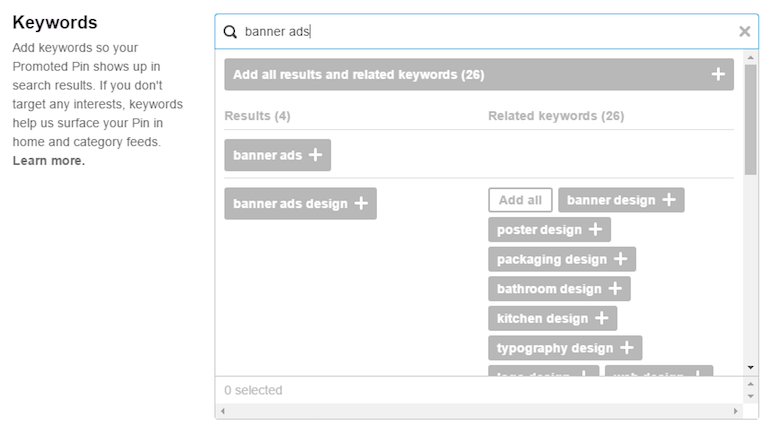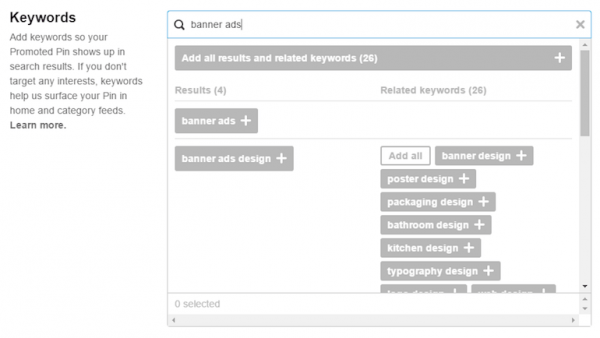 As you can see, we've selected the keyword "banner ads" an Pinterest recommended me some other related keywords I could use in order to target my audience better.
This is a great way to get to the people that look for you, but you should be careful not to narrow down your audience too much.
Other targeting options that can also help you to narrow down your audience are: 
location

gender

devices

language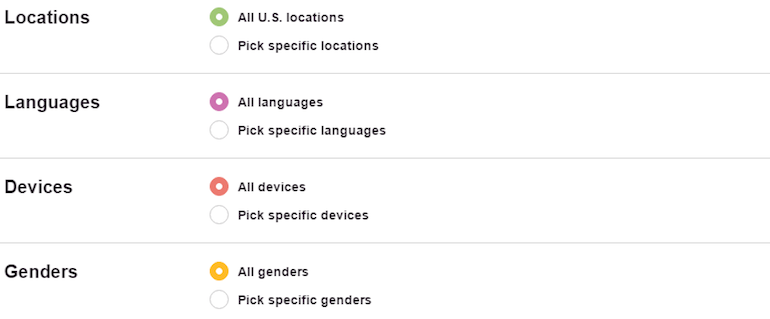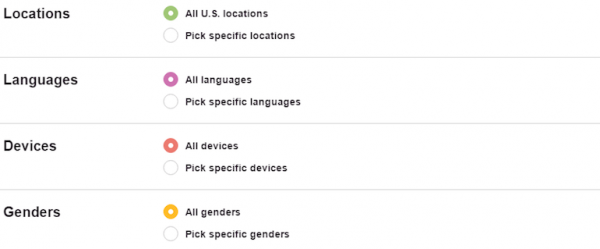 As you're getting more and more granular with your options, you'll see how the approximate number of targeted people decreases.
The next step is the most important –  budget related.
We all want to spend as little as we can and get great results. But we have to be realists. The best advice we can give to you is to start from little and increase the bid if you want more results but don't expect to see a huge increase in sales from the first day.


This is all. We told you it wasn't going to be difficult did we?
A few more important things via Pinterest's Help section you must know before giving it a go:
We never allow:
Images with a false sense of urgency  

Images or videos with confusing design elements  

Images with testimonials and ratings  

Descriptions with more than one hashtag

Images, videos or descriptions with shocking content or profanity  

Images, videos or descriptions with improper grammar or lots of capitalization
We never allow ads for these products and services:
Adult products and services   

False documents   

Healthcare  

Illegal activity   

Illicit drugs and drug paraphernalia  

Imitation or counterfeit goods  

Badware and hacking  

Nudity or sexually suggestive content  

Online gambling and lotteries, or games of skill   

Online pharmacies, prescription drugs and supplements  

Pinterest incentives   

Products from endangered or threatened species   

Tobacco   

Unacceptable business practices  

Weapons and explosives   

Weight loss products and services  
Be careful with all these restrictions. Even though you're not about to promote any of the categories above, Pinterest might suppose you want to because of your related keywords.
[Tweet "Try avoiding words that might jeopardize your campaign. via @oanapolitana"]
So, if you feel like your audience might be on Pinterest, you should definitely at least give advertising on this platform a chance. We've tried it for our last Halloween campaign and it brought us awesome results thanks to our specialists.
Just experiment and see what kind of images work for you and how much you need to bid in order to get the results you want.
Let us know in the comments section below if you've tried advertising on Pinterest and don't forget to follow our account here.
PS: We've also found a cheat sheet that you might use!