The idea of creating a series of visuals with quotes to motivate marketers and advertisers (myself included) came up to me when I was reading Adland: A Global History of Advertising by Mark Tungate.
This book is a treasure for everyone that wants more insight in Advertising and wants to learn how this world actually works. Also, has some great life stories perfect to take as an inspiration.
I don't usually like inspirational quotes and most of the times, I find them without substance. Like the popular "Don't cry because it's over, smile because it happened." of Dr. Seuss.
But I know that sometimes, in out field, you need a little bit more motivation when times are difficult. When campaigns fail, when ideas prove to be not that good as you though and when you're asking yourself if you did right by saying "Yes!" to the job you're having now.
So here are 15 visuals with #WordsOfWisdom from marketers and professionals that will help you as a marketer,  but also as the person you are after you're leaving office.
1. William "Bill" Bernbach
He was "one of the most influential creative forces in advertising's history" as AdAge describes him. The man behind the "B" in DDB was one of the founders of this powerful agency alongside with Ned Doyle and Mac Dane. This quote is a great reminder why you're in this industry and what are the most important things when it comes to advertising.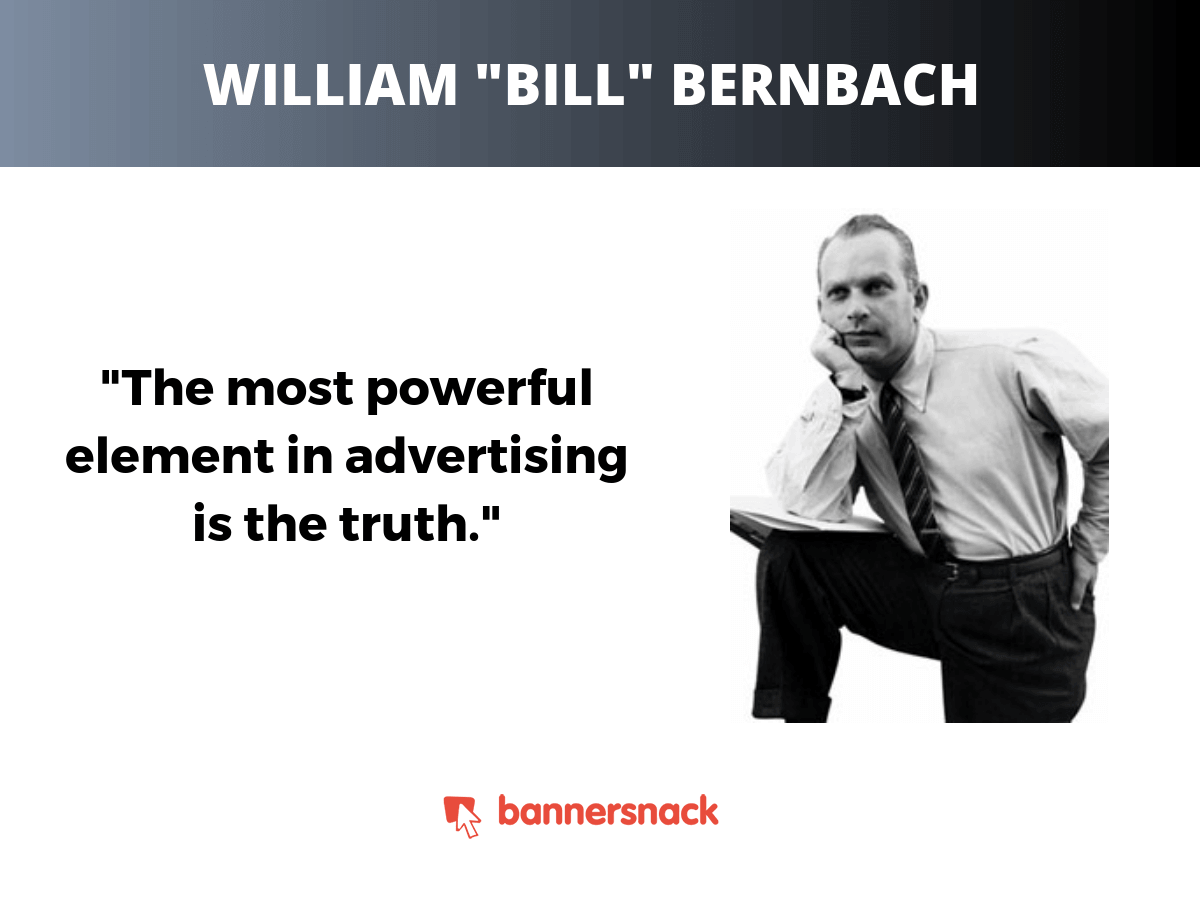 2.  Rebecca Lieb
Rebecca Lieb is one of the most powerful people in digital marketing and media, concentrating on content strategy and content marketing. If you're a content marketer you must read her book, Content Marketing. Her quote is one we'd print and post multiple times on our office walls because we also believe that content marketing is über-important.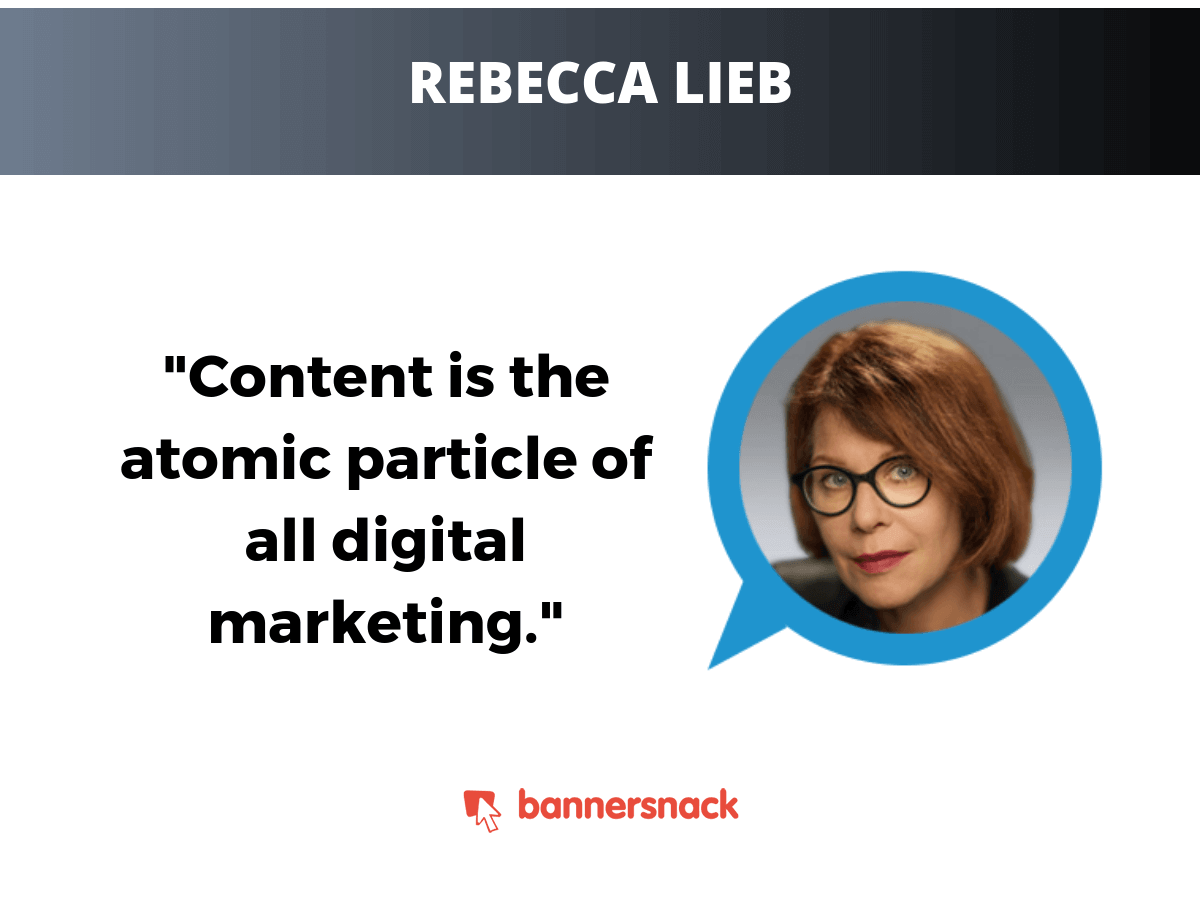 3. John Hegarty
If you attended this year's Websummit, you got the chance of hearing John Hegarty (or better said Sir John Hegarty) talk about the future of marketing. He is an advertising executive, the founder of the agency Bartle Bogle Hegarty and one of the world's most respected creatives. His quote will (hopefully) pop-up in your mind when planning the release of a new product. Good branding must be done right from the beginning! Click To Tweet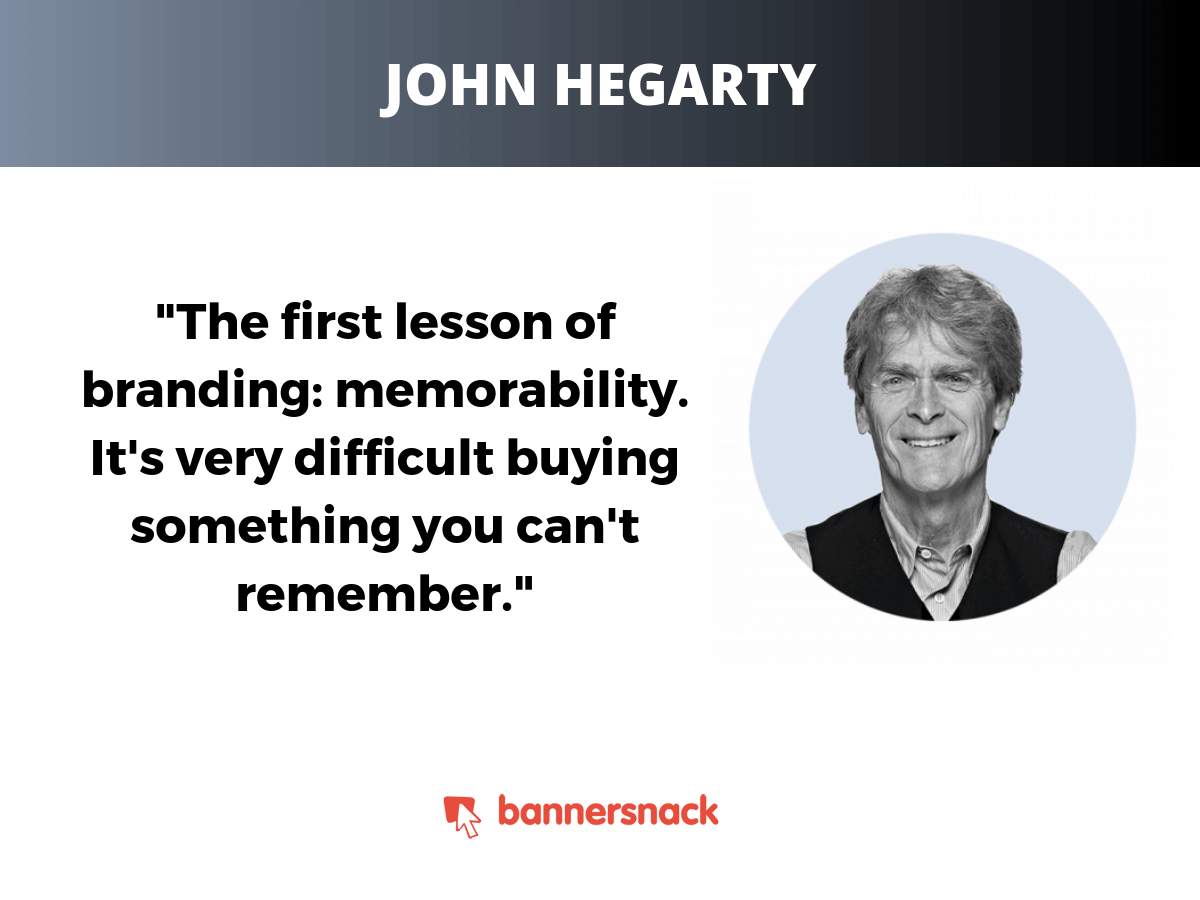 4. Neil Patel
Who is Neil Patel? You probably have seen this question all over your Instagram a while ago. Neil is the founder of CrazyEgg and a very creative marketer. His campaign with Instagram models skyrocketed his website! One of the reasons why he's so successful and good at what he's doing is found in the quote below.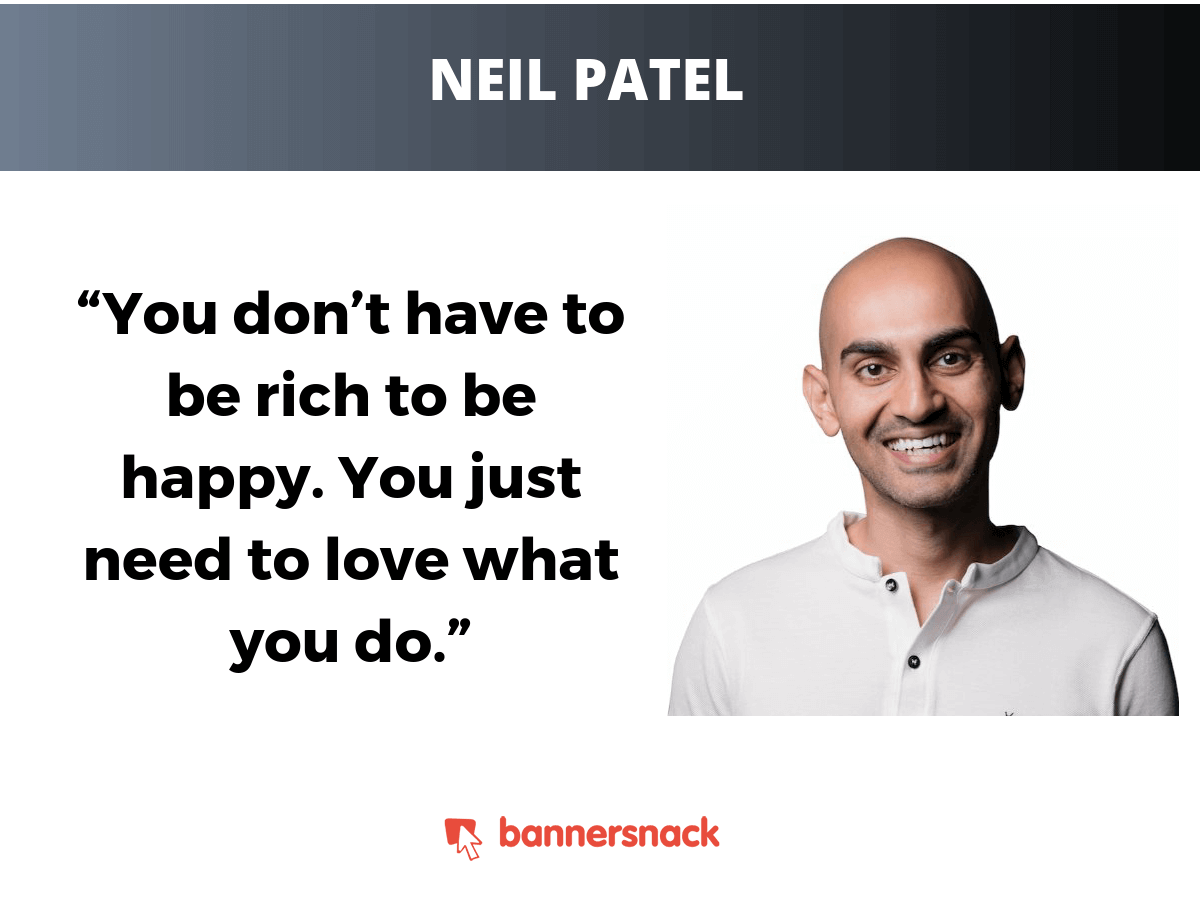 5. Wally Olins
Wally Olins, also called the Branding Guru, advised many of the world's leading companies on identity, branding and communication like  Renault, Volkswagen or British Telecom. The quote below is one of our favorites from this branding specialist.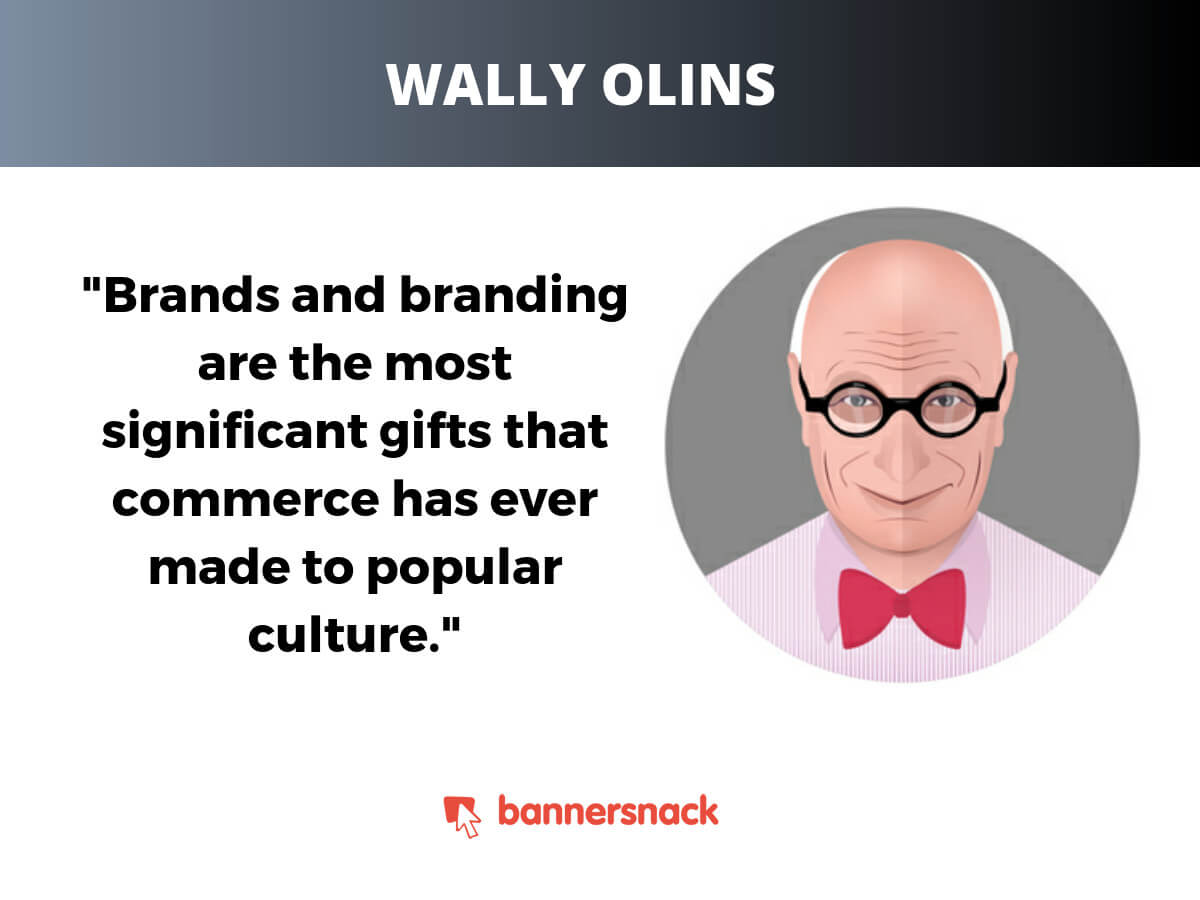 6. Seth Godin
'The Purple Cow', one of Seth Godin's best sold books is one every marketer should read in the beginning of his career. Besides his 18 books he has written during his life, he also writes witty articles on his blog, about subjects like "the post-industrial revolution, the way ideas spread, marketing, quitting, leadership and most of all, changing everything.". We are subscribed to his blog and we eagerly wait for each article that he posts. This quote is a reminder that even though we love what we do, we should be aware we're having many competitors especially for people's attention in this game called marketing.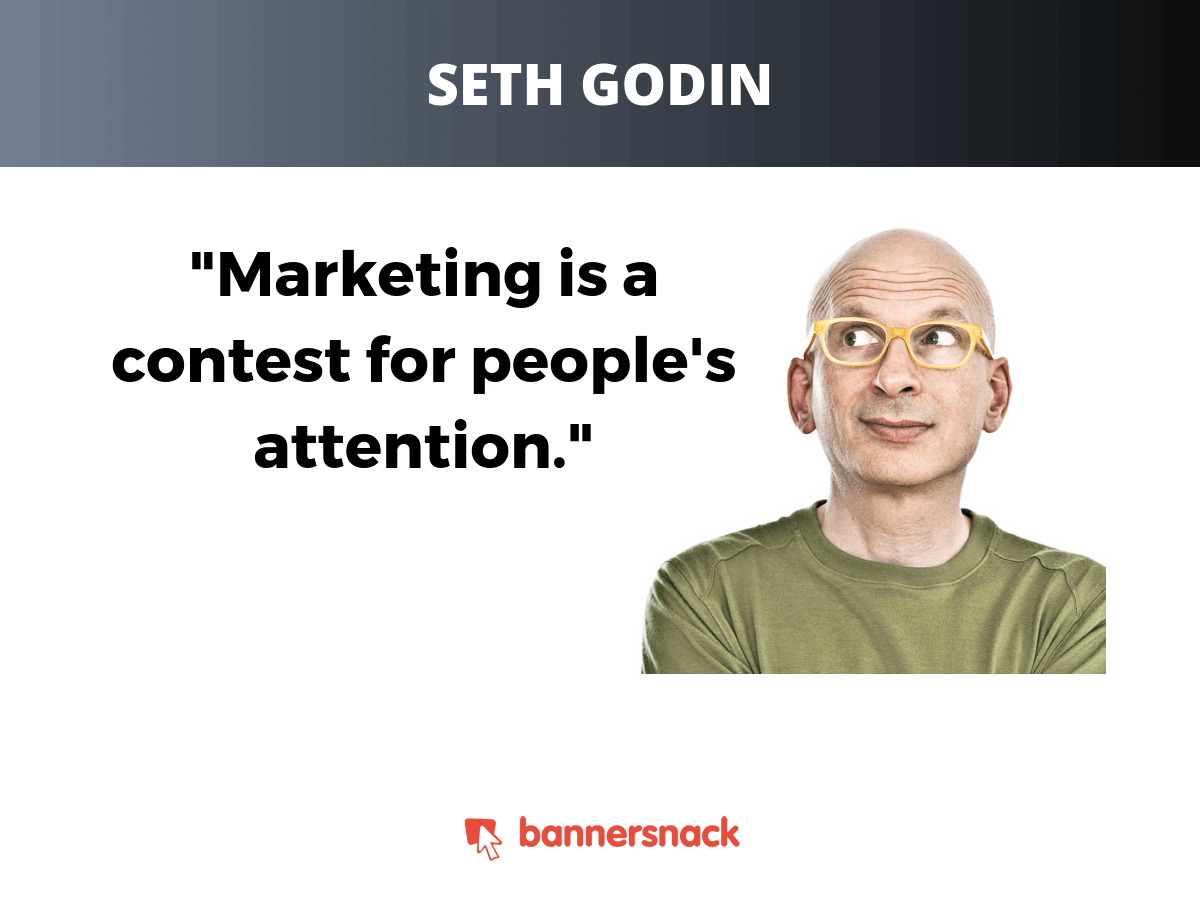 7. Ryan Holiday
We automatically thought about all those grammar nazi's on the internet when first reading this quote. Ryan is one of the youngest prodigies in this domain and you should definitely start reading his books. Our favorite was "Trust me, I'm lying: Confessions of a Media Manipulator" in which he tries to explain exactly how the media "really" works.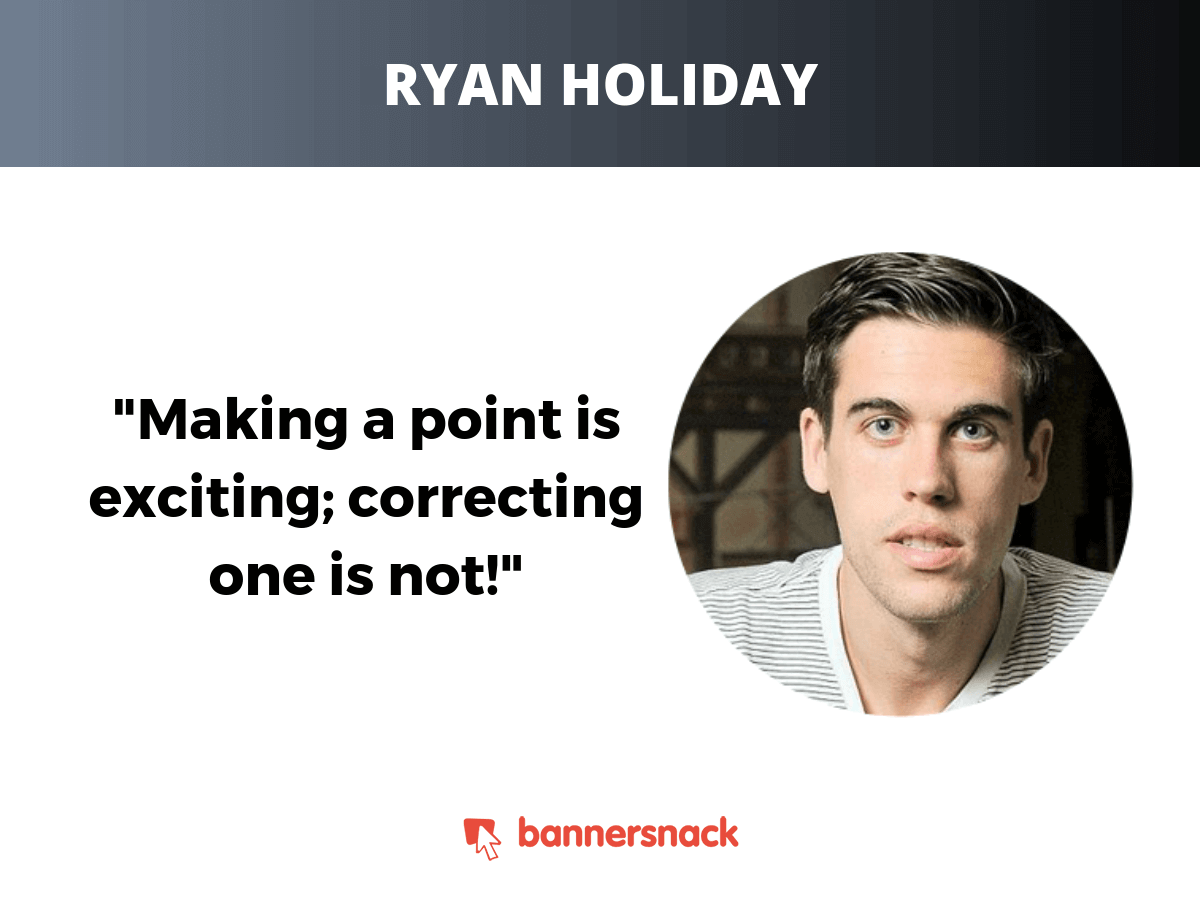 8. Rosser Reeves
Rosser Reeves is the man we should be thanking for the USP concept. 'According to Mr. Reeves, the USP was the key element of an advertising campaign. Once the USP had been found, he contended, "any good copywriter can write a good ad."'.  He is the model for the professional accomplishments of Mad Men's main character, Donald Draper.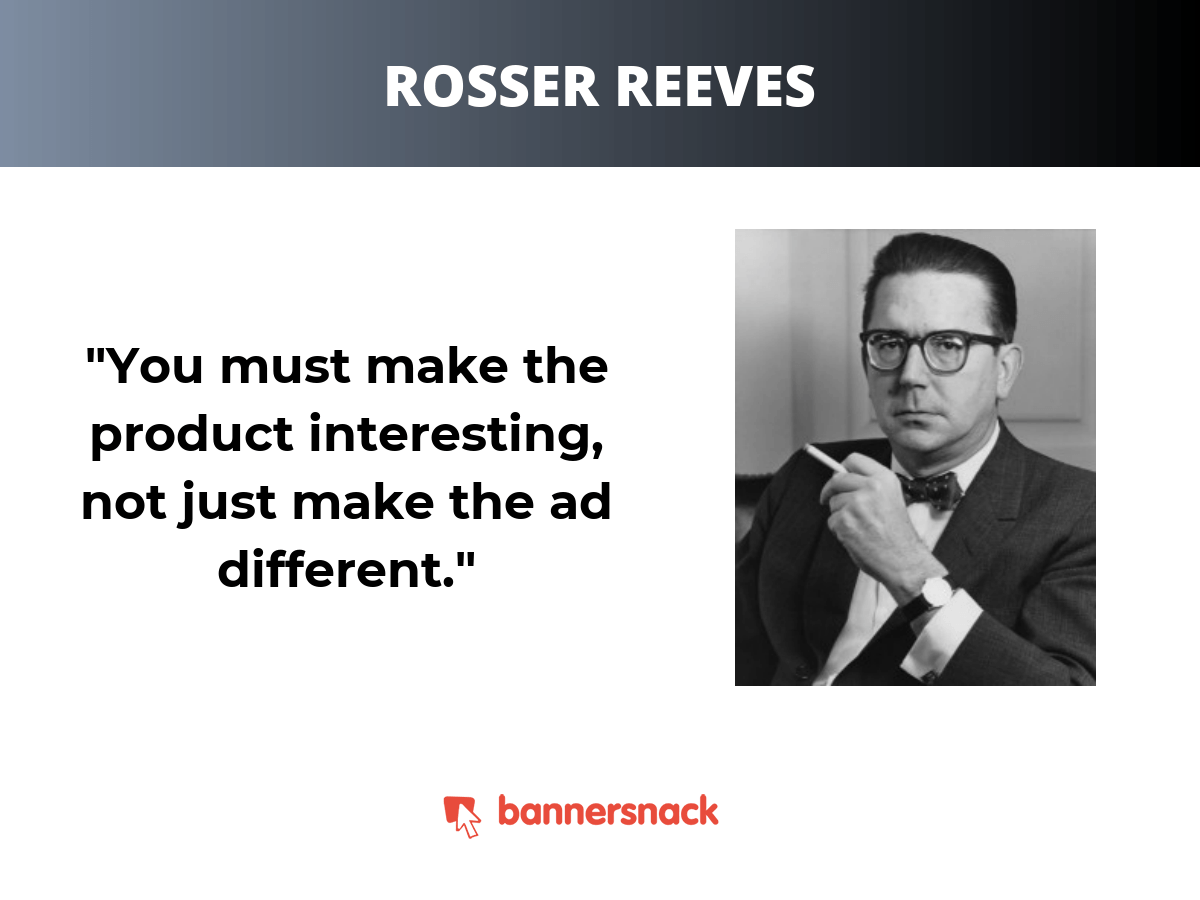 9. David Ogilvy
Also known as "The Father of Advertising", David Ogilvy was the founder of Ogilvy and Mather and one of the most respected and famous admen. He left behind him a legacy of great work, hefty agencies and several books that are a must read for anyone in this industry.
So, we think you should listen to a quote for a change. Go have fun within your work.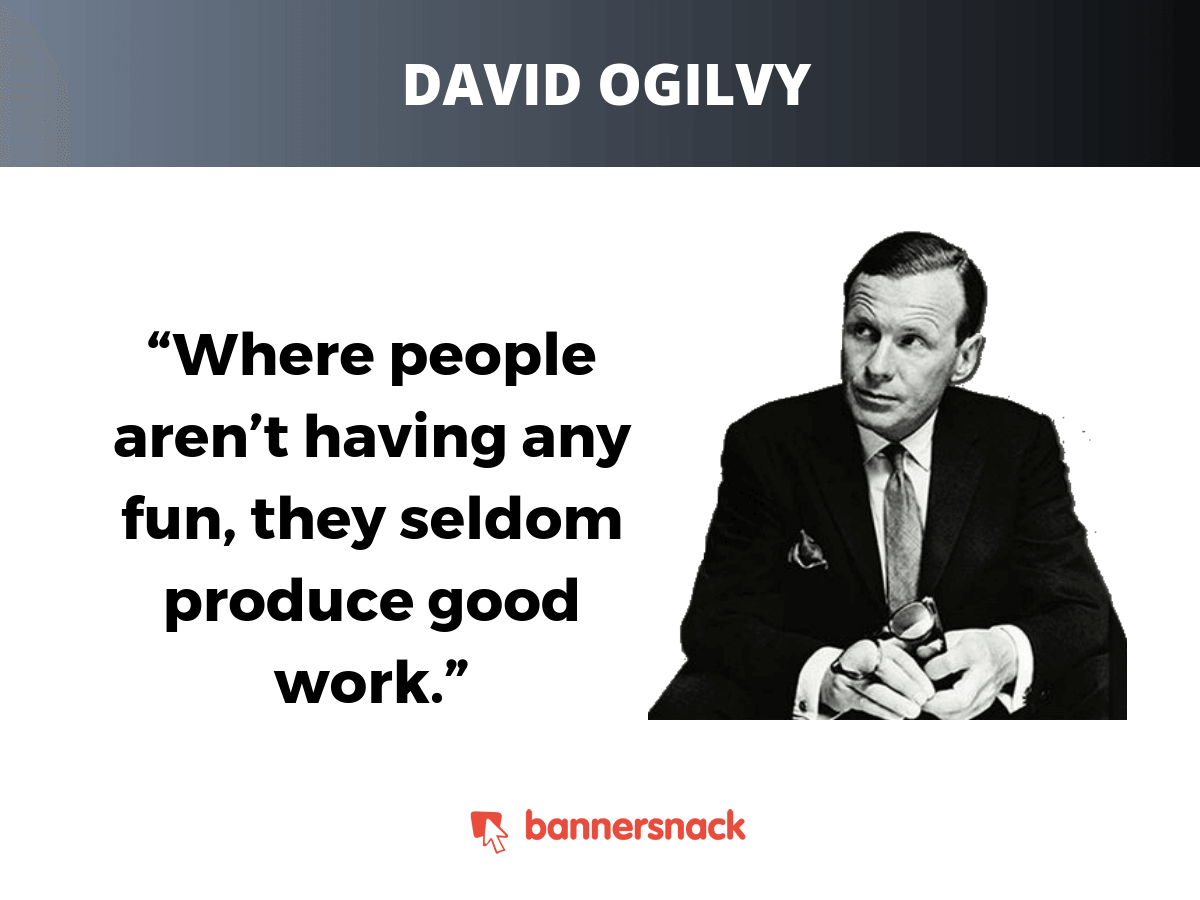 10. Dieter Rams
Dieter Rams is a German industrial designer, is known for his concern by the state of the world around him ""an impenetrable confusion of forms, colours and noises."" which led to the 'Ten commandments" in design.
One of the 10 commandments is to be found below and the explanation is the following one: "It does not make a product more innovative, powerful or valuable than it really is. It does not attempt to manipulate the consumer with promises that cannot be kept."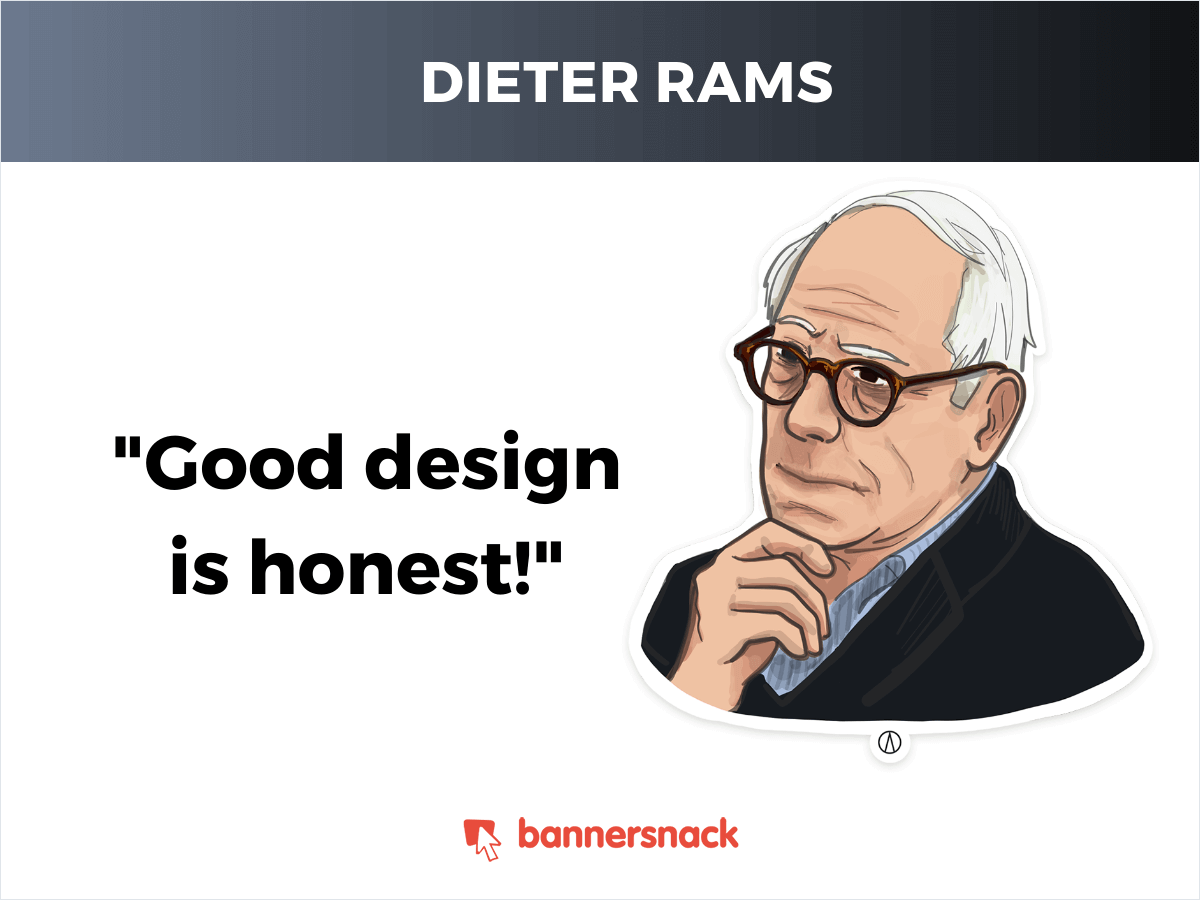 11. Gary Vaynerchuk
Probably this was the person whose quote was really difficult to choose. Why? Because almost everything Gary says can be quotable.
The american entrepreneur is best known for his digital marketing abilities and companies he founded. Besides being a great marketer, he's also a family man and knows when to draw a line between the two parts of his life. This is why he's often talking about the importance of time.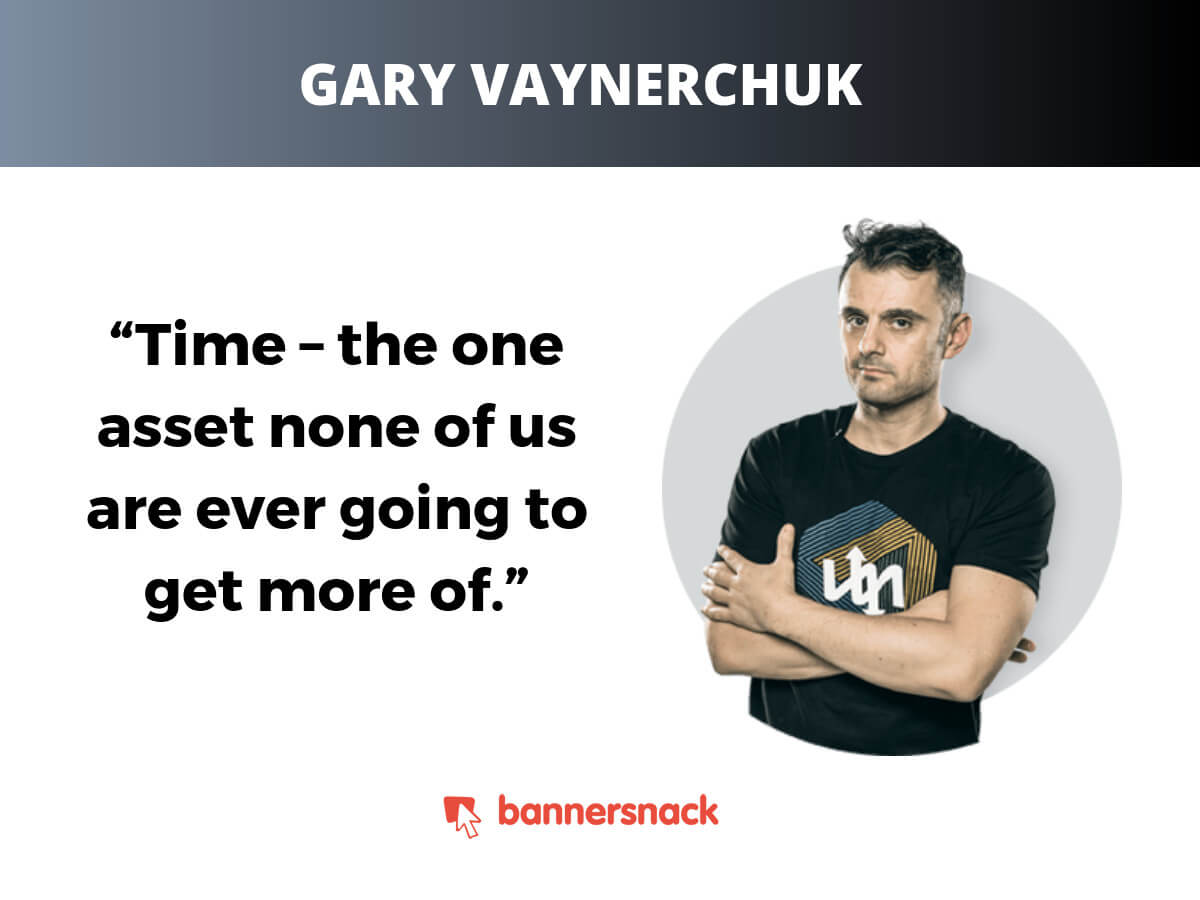 12. Jason Fried
I think Jason's quote is one we should really remember. Here at Bannersnack we often have impromptu brainstormings that have to result. Only ideas (great ideas, I might add) that end up in the "Recycle Bin" of our minds. So this quote really hit home and I hope it will make many of you open your eyes and actually start doing something with your ideas.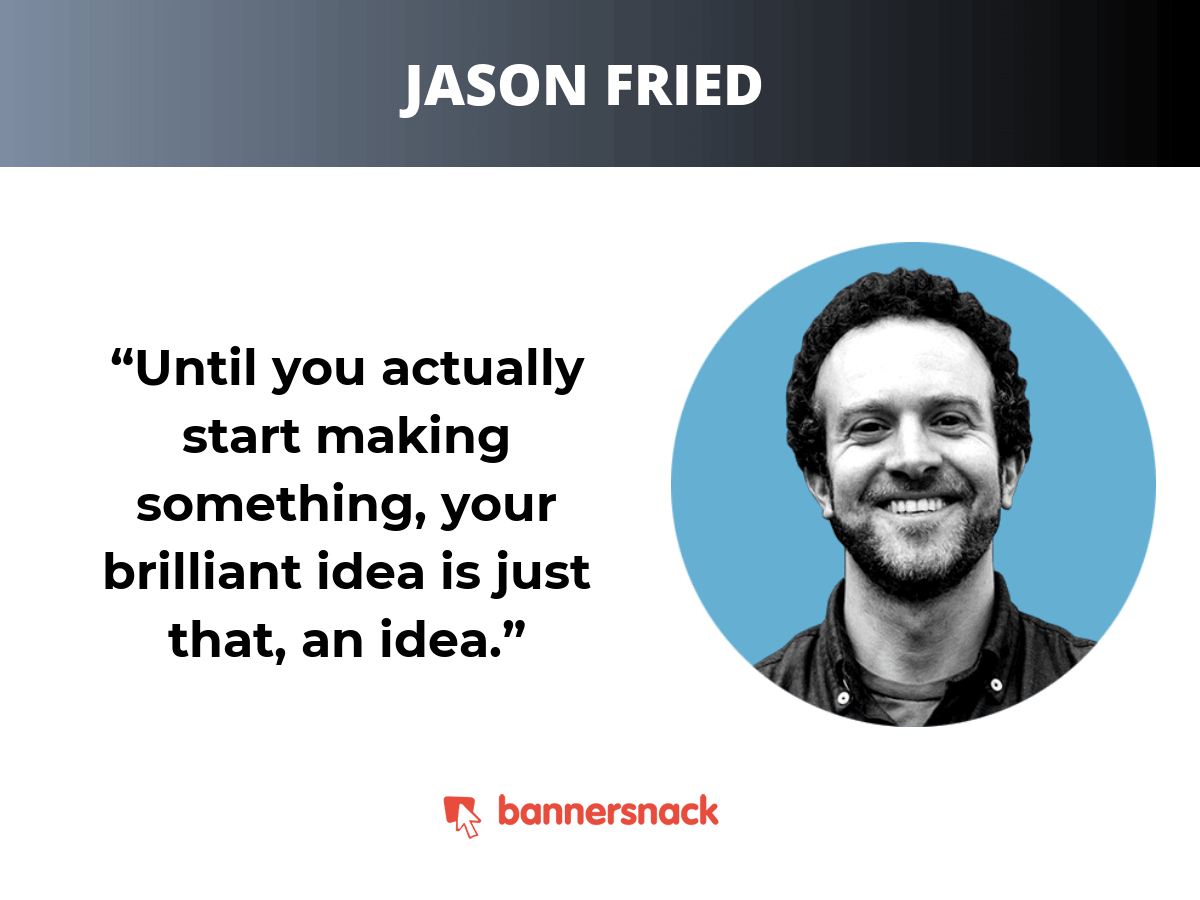 13. Jessica Walsh
Jessica Walsh is a well known graphic designer, art director, illustrator and partner at Sagmeister & Walsh, a creative agency in New York City.  The quote below is taken from Jessica's online project called "40 Days of Dating" – 'The website charts the pair's experiences as they date each other for 40 days in order to "test their emotional boundaries."' I believe it's exactly what young professionals need to hear in the beginning of their careers when they don't know exactly what they want to do.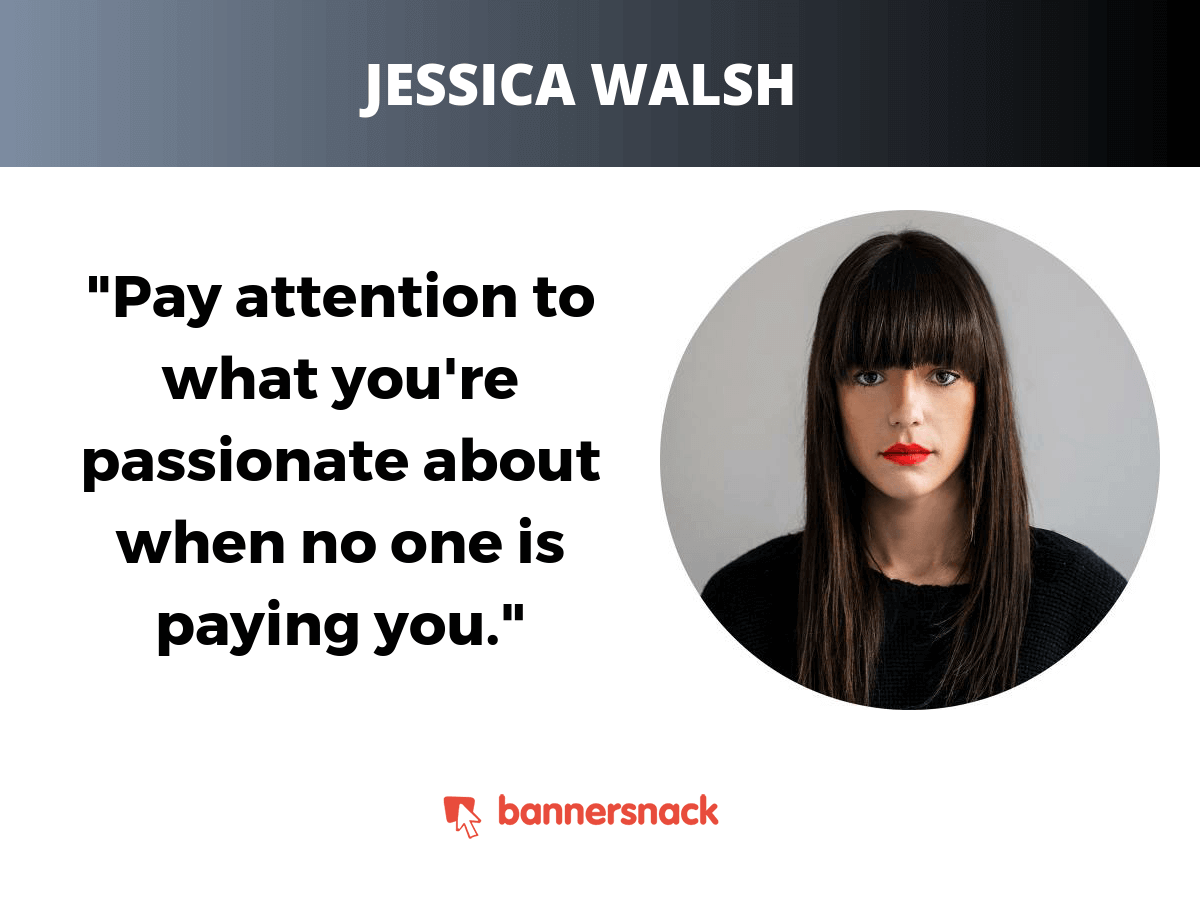 14. Leo Burnett
Leo Burnett was an advertising executive and the founder of Leo Burnett Company. Do you remember Tony the Tiger, Charlie the Tuna or the Marlboro Man? Well, he's the one responsible for creating these characters! He was one of the most important people in advertising reason why he was named by the Time Magazine as one of the most influential people of the 20th century.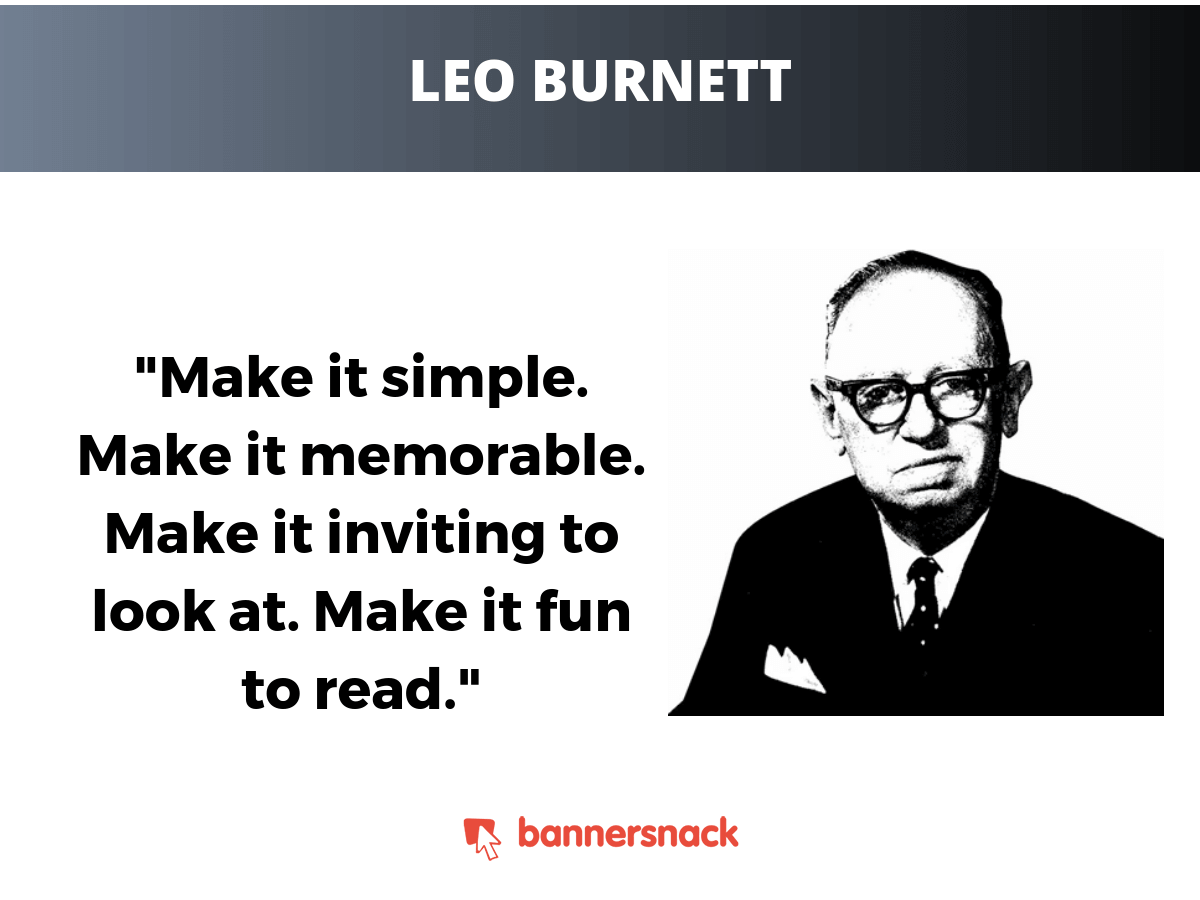 15. Leonardo Da Vinci
The last quote of this round up comes not from a marketer, not from an advertiser, but from one of the biggest innovators in the world. Leonardo Da Vinci was a leading artist and intelectual in the XVth century and an 'evangelist' of continuous learning. Reason why we've chosen the quote below as representative for him.
When you're working in marketing, uninterrupted learning is essential in keeping up the pace with the technology and ongoing change.
I hope you found this article useful and that what you've learnt something from it.
Which is the quote that you identify best with? Let us know in the comments section below.