Our mission is to help marketers, advertisers, designers and entrepreneurs to design banner ads that people will click on because it's beautifully created with high quality content. This is why we are in a constant research, constant conversation with our users and we are giving everything we got to inform and inspire our community.
We know how important you time is, and that's the reason we want to help you both speed your workflow and keep you focused on your work.
In the last few months, our designers and developers have been hard at work to bring you the best version of "My Banners" and we're pleased to announce you that it's finally here!
The first thing that you need to know about the redesign of this page is that it is on the same branding line with the banner creator layout and design. Why? Because we believe that a product should have the same brand voice in everything it does.
Let us show you what nifty options we've just introduced:
Use tags to organize your banners
We improved our Tag system and prepared the framework to be able to add folders in the next weeks. Stay tuned and follow us on Twitter and Facebook to get the updates.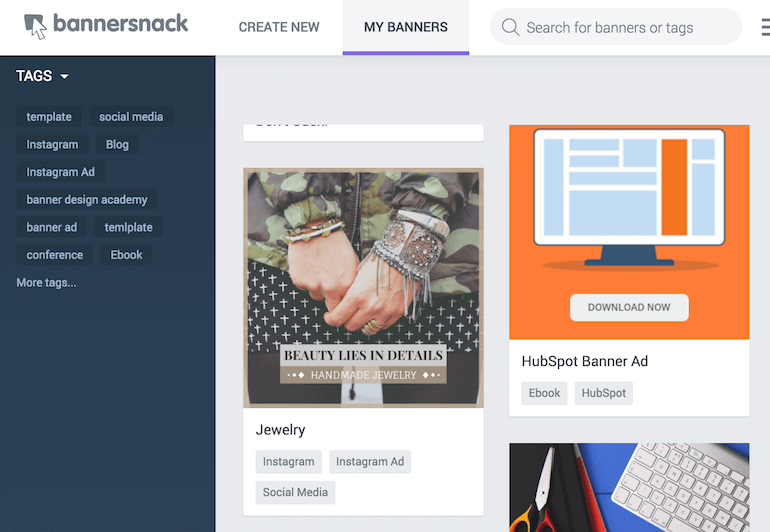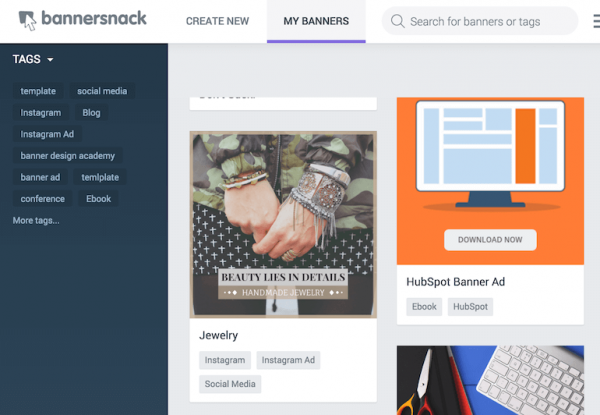 But what if you are new in Bannersnack and you don't know what the tag system is? For example, let's say that you are a freelancer and you design banner ads for several clients. For many of them you designed a type of banner and you need to create the same design but in different sizes. So to be more organized and save more time, you can tag your banners with your client's name or something specific that can help you find the banner faster, or find every banner for that specific client. Let's say that you client is "Blue Flower" and you use the tag "blue flower" for every one banner made for that client. Now when you type "blue flower" into the search field, every banner with this tag will appear.
Full size preview
See your banners in full size previews with the new, bigger previews and tile grid layout.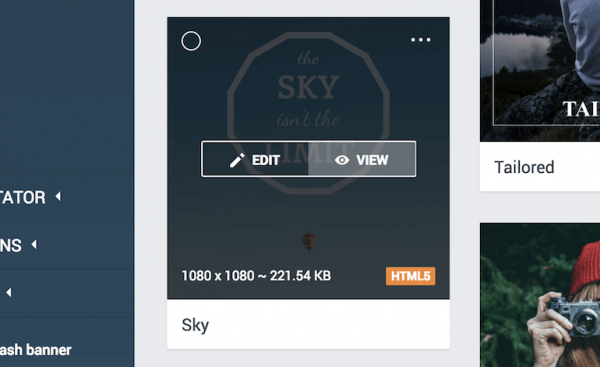 With the new design in "My banners" dashboard you can see your banners in a different way. After we did the research, we found out that this type of dashboard is the best one for a great workflow. So when you want to look at one banner, you just click on the "view" button and the banner will open in a pop-up.  Also, you can select the banner, click the "edit" button and start designing it or you can just see at the bottom in the left the size of the banner and how big (KB) it is.
At the top of the banner you can see the 3 points "…" where you can directly download the banner without opening it, get the embed code or delete it.
Update search
We updated the "search" tab and now it is easier than ever to find the tags or banners. Just write your keyword and hit enter.


Easier navigation and banner creation.
Everything is now cross-linked and integrated into one big app and this will definitely speed up your workflow.
HTML5 vs Flash
The HTML5 banner maker is now the main app, but you can still use the Flash Banner maker from the left bottom corner. Also, if you move your mouse on a banner in "my banner" section, you can see if the banner is a HTML or Flash.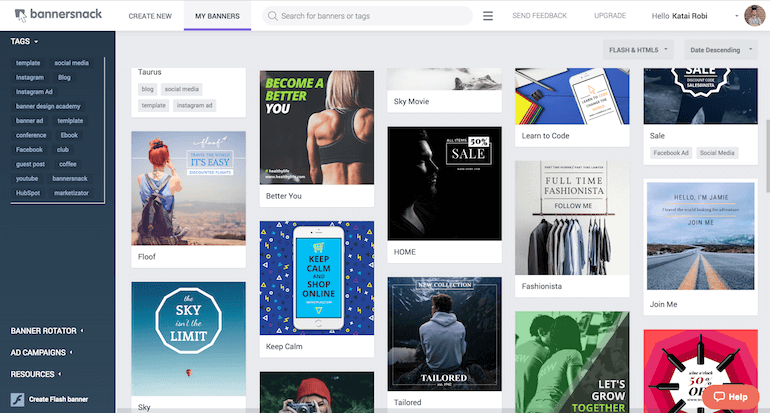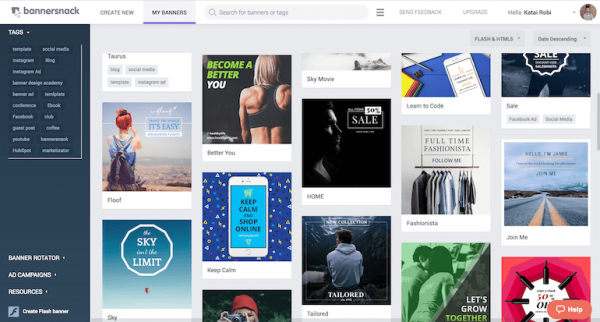 Banner Ad detailed views
We didn't forget about Banner Analytics. So we included it in the pop-up that is opening after you click the "view" button on the banner into "My banner". In this pop-up we rearranged the details of the banner. At the top, you can see the name of the banner with  2 buttons: "Create New" and "Edit". Then we inserted 2 important action buttons: Download and Embed. We didn't forget the other details either, such as banner links, views, type of banner (HTML or Flash), Private or Public mode, Add tags and the last but not least, the view analytics section. If you want to look at other banners, you can easily click on the "X" button or just click outside the pop-up.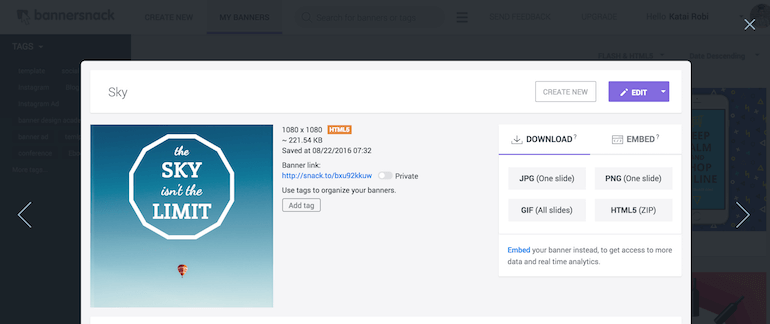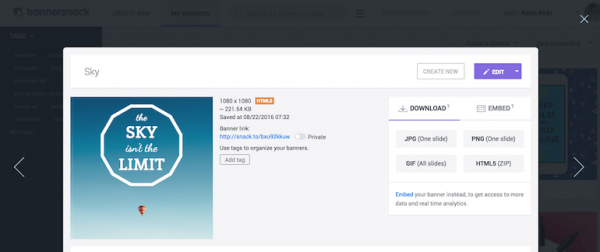 Faster banner preview and better navigation between the detailed views
Thank you for being a part of the Bannersnacks community and let us know in the comment section below what  you think about our new "My banners" page!