'Twas the night before the launch, when all through the company
Not a creature was stirring, not even a bumblebee.
The new feature was hung, by the app display with care,
In hopes of happy customers soon would be there.
[…] to be continued
A few months ago we set our minds on making Bannersnack more intuitive and most importantly, even more time saving than ever. How would that even be possible? Well, here we are! We wanted to come up with a great animation tool feature that will help you work harder, better, faster, stronger (to be read with the right Daft Punk intonation).
So the time has come, for us all to meet our freshly out of the oven feature, the Timeline.  
Before we go in-depth with introducing you to our awesome feature and its functionalities, take a sneak peek and see how it looks.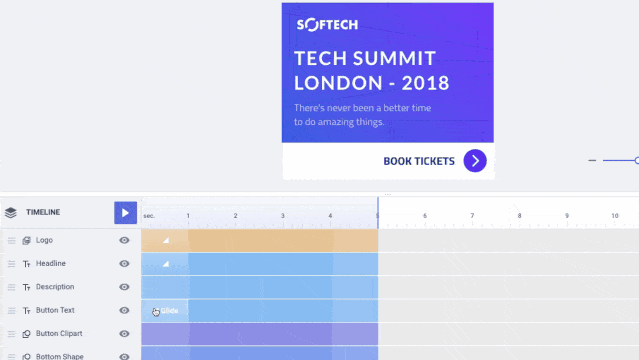 We all say that what's on the inside is what matters most, but let's face it, the heart wants what the eyes crave for. What does that have to do with our timeline? Exactly that!
We've come up with a visual interface that not only is more appealing and makes our HTML5 animation tool more lovable, but also makes you want to spend more time in order to create HTML5 animations with our editor. It's like we've transformed our baby, into a fierce grown up, that knows how to do their job, and everybody likes them.
IF BRANDS WERE REAL PEOPLE
Let's play this little game. We'll call it "If brands were real people". Have you ever thought of what your brand would look like, what would his or her personality be like, how would they dress and what would their favorite food be?
About a week ago, while I was attending a teambuilding activity with all of my coworkers, the trainer asked us to envision what would your animation tool look and act like if it were to be real. Of course, we all had different ideas and we came up with different personas, but when we drew the line in the sand, we realized all of our personas looked different, but had a lot of things in common. And that's a good thing. It means that our/your brand is homogeneous and fluent.
What the conclusion? That we all agreed on Bannersnack being in a continuous development and growth. And that's exactly what we are doing. Growing.
[…]The devs were nestled all snug in their desks,
While visions of a better app danced in their heads;[…]
WORKFLOW AND TIME MANAGEMENT
We live in an era in which time is a very important issue. Don't we all say at one point or the other "I wish I had more time"? I can already hear myself saying this every time I had an exam at the University. Why do we always feel like we lack time? And most importantly how do we save it?
One of the easiest ways to save time is finding these little tricks that can help you work faster and perform better. That is exactly what we're trying to focus on as well, a better performing HTML5 banner maker.
I remember when I was in University and I was struggling with finding a way to make myself memorize information faster and more efficient. First, I tried reading all the materials and underline what I thought it was important. Then I would reread everything. Well, that didn't work.
I tried almost everything. Studying during the day, studying during the night, scheduling my studying by mixing it up with my favorite TV shows. Let's just say I wasn't very successful. But my method got better with time, until I found the perfect match and style of learning for me.
I then realized that I was retaining more info as I was listening to music. I was correlating certain information with certain lyrics or songs that I was listening to, and all of the sudden, I realized I was memorizing information with ease. So I found myself saving a lot of time, by simply adapting my style of learning with what I had to do.
What does this have to do with banner making? It's all about workflow and time management.
We studied and observed the behavior of our customers, and we came to the conclusion that we needed a more intuitive way of working with HTML5 animations and animated banners, in general. We needed to come up with a more natural flowing and time-saving feature, that will allow you to work as fast as possible.
The Timeline concept is based on a very simple, yet effective way of working.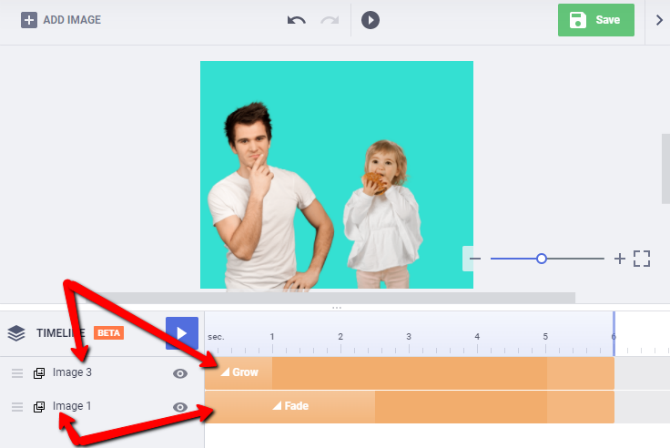 As seen above, each added layer has its own visual horizontal line on which you can add/remove transitions as you please, in order to animate your banner/banners. You can adjust the length of your preset transition by simply sliding each item's individual bar.
The presets are also available for further customisations, as seen below.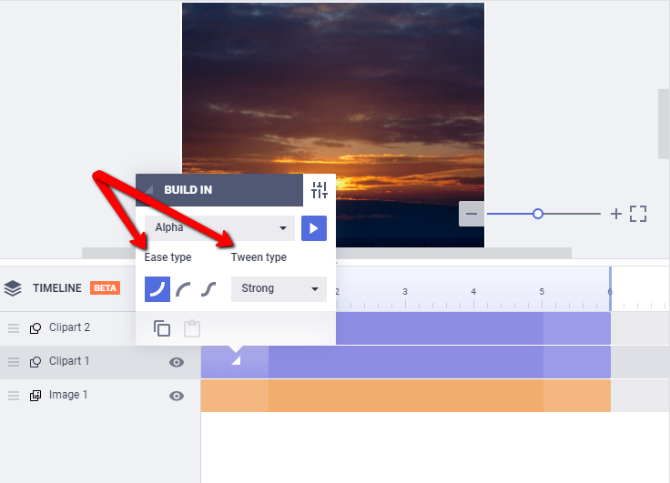 Also, the transition animations between the slides are now easier to use than ever. Let's say we have a banner with a duplicate slide (as seen below). Not only you can simply drag down the slide in order to lengthen its duration, but you can also set it manually, if you want it to last a specific number of seconds.
The same principle applies to the transition duration. Drag it or set the time as you please. It's that easy.
We wanted to focus on a more visual working environment in order to improve the speed and quality of our HTML5 animation tool. We put all of our bets on a very intuitive interface, in order to save you precious time and effort. You know what they say:
It takes time to save time.
So we did just that. We invested our time in order to have you save time. Because we know it's all about being Fast and Furious.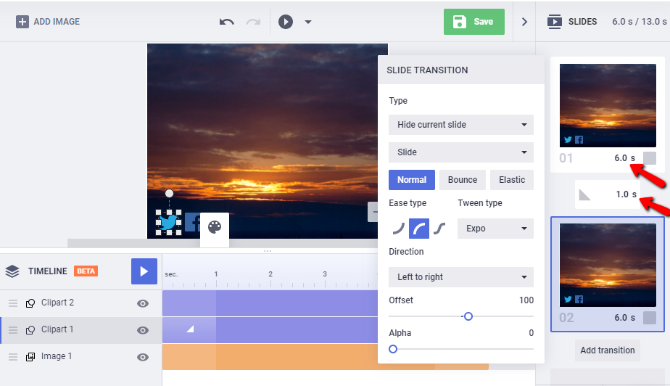 [..]When out on the market there arose such a clatter,
We sprang from our offices to see what was the matter.
Away to the window, we flew like a flash,
Tore open the shutters and threw up the sash.
While the moon was reflecting the animations "snow"
Gave a lustre of future to objects below,
When, what to our wondering eyes should appear,
But a supercalifragilistic new feature gear.[…]
THE FUTURE'S BRIGHT!
A study performed by the British scientists revealed that…forget about it! We all know what the truth is because it surrounds us every day. HTML5 animations are more than spreading and they dramatically increased their usage in the last few years.
Considering this, creating HTML5 animations is or should be like saying "piece of cake".  This is where a good HTML5 design tool comes in handy. If you are still having doubts about where the market is going, let me tell you this – HTML5 animations are:
– compatible with anything (any device or browser)
– fully responsive
– easy to incorporate anywhere (websites, landing pages, blogs, social media and so on)
– quickly loading (doesn't need any plug-ins)
Now that's exactly why we decided to focus on the future and let the past in the past. Come along with us! Let's animate together!
Think this is great? Keep an eye on us, for there are more goodies coming soon!
[…]We spoke not a word, but went straight to our work,
And filled most subscriptions with this magic perk,
BS sprang to its sleigh, to its team gave a whistle,
And away they all flew like the down of a thistle.
You could hear us exclaim, ere we drove out of sight—
"Enjoy the Bannersnack Timeline y'all, and to all a good night!"