Creating timeless design isn't an easy task but for some designers like Paul Rand or David Carson, this is a main focus. 
Today we're going to talk about another famous designer who focused his all career on creating memorable design, design that lasts.
His name is Massimo Vignelli and he's a constant inspiration for me, and i hope it will be for you as well.
Enjoy.
SCRIPT: 
There comes a time in the life of any graphic designer when you have to design something complicated in a simple and easy to use manner.
This is a whole new level of designing that just a few designers were achieved.
Frankly, this simplicity in design is one of the most influential trends today and designers are trying to make everything simpler sometimes with the cost of losing its relevancy.
Massimo Vignelli's work, on the other hand, was simple in its complex and beautiful way. Vignelli's design is timeless and as he describes it in his studio's slogan it is also" visually powerful" and "intellectually elegant".
Before we get too far into his style and other defining elements of his design, let's take a look at his life and the story of how he became an iconic graphic designer.
Massimo Vignelli was born and raised in a pre-bell Milan on January 10, 1931. After finishing the Universita di Architettura from Venice, he met his wife Lella Vignelli at an architecture convention and they married in 1957.
Their mutual passion for art made them open a little design and architecture office in Milan where they worked with companies like Rank Xerox or Olivetti.
His work covered nearly every field of design including advertising, identity, industrial interior and many other. Soon enough, the little office from Milan wasn't enough for him, so he decided to move with his wife Lella Vignelli to America in 1966, to start the Unimark International company which at that time became the largest design company in the world.
Unimark failed dramatically in 1972, but Vignelli left the company before that happened due to the increased focus on marketing rather than design. However, Unimark's failure didn't stop Vignelli. He and Lella founded Vignelli Associate with Lella Vignelli as the formal founder.
Their work includes graphic and corporate identity programs, architectural graphics, publication design and other kind of products like furniture.
They created memorable design for many leading European and American companies and institutions.
Many of Vignelli's projects are memorable examples of modern design, including the corporate identity for American Airlines, the subway map for the MTA New York City Transit Authority, the graphics for the United States National Park Service,and the interior design of Saint Peter's Church in New York, where the studio's 'total design concept' ranged from the organ to the furniture to the silver communion accessories, and more.
Vignelli took design very personal.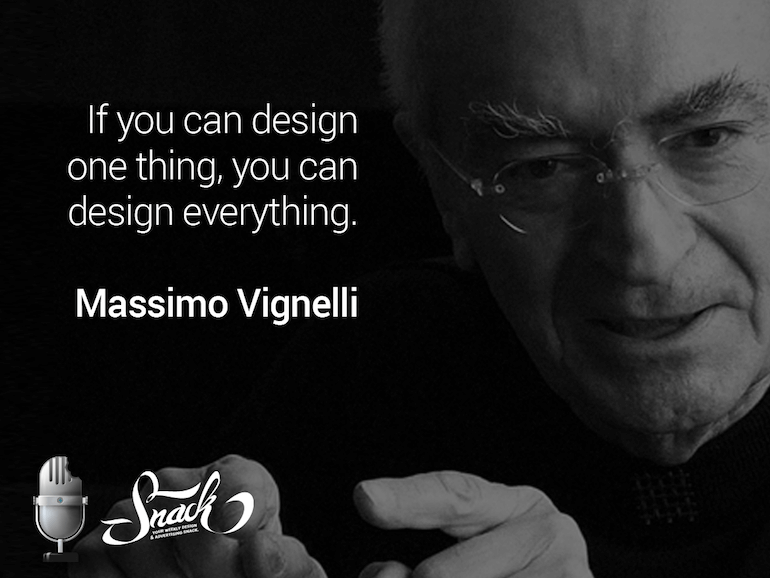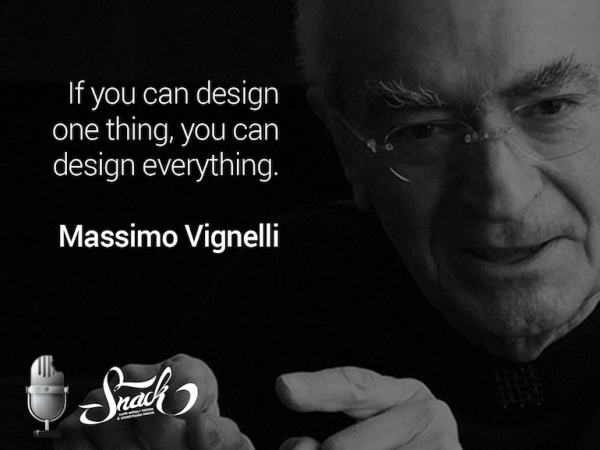 He strongly believed that it's his duty to improve the design around him. I quote: "Politicians take care of the nation and fix things — at least they are supposed to. Architects take care of buildings. Designers take care of everything around us. Everything that is around us, this table, this chair, this lamp, this pen has been designed. All of these things, everything, has been designed by somebody. I think that it is my responsibility to make the work better than it is."
Designing something memorable has always been Massimo's focus. Here is how he view the matter of designing relevant design, design that lasts. (Audio interview courtesies of Big Think. www.youtube.com/watch?v=schuTm9iuu)
The one project that I want to talk about is the New York City subway map. His background in architecture landed him the job of designing the subway map in 1970's.
The current map was facing unprecedented difficulties in delivering information to its riders. This was a challenge that Vignelli was excited about. When he was asked in a big think interview, How he created the iconic New York subway map, Vignelli replied:
Massimo Vignelli, one of the most revered designers of all time, died on May 27, 2014.
For the modern day designer, Massimo Vignelli is a raw model, and his work is the cornerstone of the modern design that we know today