Are you a copywriter? How many times were you asked to create a Facebook banner? How did you find the task? How did you manage to be successful?
I will discuss these questions through this article and hopefully, I will give you some answers, along with some basic advice on how to create your perfect banner using a Facebook banner maker. 
The job of a copywriter is always based on creativity and inspiration. The smaller the text, however, the harder the job gets, as you have to adapt and say more in just a few words. As you probably already know, a Facebook banner ad, just as any other ad on the Internet, is limited to a specific number of words. You cannot write a full review and this is why you should think more about the title and the slogan.
Let's take one step at a time and explain the situation before actually starting to work on this:
Is it worth paying for Facebook banner ads?
The answer to this question depends on what you are trying to advertise. However, if you are a copywriter, the question you have to answer is how good will be the banner and not whether the business or website who ordered it should invest in Facebook ads or not. Your job is to deliver the best banner ad for that specific business or website and therefore, you should stick to that part of your job.
There are still some stats that prove the benefits of advertising, especially on Facebook, the most popular social platform of today's Internet.
According to Pew Research Center, as of 2016, nearly eight out of ten online adults are on Facebook.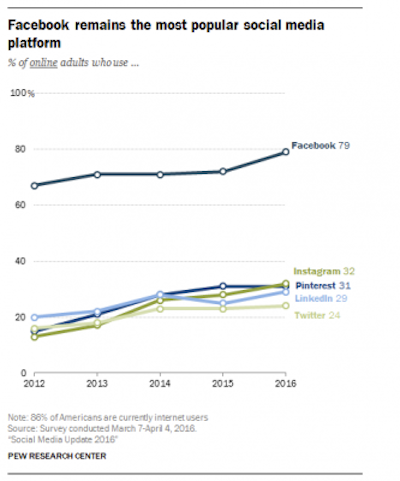 This means that most of a business' potential and actual customers are already using this social platform. Some of them are active daily while others are using their accounts to get in contact with friends and colleagues on a weekly or monthly basis. However, the frequency the people are using their social accounts is irrelevant.
It matters that they are there, they access their accounts regularly and therefore, if you pay for specifically targeted ads, the customers will eventually see them and maybe even engage with them immediately.
Your task as a copywriter is to convince a customer to click on a banner ad and engage with the business you are representing.
How? Well, let's start with the first steps and then, move on to how to create the perfect engaging Facebook banner. Your work is essential, starting with the text you will be able to conceive and up to the visuals, you are selecting for the banner.
Tips for creating great Facebook banners as a copywriter: 
1. Know your audience
Everything starts with a research on the specific market you are targeting with your campaign and of course, you advertising banners.
Facebook facilitates efficient ways of targeting your banners but your success depends on how thorough your research is and how good you know your target population.
Unlike traditional media, social media allows you to target each specific group in particular and create different ads according to their behaviors, interests, and needs. You will have to think about writing not just one but many slogans for your banners and segment your market as much as possible. In a way, your job will be harder due to this segmentation but it will get easier at the same time because you will no longer have to think about texts that fit all your audiences.
You will be able to let go of the "general" and be creative in a more "particular" way.
2. Think about your visuals
You can start a Facebook page by jogging with different Facebook covers and study your followers' reactions to your choices.
However, when it comes to ads you are paying for, there is no room for experimentation or improvisation.
[Tweet "You are a copywriter and your main concern will be therefore the text of the banner."]
However, the visuals are equally important, especially when advertising on a social media platform such as Facebook. People on Facebook value images sometimes even more than texts, thus the importance of maintaining a good balance between the two different elements of your banner.
However, keep in mind that the text and the image should not exist independently.
Together they present your message and they should be interconnected or complementary.
3. Choose the topic of your banner
Based on what you have learned about the targeted audiences, you can now choose a viable topic for your advertising banner.
For instance, if you are promoting marketing services for dentists, such as the "Dental Marketing Guy", you should adapt your topic to suit the targeted audience, in this case, dentists. However, you are not promoting a medical practice but instead marketing services for such practices and advice on how to better market their services.
To this end, your topic should be specifically tailored to raise dentists' interest but also on marketing or SEO, depending on what you are advertising at this moment.
4. Keep things simple
You are a copywriter and you already know how important the message is, regardless of the number of words you use. When dealing with advertising banners, however, the number of words is as important as how you choose to put them together in order to create a message that attracts immediately the attention of your target audience.
The rule of "less is more" is what governs here. Trying to say everything in just a few words would be impossible however and this is why you will have to brainstorm for a specific message that will act as a call to action rather than a story. You want your customers to download a specific guide or to buy a specific item?
[Tweet "Create a call to action message specifically focused on that action."]
It will be easier if you make some preliminary drafts and put all your ideas down on paper until you decide which one to use for your banner. Keep in mind however that the customers are not interested in reading a story about the company you are promoting. Their interest lies only in how this company may help them or what it can deliver to them.
My advice is to create a message that is for them and not about the company in particular.
5. Select your tools
Every copywriter uses some tools in order to complete his or her tasks promptly and professionally. Besides the traditional word editor that I am sure you are already familiar with in your daily work, I have made a list of some of the most important tools you can use when dealing with Facebook banners.
Here are my picks: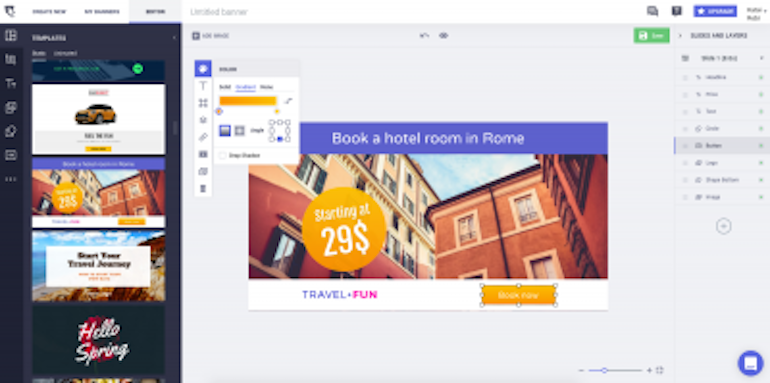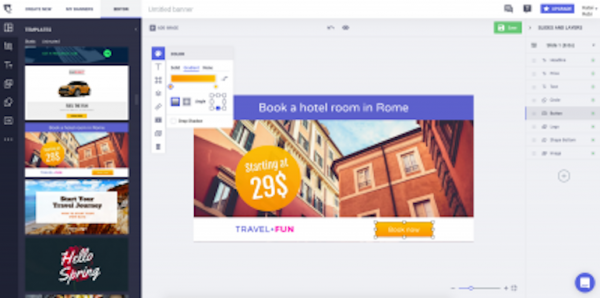 Bannersnack
:
When it comes to Facebook banners and ads, Bannersnack is always my first pick due to its easy to use interface and the professional look of the banners. You can create a free account with them and test the app and choose a professional plan if you are planning to use the tool on a regular basis. You can use their banner templates or, you can use your own images.
What I like most about this tool is that it allows you to insert a call to action button and texts and it saves all your work in a Html5 format which is very helpful when it comes to embedding your ad on other websites.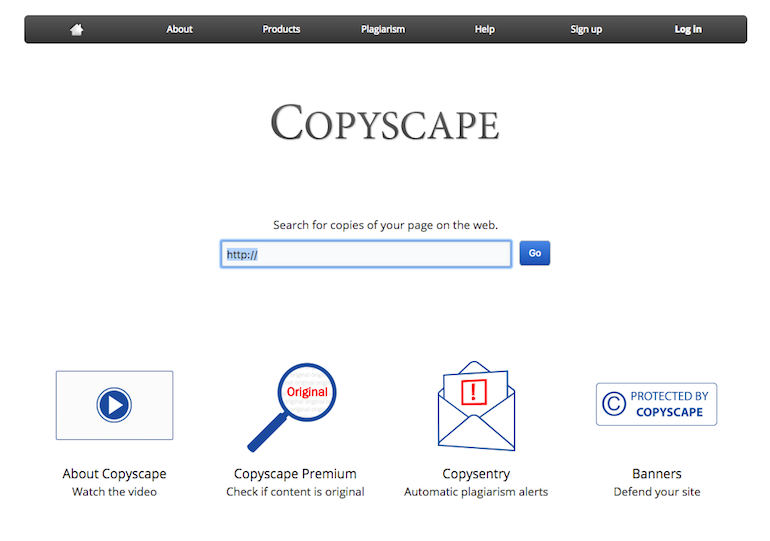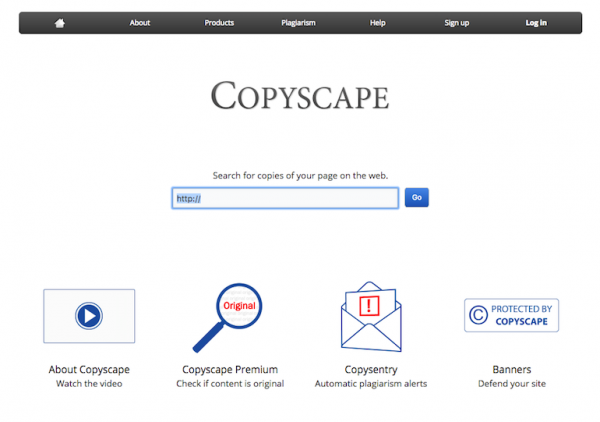 Copyscape
:
This the most popular tool for checking whether or not your text is original. Professional copywriters don't plagiarize other work but when dealing with slogans and banner texts, your message is limited. Therefore, it may happen to come up with the same slogan the competition use or, something very similar to what other companies have used for advertising banners. You can check the uniqueness of your text with Copyscape and make sure your work is genuine. This is also a premium tool with limited free services. However, if you want to be thorough and pass as a trustworthy professional, investing in some basic tools is important.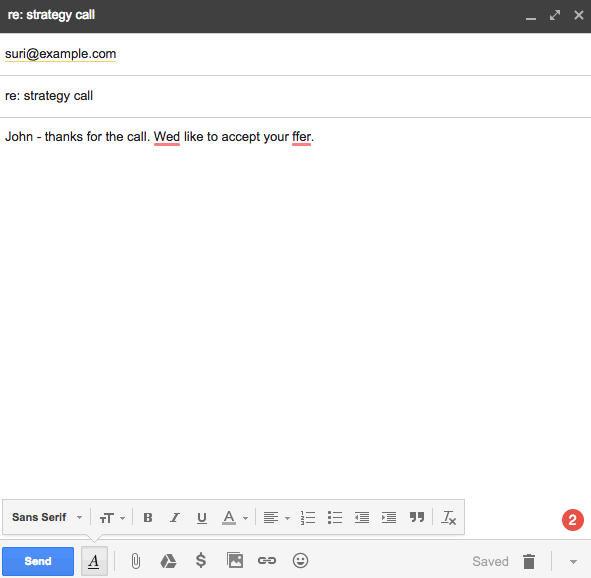 Grammarly
:
As a copywriter, if you are not already using Grammarly, I suggest you do it right away. Many writers are relying solely on the proofreading they perform by themselves while they shouldn't. You can read a text many times and still miss a spelling error, a misplaced word or a letter. You need an external proofreading tool and Grammarly is your best option. You can set up a free account and start right away. You get access to three different tools that do the same thing: a Web Browser plugin, a Microsoft Office plugin and a standalone Windows application.
If you are using Microsoft Office's Word as your main editor, you will notice immediately how easy Grammarly integrates with your Word processor and how fast you will be able to proofread your text while you are still editing it. If not, you can install the Windows app and proofread your files regardless of the Word processor you are using in your daily copywriting tasks.
Alternatively, you can use the Hemmingway editor app, a Word processor that will also allow you to proofread your texts on the go.
A dictionary: Every copywriter should check with the dictionary once in a while. I always use Merriam Webster but you can choose your own favorite dictionary. How can it be useful? Well, no matter how many books you have read, how many texts you wrote, there will be always words you are not sure of their meaning. Or, you may not be sure whether or not you can use them as verbs or just as substantives. The dictionary is the copywriter's Bible and it should always be open as an app or in your browser just in case.
A photo editor software: Whether you are using Bannersnack as your banner editor or not, the already available templates may not be exactly what you want. Therefore, you will need a photo manipulation software in order to create your visuals. As a copywriter, if you are not editing photos on a daily basis, a free software may suffice. I usually use FastStone as an image browser with minor editing features for simple tasks and Gimp or Paint.net if my job requires further photo manipulation.
Choose your own according to your needs.
There is no perfect software.
There is only the perfect software for you.
Conclusion
Creating a Facebook banner may seem as an easy task for a copywriter. The text is limited, the focus is on the visuals and the call to action buttons and therefore, one may think this is a job that takes no longer than an hour to complete. However, if you are a copywriter who had to create advertising banners in the past, you already know that things are not always as they seem. If you want to create the perfect banner for you or your clients, you need to be as thorough as you can.
With this article, I've tried to point out some of the most important steps for such a task and I am more than sure that if you follow my advice, success is imminent.
Should you have anything to add to this list or, you have any experiences to share regarding this topic, feel free to do so, in the comments section available below.
I will be more than happy to read your inputs as well.