Inspirational quotes are an awesome way to get your daily motivation or to get you started on that project you've been postponing. So if you find yourself spending a lot of time on Pinterest, pinning and repinning inspirational images, you might want to learn how to make a motivational poster.
At this point, you might be wondering: how do I make a motivational poster myself? Well, it's quite easy! Just follow the step by step instructions below to learn how to create your own quote poster:
Choose the size of your poster
Choose a background image
Add a transparent layer or shape (optional)
Choose the inspirational quote you want to add
Change the style, color or size of your font
Save and upload to your favorite social network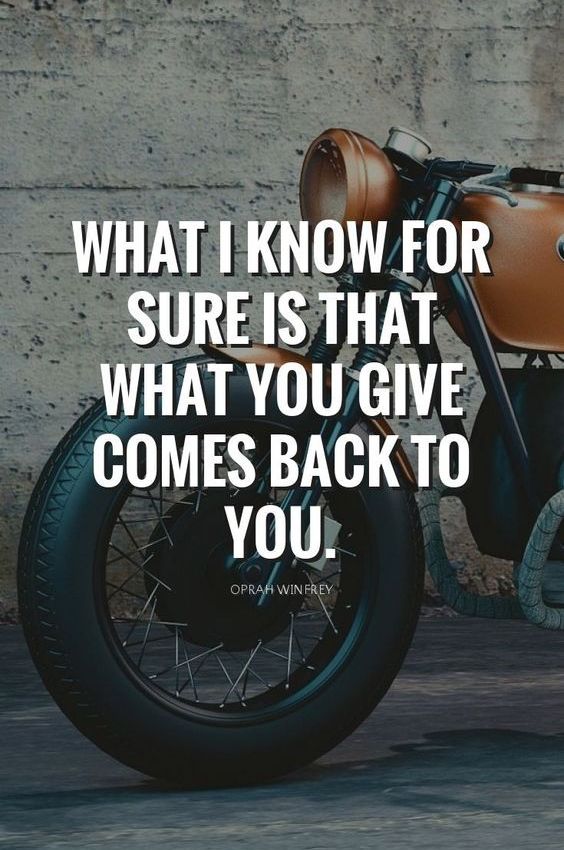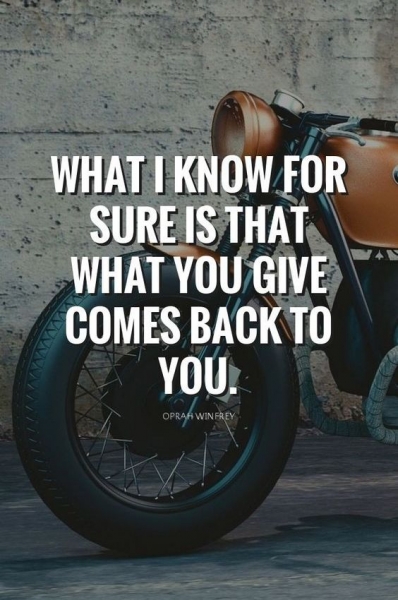 Why are inspirational quotes so appealing?
People love inspirational quotes, and some phrases are so powerful that they can even become mantras for generations. Why are they so popular? According to Fast Company, inspirational quotes demonstrate a coaching factor and appeal to our desire to change or follow in the footsteps of leaders.
So if you love inspiring yourself and others with your Pinterest boards, you might already have some favorite quotes in mind. To showcase them in a unique and creative way, experiment with adding pictures or textures that relate to your image in some way.
You can use Bannersnack to create inspirational quotes in no-time! Choose one of the awesome templates we prepared for you, or use your creativity to start from scratch and create your own!
How to find the right photo for your inspirational poster
If you're looking to create going the extra mile quotes, here are a few things you might want to consider: the background image can make or break your quote, so it's important to find quality pictures. Pinterest is mostly visual, so it's really important to choose an image that complements your text.
You can use the Bannersnack library to find some amazing backgrounds, but if you need more inspiration, here you can find more resources for free banner images.
If you want the main focus to be on a bold graphic quote, you can choose an abstract pattern or texture to highlight the contrast.
Tip: You can use a photograph of the author of your favorite quote to get even more attention.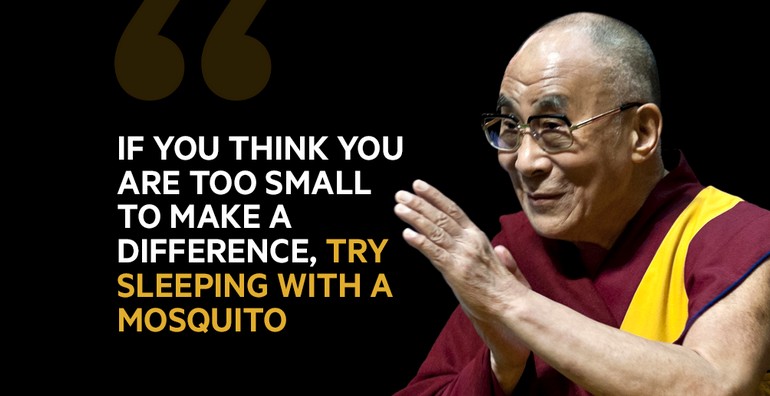 Flickr also has a free images section, here's how you can access it to find more unconventional, user submitted pictures. Here are the steps you should follow to find pictures there.
Go to Flickr and create an account (you can sign up using your Yahoo ID and password) or use your existing Flickr account.
Go to advanced search, enter your search terms, then scroll down to the last section (creative commons) and check the "Only search within Creative Commons-licensed content" box. Press enter and search for a picture you like.
Download it (choose a high-quality image).
Suggestions for the image/ photo:
Vertical image or square (you can crop from a bigger horizontal image)
Use a simple background for the writing
Choose an image that enhances or complements your quote
Use minimalist photos or landscapes
Go for fade colors, with fewer details
Where to find awesome quotes
When it comes to finding daily inspirational quotes, we all have our favorites. If you are searching for inspiration, a simple Google search could be the right place to start searching, but if you want to stand out, don't just stop there!
Dig a little deeper and let yourself be inspired by the lead figures of your industry, or even your favorite writers or artists.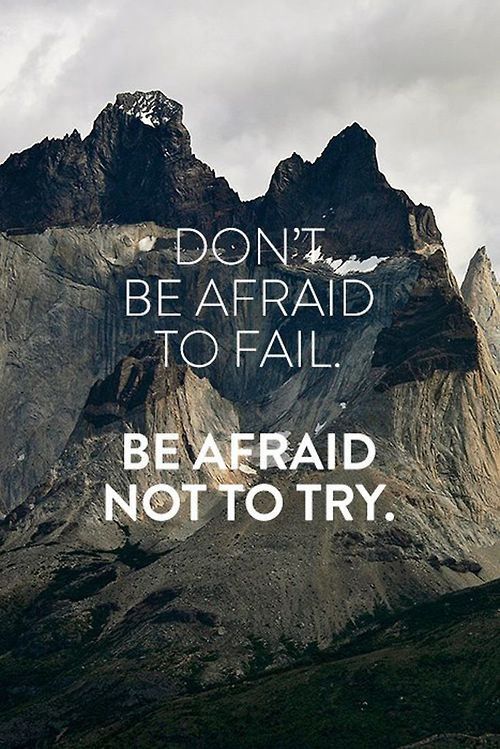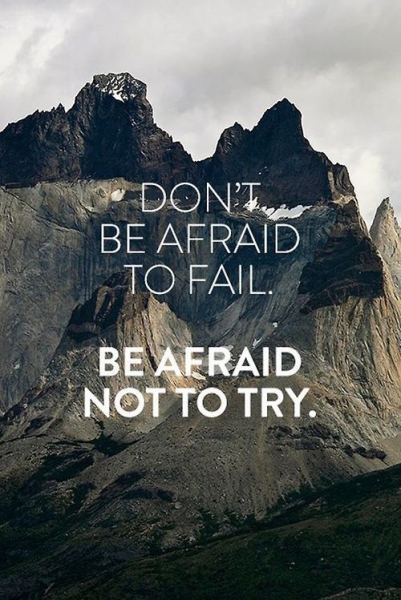 How to create beautiful typography for your quotes
Follow our advice below on how to capture the mood of your favorite quote with these simple tips and tricks:
Use clear, sharp, readable fonts (if you are feeling creative, you can also experiment with handwritten fonts)
Limit your design to maximum 2-3 different fonts
If needed, you can use a discrete drop shadow to empathize the text
Use graphic shapes or frames to highlight the text
Don't forget to add the author of your favorite quote
Your favorite motivational or coaching website also probably had a section dedicated to daily inspirational quotes. You can also search for Pinterest quotes and use your imagination to transform them.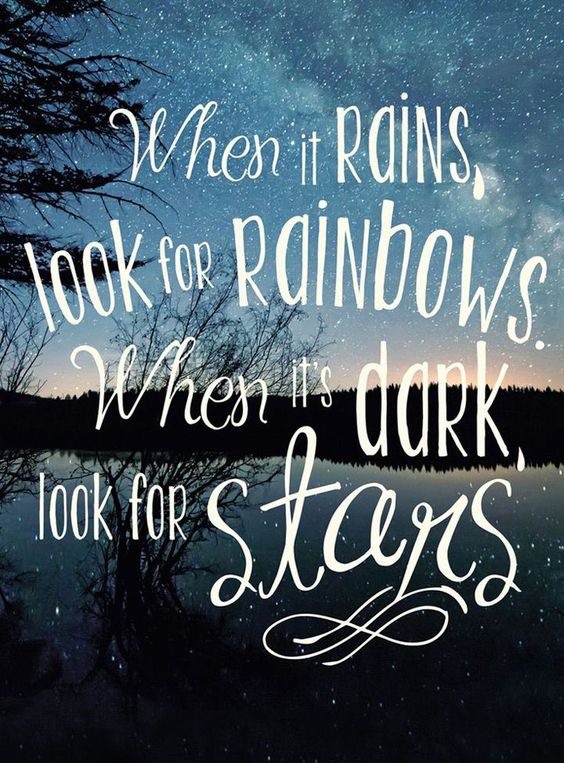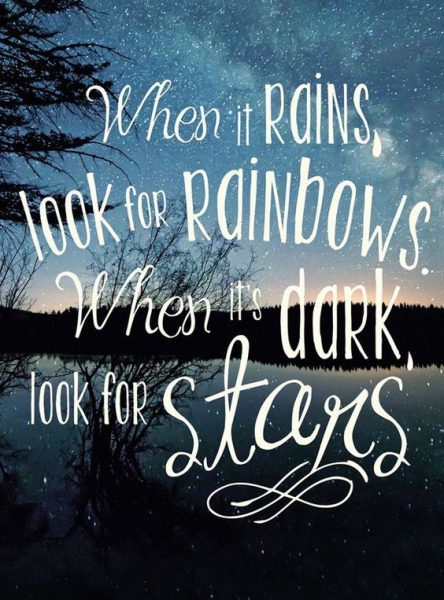 How to make your own motivational poster
You can create a quote image even if you don't have designer skills; we've got you covered! Go ahead and check out our special template collection dedicated to helping you create the most beautiful and inspiring Pinterest quotes. Follow our step by step guide to get you started! We promise you, it's easy!
Go to Bannersnack, login or sign up and click on "create new", then make a single banner.
Select the Social Media tab, then choose Pinterest post.
Choose one of the templates our designers prepared for you to get you started.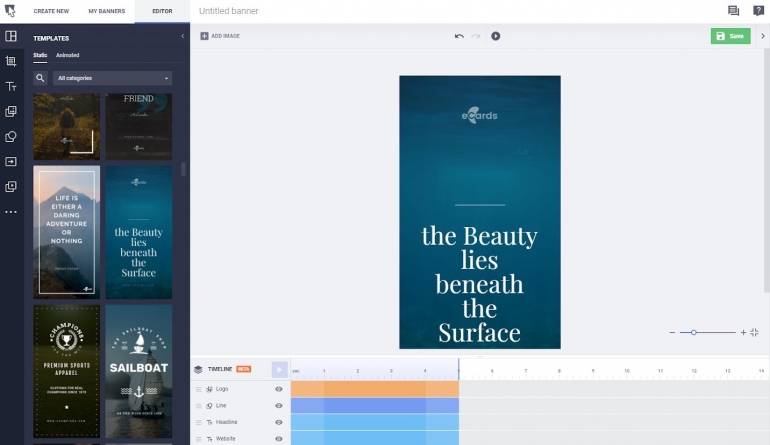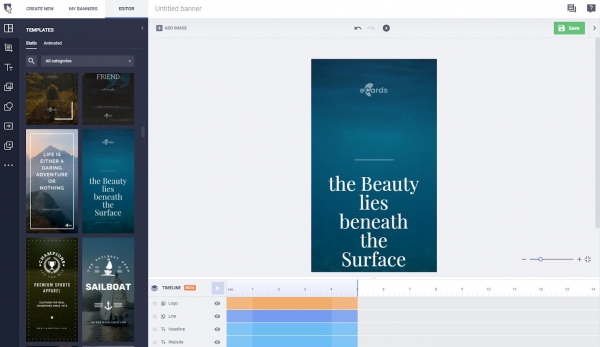 Click on the background image if you want to select a different one. Choose from our stock library of over 1 million photographs, graphics, and illustrations.
Add image and use your image as object: resize it by dragging the corners of the image.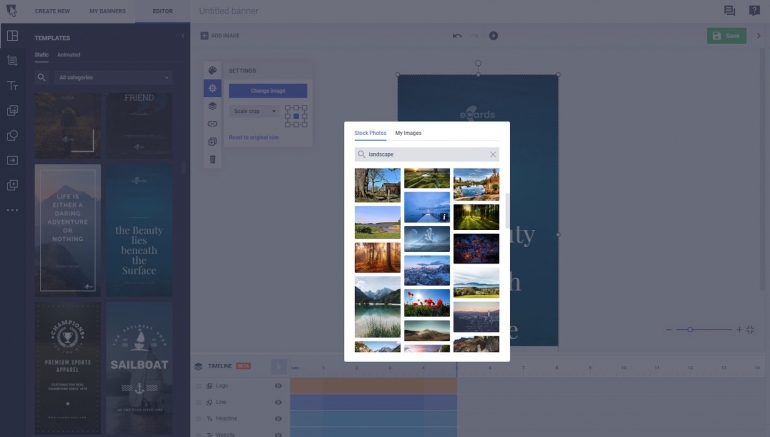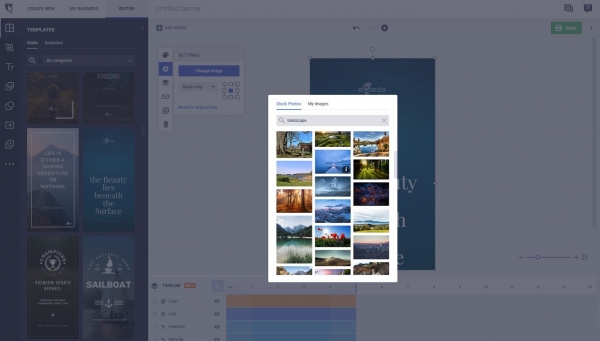 Enhance your image with filters and control opacity and hue.
Add text: double-click the text frame and enter your quote. You can then look to the right for other text options: fonts, colors, sizes and more (select your text when making these changes)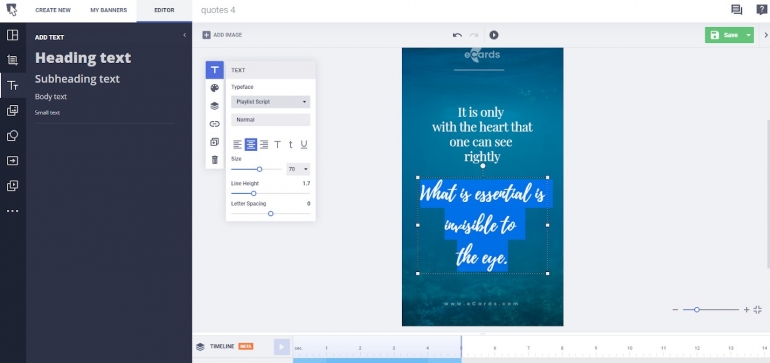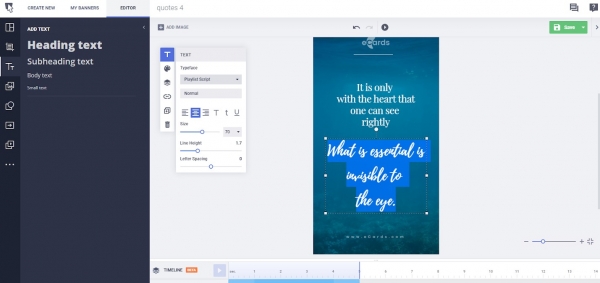 Once you are happy with your design, save it, then download it in .jpg format
Now you can share it with the world: upload your brand new inspirational quote on Pinterest!
If you want to know more about Bannersnack and how it works, watch this short video to see how you can use other creative features.
Go ahead and give it a try, make your own quote picture, then let us know what you think in the comments section below.
So, what's your favorite quote?
*This article was updated on: 18.05.2017